Harvey Weinstein's Outfit Did the Talking for Him When He Silently Turned Himself In
Whether the now arrested former mogul liked it or not, his disheveled outfit and odd choices of accessories still made a statement.
---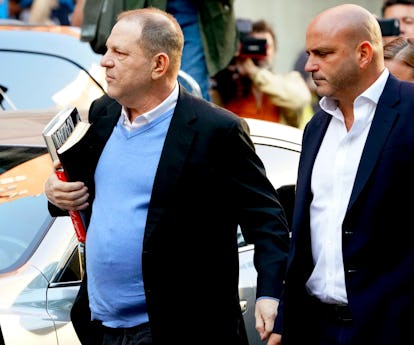 Don Emmert/AFP/Getty Images
What to wear when you turn yourself in to the authorities, months and months after being outed for allegedly sexually abusing and assaulting dozens of women, including A-list celebrities, and sparking an international reckoning that's upended the industry you once dominated? It's a question that may never have been asked before, but it's exactly the one that Harvey Weinstein faced when he made his way to a police station in New York on Friday morning to turn himself in to the detectives and authorities who've been investigating several of the charges that have been brought against him for sexual assault.
Weinstein, who's been largely isolated since October, hiding out in Arizona while in treatment for sex addiction and keeping to himself (with some kale and cucumber juices) since he separated from his wife, Georgina Chapman, likely didn't have too many people to turn to for sartorial advice. In the end, though, whether it was his idea or not, he opted for a disarmingly simple business-casual ensemble of a pricey-looking periwinkle V-neck sweater atop a white button-up, topped off with a simple black blazer and a dark pair of jeans.
Normally, such an outfit would not be of note, but it's worth a bit of analyzing since there's no way Weinstein didn't put thought into an appearance he knew would be extensively publicized and photographed. Let's start off, then, with the color periwinkle, which is named after a pastel and perfectly innocent flower—a hue you definitely don't often seen on adult businessmen. There's more to the sweater, too: Even upon his arrival around 7:30 a.m., the bottom of it was wrinkled, and the collar of his button-up was semi-tucked in to its neck. Quite clingy, it also highlighted the bulge of his stomach, particularly via the buttons studding his midriff. Being overweight is not something to criticize, but all that didn't do any service to abolishing the nickname one of his most outspoken critics, Rose McGowan, has coined for him: The Pig.
Aside from the buttons, there was also no missing Weinstein's choice of accessories: an armful of three hefty books, one of which was obscured, but two of which could be identified as Something Wonderful: Rodgers and Hammerstein's Broadway Revolution by Todd S. Purdum, and Elia Kazan: A Biography by Richard Schickel. As the Guardian notes, the former was only recently published (Weinstein's copy still had the price sticker on it) and was met with critical acclaim, thereby suggesting he's keeping his finger on the pulse—especially when it comes to those who've had an impact on the entertainment industry. At least, that seems to be the impression Weinstein was hoping to make; anyone knows to bring along some sort of reading material to any sort of bureaucratic endeavor, though the idea that Weinstein would simply be left alone in the barred-off holding cell to wait for his name to be called when his high-profile case has dominated the news for eight months now is rather laughable.
As for the latter title, it details the life of the late Greek-American director behind films like A Streetcar Named Desire and East of Eden. Back when he was living in Greece, in the 1930s, Kazan was briefly a member of the Communist party, though by the time he'd move to America in the '50s, he notably gave testimony outing a number of industry figures as communists, which of course, in the midst of the McCarthy era, basically meant he began the end of their careers. (Even though it was presented by Martin Scorsese and Robert DeNiro, his award of an honorary Oscar in 1999 brought hundreds of protesters to the event, where inside dozens refrained from clapping or standing for the director.) What's more, Kazan was also accused of sexual assault; the actress Carol Drinkwater alleged that Kazan, then in his 60s, tried to forcibly have sex with her when she was in her 20s and she was auditioning for one of his films in the '70s. That's mentioned in the memoir—along with Kazan's reputation as a womanizer, having had repeated affairs with names like Marilyn Monroe throughout his three marriages.
Assuming he's gotten that far in the book, Weinstein now seems like he isn't shying away from acknowledging the misconduct of past industry stars. As far as Kazan's political past, Weinstein could also be drawing parallels between their turning away from their former ways and being so dedicated to doing so as to go so far as turning people—which, of course, in Weinstein's case, means himself—in. In any case, before long, he'd left the books behind for a much different type of accessory: several pairs of handcuffs, showcased when he was escorted out of the precinct and to a courthouse two hours later. (According to the New York Times, several pairs were needed to "accommodate his girth.") While those were of course designed by the powers that be, he also took care to add in some personal style by grinning for the crowds assembled outside. (One reporter tweeted that his jeans were sagging when he showed up to the courthouse.)
Weinstein remained silent throughout both appearances, ignoring all of the crowd's shouts of his name, insults, and questions. Whether he liked it or not, how he chose to present himself for his first real public appearance in ages, on the other hand, spoke more than enough words for him, painting the picture of a man who'd made an attempt to pull himself together, with cropped hair and businesslike attire, but who's apparently too disheveled to properly do so—not just because his sweater was wrinkled, which could have happened on the way to the precinct, but because he couldn't even bother to simply pull out the collar of his shirt. Regardless of his intentions, all that adds up to making quite an impression—especially when you consider that it may be one of the last outfits he has any say over before switching over to a prison uniform. (At this point, he's already lost control of at least one choice of accessory: a G.P.S. tracking device, which the law now requires him to wear.)
Related: Harvey Weinstein's Ex-Assistant Says He Used His Wife and Kids as His "Get Out of Jail Card"