Harvey Weinstein Gets 23 Years in Prison—and That's Just the Start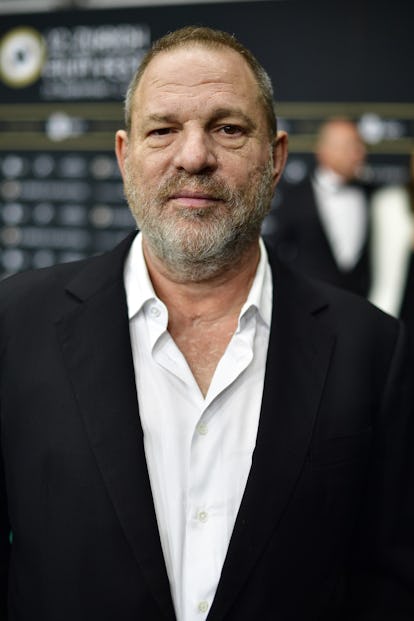 Alexander Koerner/Getty Images
Harvey Weinstein's first criminal trial has officially come to a close, two-and-a-half years after the convicted rapist's decades-long predatory behavior came to light. On Wednesday morning, Weinstein was sentenced to 23 years in a New York State prison for rape and sexual assault. He faced a maximum of 29 years, and a minimum as low as five.
Before Justice James Burke delivered the sentencing, two of Weinstein's accusers were permitted to address the court. "He violated my trust and my body and my personal right to deny sexual advances," Miriam Haley, a production assistant, said. In February, a Manhattan jury found Weinstein guilty of forcing oral sex on Haley in 2006. Burke gave him 20 years for the felony attack, as well as three years for the rape of Jessica Mann, an aspiring actress who testified that Weinstein assaulted her in 2013.
The jury acquitted Weinstein of the most serious charges—two counts of predatory sexual assault. One of those counts concerned the actress Annabella Sciorra, who previously gave an excruciatingly detailed testimony that Weinstein raped her in her Manhattan apartment in the early '90s. Jurors also stopped short of finding Weinstein's 2013 attack on Mann to be first-degree rape.
Prosecutors argued that Weinstein deserved a lengthy sentence, pointing to the long list of allegations that more than 100 women have made against him, stretching all the way back to 1978. Weinstein's defense team, of course, begged to differ. "His fall from grace has been historic," they wrote in a letter to the judge. "Given his age and specific medical risk factors, any additional term of imprisonment above the mandatory minimum—although the grave reality is that Mr. Weinstein may not even outlive that term—is likely to constitute a de facto life sentence." (The life expectancy for men in the U.S. is around 76.)
Weinstein, who is 67, was taken to the hospital after receiving his verdict in February, and had a stent placed in his heart before heading to Rikers Island. On Wednesday, he returned to the courthouse in a wheelchair, though he did not directly touch on his health. Instead, he used his speech to once again argue that all of his past sexual encounters were consensual, hence why he is now "totally confused." "I can't stop looking at Jessica and Mimi and hoping something maybe from our old friendship could emerge," he said of Mann and Haley. "We may have different truths, but I have remorse for all of you and for all the men going through this crisis. I really feel remorse for this situation. I feel it deeply in my heart. I'm really trying, I'm really trying to be a better person."
To that end, Weinstein noted his past charitable contributions in the wake of the September 11 terrorist attacks and Hurricane Sandy. On the topic of his family, he said it was "hell on earth" not to see his five children. "My wives knew nothing about this," he said of his former assistant, Eve Chilton, and the designer Georgina Chapman, who divorced Weinstein in 2018. "I went to extraordinary lengths to hide my extramarital affairs."
Weinstein also took the opportunity to speak more broadly about society. "I'm worried about this country," he said, comparing the #MeToo movement to the Red Scare, and himself to Dalton Trumbo, an American screenwriter who was blacklisted in the 1940s for being a member of the Communist Party.
For now, Weinstein will returned to Rikers Island, where he lives "in a dormitory cell with two other cellmates." (He "eats what they do, gets one hour to walk around outside, and reads a lot," his spokesperson told the Daily Beast.) But his legal battles aren't over just yet. He still faces four felony counts of sexual assault in Los Angeles, where he allegedly raped a woman and sexually assaulted another woman over a two-day period in 2013. He also faces federal sex trafficking charges and a dozen civil lawsuits, and remains the subject of an ongoing British investigation known as Operation Kaguyak.
Related: Celebrities React to the Harvey Weinstein Verdict: "I Hope the Handcuffs Are Tight"