HBO's Here and Now Trailer: This Might Be the Anti-This is Us
From the creator of "True Blood" and "Six Feet Under."
---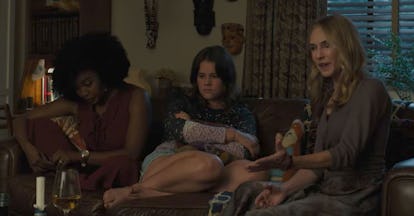 Alan Ball is the man who brought HBO its melancholy family hit Six Feet Under and the supernatural-infused soap opera True Blood. For his third act at the network, he'll bring us Here and Now, which, judging form the trailer, very much seems to be a melancholy family drama with a bit of supernatural infusion. Though, it's not exactly what you'd get if you put Six Feet and True Blood in a blender and mashed them together. Actually, it's a little bit more like This Is Us meets Get Out, if that makes any sense.
Holly Hunter and Tim Robbins star as a well-to-do liberal couple (she's a philosophy professor; he's a lawyer) who have four children. One kid, still living at home and in high school, is biological, but the rest were adopted from across the globe (Vietnam, Somalia, and Colombia to be exact). "Must be cool," remarks one character in the trailer, "Having siblings from like these exotic places."
"It could have been," Raymond Lee's character Duc shoots back. "If we weren't advertisements for how progressive our parents are."
It's clear there's tension within the family, but even then they all seem to be dealing with other problems going on in their lives outside the family unit as well. Then the supernatural elements kicks in: Daniel Zovatto's character Roman, the Colombian adoptee who seems to have a very bearded boyfriend, starts seeing things that other can't (a clock he's looking at freezes at 11:11, which we assume isn't a reference to Lady Fag's New York City party of the same). Though, it's not exactly clear what Roman's newly discovered powers mean to the wider pilot, or even if he's the only member of the family with them.
The rest of the cast is rounded out by Jerrika Hinton's eldest daugther Ashley, youngest daughter Kristen as played by Sosie Bacon (yes, the daugther of Kevin Bacon and Kyra Sedgwick).
Of course, despite the inner family drama and the supernatural elements, it seems the show will deal with what's going on in the real world right now too. "So much hatred going around, it feels like the world is falling apart," Robbins says in character. Hinton's character is seen being patted down by a police officer, and an older white man takes advantage of his open carry rights by toting around a machine gun in public. This being an Alan Ball show on HBO, there's also some sex.
We won't have to wait long to figure out what this all means. The first episode premieres on February 11th at 9 p.m.
Related: The Trailer for the PBS 'Little Women' Miniseries Is Here