Kathryn Hahn Will Play A Sexually Frustrated Suburbanite In HBO's Mrs. Fletcher
The character actress has scored another leading role.
---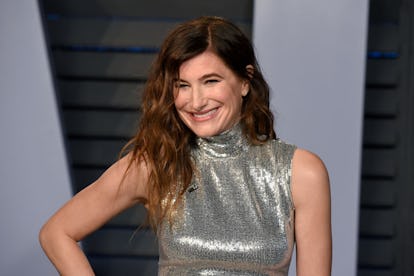 Presley Ann/Getty Images
After Kathryn Hahn's departure from Amazon's Transparent, and the subsequent cancellation of Jill Soloway's television adaptation of Generation-Y auto-fiction I Love Dick, fans of the character actress can now breathe a little easier knowing that she will soon return to cable television in a leading role. In HBO's Mrs. Fletcher, Kathryn Hahn will play the titular Eve Fletcher, a divorced woman who drops her son off at college, and must navigate her sexual identity now that she's home alone with an empty nest.
Based on the novel of the same name by Tom Perrotta (the writer of the book that inspired HBO's The Leftovers), the series adaptation is more specifically "a dual coming-of-age story, exploring the impact of Internet porn and social media on the lives of an empty-nest mother and her college freshman son," according to the log line HBO has released.
Casey Wilson, the comedienne most recognizable for her role as Penny Hart on the underrated and short-lived ABC sitcom Happy Endings and her status as a former cast member of Saturday Night Live, will co-star as "a married mother of academically gifted twins" and close friend of Eve Fletcher. Owen Teague, Jackson White, and Jen Richards round out the rest of the cast of the series, which has just been ordered for a full season at HBO, per IndieWire.
Nicole Holofcener, the filmmaker responsible for understated dark comedies with "unlikeable" female protagonists, and reinforcing Catherine Keener's career with films like Walking & Talking, Friends with Money, and Enough Said, directed the pilot of Mrs. Fletcher and signed on to executive produce the series.
In an attempt to cover all of its bases, HBO is hitting more and more niche demographics with its new roster of programming. You've got your impossibly cool enfants terribles (Zendaya and Jacob Elordi in Euphoria), the mean and murderous Monterey moms (the cast Big Little Lies), and now, the sexually frustrated suburban empty-nesters with Mrs. Fletcher. Next year's cable television calendar is certainly shaping up to be a treat.
Related: Zendaya and Drake Are Collaborating on a New HBO Series, Euphoria