Zendaya and Drake Are Collaborating on a New HBO Series, Euphoria
It's an adaptation of an Israeli teen drama from 2012.
---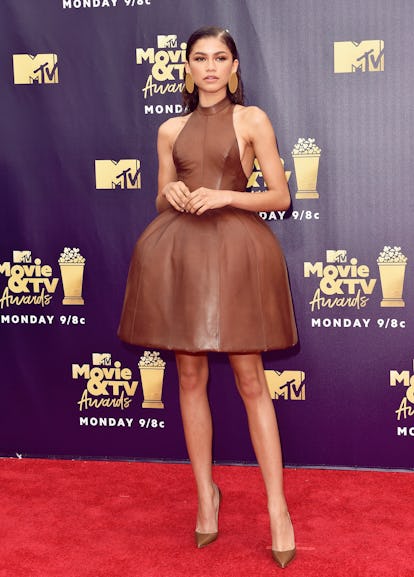 Photograph courtesy of Getty Images.
Zendaya is coming to HBO. The actress/singer confirmed on Monday via Twitter and Instagram posts that the pilot she shot, titled Euphoria, has been officially ordered to series and is coming soon on the network that's become synonymous with dark prestige dramas.
According to The Hollywood Reporter, the A24 series is an adaptation of a 2012 Israeli teen drama series about high school students navigating "drugs, sex, identity, trauma, social media, love and friendship." In March, THR reported, HBO drama head Francesa Orsi described it as "Kids meets Trainspotting, and what might exist when parents don't exist." (We'll add that we're also getting Skam and Skins flashbacks.) In the brief clip uploaded on Zendaya's social media accounts, she stares straight at the camera with a jaded expression while shadows flit over her face and a bar scene plays out behind her.
The Greatest Showman star is far from the only big name involved in the 10-episode project. According to The Hollywood Reporter, Drake will executive produce, as will his manager, Future the Prince. (They'll be doing so alongside the creators of the Israeli series, Ron Leshem and Daphna Levin.) Meanwhile, the cast includes Maude Apatow, Storm Reid, and Barbie Ferreira, THR reported, while Sam Levinson, who co-wrote HBO's Wizard of Lies, is the writer.
In addition to Zendaya, the show also includes a who's who of budding young talent. Amongst the co-stars: Maude Apatow, Storm Reid, Sharp Objects and The Handmaid's Tail's Sydney Sweeney, The Kissing Booth's Jacob Elordi, Barbie Ferreira, and transgender model Hunter Schafer.
With further details kept under wraps, it's not clear how closely the HBO series will follow the original. But there's already one big change. According to IMDB, the Israeli series is set in the '90s, and if the "social media" part of the pitch is any indication, the adaptation will likely be set in the present day. (Requisite plot changes will presumably follow.)
Euphoria's air date has yet to be released.