Zendaya Dressed Like a Butterfly for Her Latest Red Carpet Appearance
The actress wore a show-stopping Moschino gown for the premiere of her new film.
---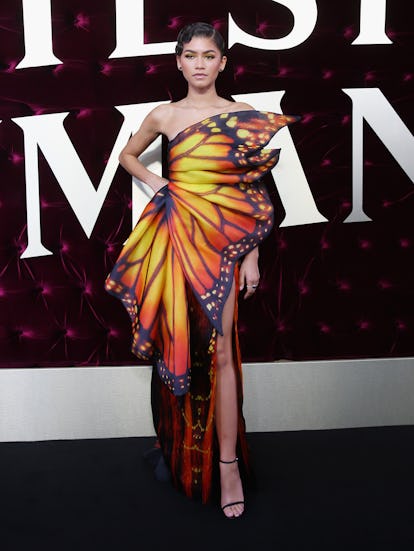 Don Arnold
Zendaya has certainly had a transformative year. Over the past 12 months, the actress and singer starred in her first feature film—a major Marvel movie, no less— with Spider-Man: Homecoming, landed her first Vogue cover, continued to star in her own television series, and celebrated her 21st birthday.
Now, it seems that the star is taking that mentality to heart—or at least her wardrobe—as evidenced by her latest red carpet getup. Last night, Zendaya arrived at the Sydney premiere of her new film The Greatest Showman wearing a Moschino gown made to make the actress look like a blossoming butterfly. Straight off the Spring 2018 runway, the gown features an asymmetrical bodice featuring what looks like a Monarch butterfly wing from the side, billowing out at the hip, and leading into an ankle-length skirt with a thigh-grazing slit.
Ever the beauty chameleon, for this occasion, Zendaya paired the bold dress with subdued, natural makeup and chic, retro-inspired finger waves. The look was accessorized with a pair of strappy Stuart Weitzman heels and simple jewelry.
The look is the latest in what has been a full year of statement ensembles for the young actress, thanks in large part to stylist Law Roach, who is also to thank for Celine Dion's delightful fashion renaissance. Roach has been working with Zendaya for over six years, calling her his "little sister" in an interview with W earlier this year. "I think we're both very conscious of who her audience is, and who looks up to her," he said when asked if there was anything Zendaya would never wear. "She's very responsible in that matter. She'll be 21 in September and you still haven't seen her do anything super sexy. She has a huge respect for the younger girls who've grown up with her and the ones who are discovering her now. One of the things we say is: You have your whole life to be sexy. So, that's one of the things she hasn't really done."
Some may argue that being a walking, human embodiment of a butterfly beats being sexy any day.
Related: Exclusive: Stylist Law Roach Shares His Impromptu Parisian Photo Shoot With Zendaya
Zendaya Wishes She Had Michael Jackson's Dance Moves