The Rise of Barbie Ferreira: From "Nodel" to Model of the Moment
And it all happened with the click of a selfie. How a "not very good" Instagram post led to a major modeling career.
---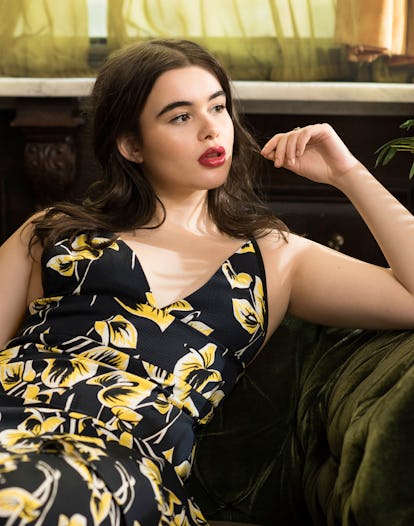 Photographed by Marko MacPherson, styled by Caroline Grosso.
"I love not having a phone," said the model Barbie (née Barbara) Ferreira. "I haven't had one for three days, and I'm pretty sure my booking agent isn't too happy about it. I just love to disconnect from everything sometimes."
That's a surprising statement coming from a 19-year old who launched her modeling career thanks to Tumblr, when Ferreira received a message on the platform about an American Apparel open casting call. "I just laughed and said, 'I'm, like, not a model,'" recalled Ferreira with a slight rasp in her voice (allergy season is hitting her hard).
Cut to today: The striking Queens, New York native boasts a modeling contract with Wilhelmina, campaigns with brands like Aerie, not to mention nearly 300,000 Instagram followers and then some. Here's the catch: her star is only rising.
Did you want to model before the American Apparel gig came about? I thought about it. I always wanted to be an actress; I thought that [the movie industry] would be more accepting of my body type. But it kind of ended up being the opposite, actually. They all said I looked too old because of my hips—and I was only 16. It wasn't going anywhere and I was working so hard. So, randomly, I took a not very good quality selfie—I was sick—and sent it in to American Apparel. I heard back from them the next day; it was the weirdest experience of my life.
Did that change your mind? Did you want to be a model after that? At first, I was scared that if I claimed I modeled, people would be like, "What?" I was very insecure at that time. I didn't want to have to take it serious, I didn't want to be known just for my body if I was a plus-size model, or to not be thin enough to be a straight-size model. I didn't even think about plus-size modeling, I just knew there were larger women who modeled in the catalogue stuff. I had a very twisted idea of what plus-size modeling really was, and I wasn't aware how untapped it was. Through that, I started getting asked to shoot other things and doing editorials, and that's when I really started to model seriously. I wanted to take it to the next level.
At what point did you actually consider yourself a model? I don't know; I guess when I got signed. I used to say 'nodel,' like not a model. That was such a thing. A lot of the things I did in high school were [about the] New York scene, like not real models. They didn't really want models, they wanted people who were not models. That was my life.
The term 'plus-size model,' is that something you are okay with? I don't really like it. I think they have that term because people like to put everything in little boxes. Plus-size modeling, I think, is an unnecessary term. We are going to get the jobs we are going to get that we usually wouldn't in the near future. At one point, I think it's just going to be modeling.
The Aerie campaign made a big splash. I imagine you had some interesting responses after that. That was one of the most interesting experiences of my life. I was in London when it came out, so I was not really with my friends or my mom; I didn't realize what was happening. I was just doing my own thing across the world, working. I didn't pay that much attention to it. I also wasn't getting any texts so no one could tell me, "Oh, I saw you here or there …" I didn't realize where it was but then my mom was posting about it on Facebook. She posted like 1,000 times about it. Different media outlet had such different reactions. Jezebel had a really great reaction. Or, other people would be like, "She isn't plus-size, get a bigger girl." Other people were like, "Why are we promoting obesity?" You can never really win. Especially Facebook or Youtube comments, they are mostly negative so I never really look at them.
How do you respond to that? Do you look? I do, but more as a joke. I have been on the Internet for a long time and have always gotten hate on the Internet so there is a thick skin I have developed. Certain things will always rub me the wrong way, but mostly I look just for fun. My friends get uncomfortable; I'm not, I just tell them I don't want to hear it. People are awful to everyone on the Internet.
I noticed you have started to use your stardom and social media presence to talk about issues. Yes, I mean I don't want people to think I think I am the most diverse thing fashion has ever seen, or whatever. But there are so many different walks of life that I don't represent, and there is no one person who does. So it's more of a unity thing than anything else. People are like, "Well, I don't look like you." What about people in between? What about people who are a size 0? What about me, who is a size bigger? Or three sizes bigger. I'm like, "I can't be all the sizes all at once." It's not my fault that I can't do all of that. No one can. I like to mention it, though. For a long time, even I get pissed off because everyone wants different types of beauty to be represented .
What's coming down the pipeline for you? They usually don't tell me until the day before just so I don't get my hopes up. I am [developing a concept for] a documentary with Viceland about the curvy Barbie dolls. Like tall ones, small ones, with different skin tones, etc.