How to Enjoy Your Thanksgiving Feast and Skip the Bloat
Top nutrition and health experts help us navigate one of the biggest eating days of the year. Here, small tricks to try before and during the meal that will make a big difference after you have your last spoonful of stuffing. Plus, last-minute healthy recipes to add to your Turkey Day menu.
---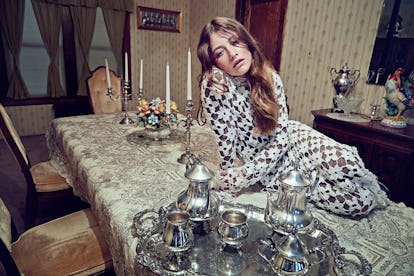 Kimberly Snyder, nutritionist and author of "Radical Beauty" Treat the day like every other day, staying on track with your normal eating habits. If you are hosting, try to plan ahead so you have time to be sure to have a good breakfast and spend a few moments on yourself. If you're eating foods you normally don't eat, take a digestive enzyme before these meals to assist your body in digestion. Digestive enzymes are especially valuable later that night, if you had anything that's sitting in your tummy and not digesting properly. When you know you'll be consuming more food than usual, start the day by eliminating any bloat. If it doesn't happen automatically, drink more water and do some yoga poses, especially twists and bends that compress the midsection—that will speed elimination and reduce bloating.
Skip the appetizers. Instead of munching, focus on talking with your family and friends and enjoying your time with them. Sip tea to help your belly feel warmed up. Try to avoid dairy. It's probably not the first offender when you think of Thanksgiving, but there could be cheese-smothered vegetables, milk in the mashed potatoes or au gratin potatoes–even dairy in that green bean casserole. Milk and cheese is difficult to digest and can really contribute to bloating. A healthy Thanksgiving table includes beets (high in plant flavonoids, and their cleansing fibers can improve overall liver function), sweet potatoes (they contains magical skin-brightening combination of Vitamin A and Vitamin C, which also work to neutralize cell tissue-damaging free radicals and can help protect against cancer, heart disease, and inflammation-related health issues), yams (packed with omega 3 and omega 6 fats, vitamins A, C and folate, and minerals), root vegetables (like winter squash and turnips), leafy greens like spinach and romaine (loaded with chlorophyll and phytonutrients that can help neutralize the metals, chemicals, and pesticides that may be in your food), omega-3 rich brussels sprouts and cauliflower, beans and legumes, which, when eaten with high protein whole grains like buckwheat, millet or quinoa, provide a balance of all of the essential amino acids we need.
After the meal, you can detoxify heavy metals, pesticides, herbicides, and other toxins from your system by sweating them out. Sweating is also a great way to boost mood-improving endorphins. Take a hike, play some outdoor tennis do yoga or dance! And a sauna is always a good idea.
Favorite Thanksgiving recipes: Lentil-Stuffed Squash with Mushroom Gravy Recipe (serves 4-6) Ingredients: 4 medium acorn squashes 1 cup dry green lentils , soaked overnight and rinsed well 2½ cups vegetable broth 2 tablespoons coconut oil 2 garlic cloves, minced (optional) 1 small onion, finely diced (optional) 2 carrots, finely diced or grated 1 celery stalk, finely diced 1 heaping teaspoon dried thyme ½ heaping teaspoon cumin Freshly cracked pepper Sea salt, to taste
Cut acorn squash in half. Brush thinly with coconut oil. Roast at 400 degrees until fork tender. Heat a large pot of 2½ cups broth and start cooking lentils. Bring to a boil, reduce heat, cover and simmer for about 40 minutes, stirring occasionally. Once done, remove lid and set aside to cool but do not drain. The lentils will thicken a bit upon standing.
Meanwhile, in a pan, heat coconut oil over medium heat. Sauté garlic, onion, bell pepper, carrots and celery for about 5 minutes. Add spices; mix well. Set aside to cool.
Combine sautéed vegetables with the lentils and mix well. Taste, adding salt and pepper as needed, or any other herb or spice you might like. Spoon mixture into squash halves. Top with mushroom gravy. Cranberry Goddess Snacks Ingredients: ¼ cup pine nuts ¼ cup sunflower seeds ¼ cup almonds* ½ cup dried cranberries 2 tablespoons maple syrup, plus more as needed 1 ½ tablespoons coconut oil ½ teaspoon vanilla extract ½ teaspoon nutmeg Pinch of sea salt ½ cup of finely shredded unsweetened coconut flakes
*Ideally soak seeds and nuts overnight and rinse well.
Place the pine nuts, sunflower seeds, and almonds in a food processor and pulse until coarsely ground. Add the dried cranberries and pulse again. Add the maple syrup, coconut oil, vanilla, nutmeg, and sea salt. Continue to pulse until the mixture begins to stick together. Taste for sweetness, adding more maple syrup if necessary. Place the shredded coconut flakes to coat. Place them in the fridge for at least 1 hour before serving to harden. Store in fridge in airtight container.
Jasmine and Melissa Hemsley, founders of Hemsley + Hemsley, authors of The Art of Eating Well and Food + Simple, and owners of Hemsley + Hemsley at Selfridges in London Be present, savor every mouthful and stop when you begin to feel full. Food is emotional for most people, but our way of eating isn't about food deprivation, fad dieting or calorie counting; it's all about nourishing your body with good quality, honest, wholesome food, and varying your diet to include tons of nutrient-rich fruit, vegetables, meat, fish, fats and pseudocereals. We're big believers in balance and we have an '80/20' rule: if you feed your body the good stuff 80 percent of the time, it can cope a lot better with the not-so-good. So, enjoy those holiday foods – don't gobble them down with guilt!
The Thanksgiving Smoothie Ingredients: 80g cold or hot roasted, baked, or steamed butternut squash 20-30g dried cranberries 12 whole pecans, toasted 250ml coconut water A pinch of ground cinnamon ½ tsp ground tumeric
Blend all ingredients together, taste, adjust the flavors, then serve. To really fuel up for the day ahead (especially if it's post workout or you'll be having a late lunch) include an organic raw egg for an extra creamy vanilla flavor and add some chia seeds for extra protein
Amanda Chantal Bacon, founder of Moon Juice and author of The Moon Juice Cookbook Set your system up prior to the big feast with greens, soups, juices, plant foods, adaptogens and fermented foods. At the meal, in general, try to avoid sugar, wheat and alcohol. But if these are part of your holiday ritual then try to include smaller portions of this stuff and larger portions of healthier dishes. But don't fear the fat. Just focus on balancing out afterwards.
Do I exercise differently on Thanksgiving? Yeah! I just don't! This is a day to indulge, relax, cook, love and enjoy. This year I will actually be supporting the front lines at Standing Rock so it will be a whole new experience.
Jeanette Bronee, Nourishment Coach, integrative Nutrition & Meta-Medicine, author and founder of Path for Life Don't sit down starving. You'll just end up eating too fast, feel bloated and stuffed too soon instead of slowing down and spending time actually enjoying the food and the company. Also, stay hydrated with pure water. Focus on sautéed, baked or roasted, fermented and fresh vegetables for sides. Think of the vegetable side dishes as tapas-style. That way it just feels like more abundance at the table, but an abundance of healthy and nourishing foods. Having more vegetables also helps us feel better after eating since they help the digestive process. Take smaller proportions of the less healthy food and fill up with the vegetables. Think of this dinner as a tasting menu rather than feeling the need to eat it all. Finally, don't teach and preach about why you don't want to eat it something. Just put some on your plate, leave most of it, then exclaim to the hosts, "That was so good and I am so full!" Cooking and sharing food is an expression of love.
Favorite Thanksgiving recipe: Wild Rice Stuffing (serves 2-4 as a side dish, 4 as stuffing) Ingredients: 1/2 cup of wild rice (rinse) 1/2 tsp each of rosemary (fresh chopped or dried), dried orange peel, juniper berries (crushed), black peppercorn (crushed), Aleppo pepper or red peppercorn (crushed) 4 sundried tomatoes (chopped) 2 dried prunes (chopped) 2 large dried shiitake mushrooms broken into pieces (fresh can be used too, but then use more) Large pinch of coarse sea salt 1 1/2 cup of water 1/2 cup fresh cranberries (to be added after 20 minutes of cooking to keep them more fresh, but they can also be cooked in from the start)
Bring to a boil and then simmer until the water is gone for about 35 minutes. Add the cranberries after 20 minutes of cooking. Leave it slightly moist when turning off the heat and let it sit for 10 more minutes in the pot. Separately, add 1/3 cup pecans (toasted on the stovetop) in a pot with cooking oil (I use sesame oil), a tablespoon Mirin and tamari, and heat while stirring for about 2 minutes until caramelized. Put all ingredients together in a serving bowl.
Eve Persak, Nutrition Advisor for COMO Hotels & Resorts & COMO Cuisine, nutrition editor of new cookbook COMO Shambhala: The Pleasures of Eating Well If I could swoop in on every family's table and pluck out the marshmallow, I would. It's hard to imagine candied yams or sweet potato casseroles without that lightly-browned, fluffy marshmallow topping, but these puffs just don't offer anything of nutritional value. Try preparing the dish without the marshmallow, but serve it with a bowl of a whipped cream (from cow's or coconut milk) that guests can spoon on before eating.
And watch out for the white foods. Whole grain flours can easily replace the white flour in most homemade recipes. Also, I usually consider salt a suggestion rather than a must. Most often it can be reduced or removed entirely from recipes. Wait until the end to add it "to taste," or offer salt at the table so guests can add the amount they want. The same goes for sugar. It's usually safe – and unnoticed – when we doctor up desserts decreasing the quantity of sugar. Pureed or dried fruits are useful nature-made swaps that offer fiber, vitamins and minerals in amounts that most processed sweeteners won't. Other less refined options are coconut sugar, date sugar, and raw and organic honey, molasses, and maple syrup. Sign up for the local Turkey Trot in your town. It's a great way to sneak in physical activity if you're visiting family, and most cities have events scheduled with a variety of distances.
Show up hydrated. Hunger and thirst resemble one another closely. We often mistakenly eat when we are just short on fluids. Simply sipping on clear liquids throughout the morning and arriving to the Thanksgiving venue adequately hydrated might help curb a bit of the excess nibbling. Grab an appetizer plate and collect the nibbles that catch your eye. Enjoy this single plate, and this plate alone until you sit down to dinner. There, start by spooning just modest amounts as you build your personal plate. Then sample each and establish which ones you liked best. If need be, you can add an extra dollop or two of your favorite (s).
Most hosts welcome outside additions to the planned menu, but best to ask first. Many suggest an appetizer, dessert, or bottle of wine, but I suggest being healthy proactive and suggest contributing a soup, salad or side dish. Over the years, I've watched my own family's Thanksgiving slowly transform. We still have the tried and true recipes, but we prepare smaller batches.
Favorite Thanksgiving recipe: Chilled Butternut Pumpkin, Apple & Young Coconut Soup (serves 4) Ingredients: 2 Granny Smith apples 350g/12oz butternut pumpkin, peeled and diced 1 ½ stalks celery, sliced 5 sun-dried tomatoes, soaked in warm water for 20 minutes, then drained ½ cup young coconut meat 2 cups young coconut water 1 tablespoon miso paste 1 tablespoon raw tahini 2 tablespoons extra-virgin olive oil 1.5cm/.5 inch piece ginger, peeled and sliced 2 cloves garlic, sliced 1 teaspoon raw honey 1 tablespoon raw apple cider vinegar 3 teaspoons freshly squeezed lemon juice 1 teaspoon madras curry powder 1 fresh long chili, seeded and sliced 2 teaspoons tamari soy 5 large basil leaves Sea salt, to taste
To serve: ¼ cup young coconut meat, cut into 2 inch julienne strips ½ cup butternut pumpkin curls (made on the turning slicer and torn into lengths) 2 tablespoons spiced cashews 1/4 cup baby thai basil leaves 2 teaspoons lemon juice
To make the butternut pumpkin soup, put the Granny Smith apples through a juice extractor, and catch the juice in a jug (you should get about 250ml, or 1 cup, of juice). Place the juice and remaining ingredients in a blender and blend until smooth. Strain into a container, cover and refrigerate until ready to serve.
To serve, toss the coconut julienne, pumpkin curls, spiced cashews and basil leaves together in a bowl. Season with the lemon juice to taste. Pour the soup into chilled bowls and place a spoonful of pumpkin salad in the middle of each bowl and serve.
Alexandra Samit and Katie Ulrich, health coaches and nutrition experts at Be Well by Dr. Frank Lipman White potatoes turn into sugar in your system, so opt for sweet potatoes. Cranberry sauce is basically pure sugar, so save the sugar points for dessert. Also, boxed stuffing is not only loaded with sodium and gluten, but there are no fresh ingredients in it, so skip it. Anything canned or from a box should be eliminated from the menu immediately! Stick to all fresh and whole ingredients whenever possible. If possible, choose a pasture raised and organic turkey, and choose the healthy fats, like grass-fed butter, avocado, nuts and seeds. Ask to make up your own plate if it is not being served buffet-style. Later that night, try to have some ginger tea when you get home to soothe your stomach and aid digestion.
Favorite Thanksgiving recipe: Rainbow carrots roasted with cumin, olive oil, salt and pepper. Toss carrots in olive oil and season with ground cumin, salt and pepper. Roast for 45 min at 350 degrees. Top with Anita's coconut yogurt and pine nuts.
Watch a revealing video interview with Kanye West: