The Heathers TV Reboot Trailer Looks Surprisingly Good
Come for the Millennial twist, stay for Selma Blair.
---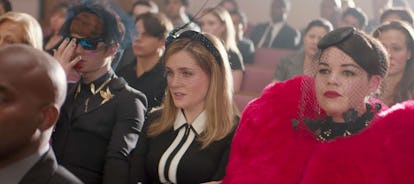 Ever since we first heard the concept for the television remake of cult classic teen flick Heathers we figured it was destined to be either a misguided mess or something refreshingly brilliant. The original movie centered on a group of mean girls all named Heather who looked like they were ripped directly form the page of an '80s edition of YM magazine. The twist for the reboot: these modern Heaters would be more at home on, well, Teen Vogue's Instagram feed. One is curvy and body positive, another is gender fluid, and the third is a woman of color. It's all very, "F— me gently with the patriarchy." Of course, what does it say that those characters are being cast as bullies out to torture the life of Veronica (the role originated by Winona Ryder), the sole straight, white, average-sized girl?
The newly released trailer doesn't answer that question directly, but does look subversively fun enough that we trust that the creative team to know what they're doing and we may headed for something more in the "refreshingly brilliant" category.
There's a whole lot going on here: murder, scheming, roller skating, the phrase "deep dick the quote of the day out of you," Drew Deorge, the guy who does that infamous Chloë Sevigny impression, as a nonplussed faculty member, Selma Blair as a chain smoking step mom, and, for good measure, Shanon Doherty with a gun! It very much looks like the television show Scream Queens was desperately trying to be.
The fashion, we should note, looks quite fun, as well. Is that an actual YSL heart-shaped coat we spy?
As for the "marginalized people as villains" issue, co-star Brendan Scannell, who plays non-binary Heather, did address the topic during a recent chat with Deadline.
"The idea is that power corrupts and that everyone is at their core an asshole and concerned for themselves," he said. "In the movie three beautiful women where wrecking havoc on the school; that was new and hadn't been done before. Our modern retelling centers around marginalized communities — a plus-size, a Black girl and a queer — trashing everyone around them."
As The Assassination of Gianni Versace writer recently told Indiewire, sometimes diversity means letting people of all types play messy, complicated villains. We guess. Whatever the case, it's certainly more diverse than Riverdale.
The series is set to debut March 7th on the newly launched Paramount Network. We should note, it's being billed as an anthology series. So what that means for future seasons remains to be seen, but it does appears that this series will cover the complete plot of the original movie.
Related: The She's Gotta Have It Reboot is Ambitious, But Doesn't Quite Hit Its Mark