The She's Gotta Have It Reboot is Ambitious, But Doesn't Quite Hit Its Mark
DeWanda Wise stars in the Netflix reboot of Spike Lee's 1986 film, She's Gotta Have It, as Nola Darling, the Brooklyn artist who explores her sexuality through her relationships and her art.
---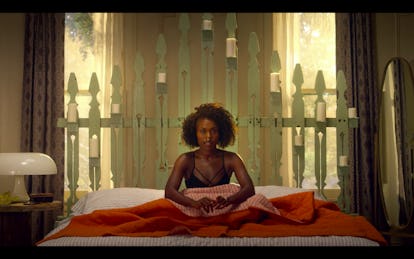 Netflix
DeWanda Wise stars in the Netflix reboot of Spike Lee's 1986 film, She's Gotta Have It, as Nola Darling, the Brooklyn-based artist who explores her sexuality through her relationships and her work. While Lee's discussion of the unceasing gentrification of Brooklyn neighborhoods and commentary on the upscaling of Fort Greene is necessary and well-executed for the most part, his show's treatment of millennial sexuality is off base, like a baby boomer who only just discovered that young people in New York have relationships with one another in ways that differ from the way people had relationships in the past.
She's Gotta Have It follows Nola Darling, a Fort Greene painter, and the three men in her life—the married businessman Jamie Overstreet (Lyriq Bent), narcissistic photographer Greer Childs (Cleo Anthony), and the fiery but childish Mars Blackmon (Anthony Ramos). Each of her lovers offers something different and satisfies Nola in varying ways. In 1986, that sort of conceit was groundbreaking, even controversial, but times have changed in 31 years.
The serialized version of the film differs from the movie in a couple ways, one of the most prominent being that it at least gives viewers three different types of women with varying relationships to sex and sexuality: Nola, the "sex positive, polyamorous pansexual;" her best friend and former roommate Clorinda Bradford, who is somewhat prudish; and Shemekka Epps, the Jamaican stripper who harbors some insecurity about her body. This expression of multiplicity should be fascinating enough to make the viewer want to continue watching the series, but after three episodes the show does not succeed at pulling the viewer to care about the show's subjects and their futures. After three episodes, not even cameos from The Wire's Isiah Whitlock Jr. or the rapper Fat Joe in a role as a Kangol hat-wearing strip club owner make the show funny or intriguing enough to continue watching.
The first three episodes deal with Nola's philosophy on sex and relationships—she remains involved and aware but healthily detached—self-image, harassment and body confidence. In each of the episodes, characters are introduced by breaking the fourth wall and giving monologues directly to the camera, a signature of Lee's work, but then they speak in somewhat stilted dialogue that can sound like the writers took a quick scroll through Twitter to get a glimpse of the vocabulary of the youth—"catching feelings" is a phrase uttered often and each episode title includes a hashtag (#LuvIzLuv, for example). That is not to say that people don't actually use this language in real life, but everything sounds contrived when coming out of the mouths of these characters. It is not until the fourth episode that the fluidity of Nola's sexuality that is promised in the early trailer of the show comes into play. In the fourth episode, Nola embarks on a cleanse—no weed, no alcohol, no social media and no men in her bed. No men does not equal no sex for Nola; she embraces a sexual relationship with a female lover named Opal.
Nola's story is one that deserves to be told, especially right now, and it is invigorating to see this character use her art as a therapy to cope with sexual harassment, understanding herself, and comprehending her relationships. The music and art included in the series is an essential lesson in staples of black culture—scenes are intercut with colorful album covers from Maxwell and Floetry, and paintings and photographs from Kerry James Marshall and Mickalene Thomas; even Nola's therapist has some framed photographs from Carrie Mae Weems' Kitchen Table Series hanging on her walls. The performances are also solid—Anthony Ramos as Mars Blackmon (the iconic role originated by Lee himself) is delightful—but the dialogue is often stiff, the pacing uneven and more than a few subplots felt unnecessary.
"My work is my solace these days, but I've been feeling like something hasn't quite clicked," Nola says to Opal in an early scene from the show's fourth episode. The feeling that something "hasn't quite clicked" might be mutual between Nola and the viewer, as the message of the series just doesn't quite find its groove. She's trying to reach the "sweet spot" of success at the nexus between theory and practice, something her character may eventually achieve with her art, but the show never does.
Related: What to Stream This Thanksgiving Weekend: 7 New TV Shows For Your Binge Watch
See W's most popular videos: