The Most Hedi Slimane Things Hedi Slimane Said in His First Celine Interview
The designer waxed poetic about flaneurs and "the youth" in an interview that's already proven to be polarizing.
---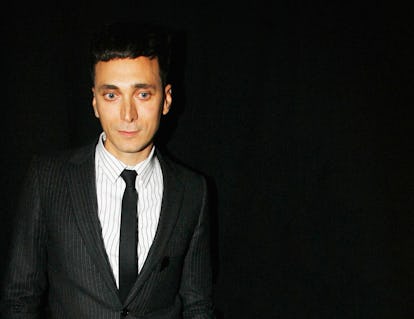 Getty
Hedi Slimane's debut at Céline—which he recently redubbed "Celine," sans l'accent—is fast approaching, with his first runway show for the house set for this Friday, during Paris Fashion Week. While his takeover from Celine's beloved former creative director Phoebe Philo has elicited many mixed reactions, the 50-year-old Dior Homme and Saint Laurent alumnus has been silent since his appointment was announced in January. Indeed, it's only in the past month that the famously press-shy designer has hinted at what's to come, changing the house's name and logo, and handing off one of his new handbags to Lady Gaga in a viral photo op.
The timing couldn't be more perfect, then, for Slimane to give an extremely rare interview, which appeared this week in Le Figaro, and which the Business of Fashion has since helpfully translated to English. Slimane comes off as rather restrained here, adopting a highly intellectual, romantic, and rather affected tone in his responses. At one point, when discussing masculinity—a loaded topic, coming from a designer known for redefining men's wear taking over the creative reins from someone whose designs were always not only for women but about women—he uses the phrase "the commonplaces of virility," rather than the word "genitals." (Although, to be fair, there may be something lost, or unintentionally gained, in the translation.)
The future of Celine, if this interview is anything to go by, will no longer be defined by women—Slimane never once mentions women in the interview, though he does once use the word "girls"—but by Slimane's constant obsessions. (When pointing out the similarity between Slimane's dropping the accent from "Céline" and his dropping the "Yves" from "Yves Saint Laurent" during his tenure at the French house, the interviewer asks him point-blank: "Why is there this almost obsessive desire to graphically mark your territory?")
Predictably enough, the interview has already proven to be polarizing, too, reigniting claims of Slimane's fetishization of youth—who he says have always been "at the heart of everything [he's] done"—and rail-thin, white models. (At Saint Laurent, he famously found his muses in what he referred to as L.A.'s "secret society" of modelesque and androgynous musicians and artists.) Here, the most Slimane quotes from an extremely Slimane-esque interview.
On his Parisian roots:
"I grew up between the smoke of Le Palace and the white tiles of Les Bains-Douches.… I was always surrounded by fabric. Sitting on rolls of flannel, I would wait for my mother for hours on end."
"I like walking in Paris for hours and hours, crossing the Seine, walking through the left bank. Paris may be the only capital left in the world where the word flâneur still make sense. I am very attached to it."
"I am delighted to come back to a French house, the tradition, the métiers, the ateliers. Paris is very specific when it comes to 'handmade,' which is incredibly chic."
On being very, very slim:
"When I was a teenager, everything was always too big on me.… I would float in everything."
"Designers are nothing without their models. I see them as artists.… If a dress that I particularly love doesn't have a body that wears it, it won't make it onto the catwalk because it's not embodied."
Before They Were Hedi Slimane's Muses
Edie's been a brunette, she's sported a mullet, but it's easy to forget she had super long locks when she first stepped onto the scene, captured in this Polaroid from the W archives. Like many a London 'It' girl before her, Edie made her debut in the Burberry spring 2008 ads. With sheared locks, she embodied the Saint Laurent girl, and she began to walk in Slimane's shows, starting with the fall 2013.
The model's first season was fall 2012, but it wasn't until Slimane cast the brunette beauty as his fall 2014 runway show as an exclusive that her career really skyrocketed. Since then, Grace has appeared in everything from eyewear to collection campaigns for the house.
The always upbeat model starred in the spring 2015 Saint Laurent campaign, and was an exclusive to the brand for both the spring 2015 and fall 2015 seasons. This season, you can catch her in the spring ads for Marc Jacobs.
The kiwi came for a visit in March 2014, after she walked as an exclusive in Slimane's spring 2014 runway. Now, the thrift-store shopping gap-toothed beauty is a bona-fide street-style star and Slimane muse.
Staz is the daughter of Dire Straits guitarist Hal Lindes and her mother is a former model. We snapped her Polaroid in April 2015, and then she was shot for Slimane's Diary and walked in his spring 2016 runway show. Plus, Staz, like dad, is into music. She fronts a band called the Paranoyds.
Staz is the daughter of a Dire Straits guitarist and model mom. We snapped her polaroid in April 2015, and then she was shot for Slimane's Diary and walked in his S/S16 runway show. Staz is currently is in a band called the Paranoyds.
On his California dream:
"I frequently went [to Los Angeles] since the end of the 1990s. I would start all my Dior collections there, in my hotel room. The city was still asleep, so it was the perfect time to fill in a blank page."
"I am thinking about [relocating to Europe]. I still haven't made up my mind.… I also think that I have explored the city from top to bottom."
"Donald Trump's election created a climate of uncertainty so strong that you cannot escape it. California joined the resistance, but the energy has fatally changed. I still live in Los Angeles, but it is different.… The city has changed today. It's been taken over and the authenticity is slowly getting lost because the megalopolis appeals to the world and the youth."
On his decision to remove the accent from "Céline":
"It's about putting the church back at the center of the village. It's orthodoxy, quite simply."
On how his vision differs from that of Phoebe Philo:
"You don't enter a fashion house to imitate the work of your predecessor, much less to take over the essence of their work, their codes and elements of their language. The goal is not to go the opposite way of their work either. It would be a misinterpretation."
"Consistency, rigor, accuracy—this is what is meaningful to me. I want the integrity of this route. It will perpetuate at Celine. It's a lifelong story. The idea is not to derogate from my style, from what made me."
"Respect is to preserve the integrity of everyone, to recognize things that belong to another person with honesty and discernment. It also means starting a new chapter. You arrive with a story, a culture, a personal language that is different from those of the house. You have to be yourself, against all odds."
Phoebe Philo Celebrated the Female Form at Céline Spring 2017
Photo by Jason Lloyd-Evans.
Photo by Jason Lloyd-Evans.
Photo by Jason Lloyd-Evans.
Photo by Jason Lloyd-Evans.
Photo by Jason Lloyd-Evans.
Photo by Jason Lloyd-Evans.
Photo by Jason Lloyd-Evans.
Photo by Jason Lloyd-Evans.
Photo by Jason Lloyd-Evans.
Photo by Jason Lloyd-Evans.
Photo by Jason Lloyd-Evans.
Photo by Jason Lloyd-Evans.
Photo by Jason Lloyd-Evans.
Photo by Jason Lloyd-Evans.
Photo by Jason Lloyd-Evans.
Photo by Jason Lloyd-Evans.
Photo by Jason Lloyd-Evans.
Photo by Jason Lloyd-Evans.
Photo by Jason Lloyd-Evans.
Photo by Jason Lloyd-Evans.
Photo by Jason Lloyd-Evans.
Photo by Jason Lloyd-Evans.
Photo by Jason Lloyd-Evans.
Photo by Jason Lloyd-Evans.
Photo by Jason Lloyd-Evans.
Photo by Jason Lloyd-Evans.
Photo by Jason Lloyd-Evans.
On always being Hedi:
"At Celine, I come back to the classic perception of my job from when I started 20 years ago, without any nostalgia. I have this tradition in me. All I do is all I am."
"I stand firm for my principles. Why should I give up on what defines me?"
"At Celine, the weight of the past is not as strong as at Dior or Saint Laurent. We can break free of it more easily.… Starting from here, we can coin a vocabulary. What's important is always now."
On his lifelong love affair with "the youth"—and boredom with "millennials":
"Youth is gracefulness, freedom of speech and recklessness. Youth, at the same time, can be on the lions on the grand boulevards, in the cellars of Saint-Germain and in the occupied lecture halls of the Sorbonne."
"This recurrent millennial term, used in a way of a business school lesson, described with statistics and numbers, is boring."
"No matter the time in history, [the youth] are this pure energy, the exaltation of every moment and the emotion of the skin, living their lives at full speed."
On social media:
"Social media is a fantastic revolution and will always be a bit like the Wild West. I guess that's what makes it so charming.… We have to be as enthusiastic about it as we were in the early days."
"The selfie-craze is an anthropological topic in and of itself. It's interesting to see what this will become in the long term."
"I don't have any private accounts on social media. I don't have a personal Instagram account.… I understand the excitement, but to me, the personal privacy seems to be the last luxury that must be preserved."
On his appreciation for silence:
"Just like many people, I have severe chronic tinnitus.… At first it got out of control, and I went through a very dark period, with phases of anxiety that were difficult to bear. The unthinkable idea of no longer knowing silence was unbearable to me. It was a spiral, a daily suffering."
On his motto:
"Hold on. Whatever the purpose, the opinions, the noise, the diaries.… The key to everything is to preserve the enchantment."
Related: Lady Gaga Pulled Out All the Stops to Debut Hedi Slimane's New Céline
Hedi Slimane's Greatest Hits for Saint Laurent: A Look Back
SS13 Look 4
Hedi Slimane debuted his newly renamed "Saint Laurent" collection in September, 2012. Edie Campbell, a favorite model of Slimane's at Saint Laurent, wears a dress that harkens back to YSL's "la saharienne" style, most iconically worn by Veruschka.
SS13 Look 7
Saskia de Brauw wore a rock-chic update on the YSL classic Le Smoking.
SS13 Look 13
With a dramatic pussycat bow, and a short short silhouette, Slimane's Saint Laurent touches on elements of old YSL combined with the California coast Slimane calls home.
PF13 Look 12
Sky Ferreira appears in the lookbook for the first pre-collection, one of the many musicians Slimane taps to appear in his collections.
FW13 38
Grunge was the focal point of Slimane's FW13 collection.
FW13 Look 44
One can't help but think this look was pulled right from Courtney Love's closet.
RE14 Look 10
Sasha Pivovarova wears Saint Laurent staples, leopard and leather, for the Resort 2014 look book
SS14 Look 2
The lip print ruled the runway for spring 2014.
SS14 Look 44
And it got an added dose of glamour in sequins.
FW14 Look 5
60s shift dresses and make-up are key moments for Slimane's FW14 collection. Cara Delevigne also covered the October 2014 issue of W wearing this same look.
FW14 Look 7
Mad for plaid for FW14.
FW14 Look 52
Bring on the sequins and shine! This season every fashion editor was dying for variations of the black patent boots and glittery dresses and accessories.
FW14 Look 54
Dramatic capes were always a favorite of editors attending Slimane's runway shows.
SS15 Look 1
The one shoulder ruffle felt very YSL, updated for today's rock-chic babe in a cherry print and studded belt.
SS15 Look 51
This look features all the favorite Saint Laurent touches – a bit of distressed denim, sequins, and leopard, all worn by one of Slimane's muse Lili Sumner.
SS15 Men's Look #22
Heavy metal and western jewelry decorated the bodies of the few women (and the men!) who walked in Slimane's SS15 men's show.
FW15 Look #1
Because everyone needs and 80s prom dress/ballet tutu number. Paired with fishnets and touch boots, this is the epitome of Slimane's rock princess.
FW15 Look 23
For FW15 the print du jour was an all-over red lipstick print. Sexy and playful, it was a party girl's dress of choice for a night out.
FW15 Look 30
The dramatic one-shoulder look makes another appearance for FW15, this time in a graphic and stunning black and white.
FW15 Look 46
This fur-and-feather coat was by far the boldest fur on the FW15 season.
FW15 Look 54
Lida Fox had walked in many a Saint Laurent show, but this was probably the most daring look she ever sported on his runway.
SS16 Men's Look 74
Little girl dresses are a Saint Laurent favorite, especially when they are gilded in sequins.
SS16 Look 1
The fashion flock is in love with the slip dress at the moment, and this silvery slinky number feels very 90s Kate Moss.
SS16 Look 34
Another beautiful slip dress, sheer lace with beautiful embroidery.
SS16 Look 48
Slimane is known for getting his inspiration from the street and wearing Hunter wellies must be the epitome of the life of a trend – from the street to runway and back to the street again.