Lady Gaga Pulled Out All the Stops to Debut Hedi Slimane's New Céline
She's already introduced her new unreleased tote bag to the Mona Lisa.
---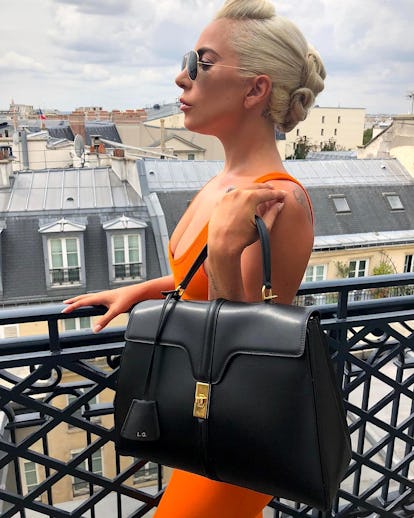 Courtesy of @ladygaga
Leave it to Lady Gaga to start off a morning with a bang. First she made headlines for mysteriously Instagramming three photos of herself nude, only to make even more frantic headlines just a matter of hours later for simply wearing a purse. This wasn't, of course, any old handbag, but the debut of some of the most coveted fashion in the world: the first-ever public glimpse at what Céline will look like now that Hedi Slimane has taken over the French house from its beloved creative director, Phoebe Philo, as was announced this past January.
That appointment brought mixed reactions, to say the least; Slimane has of course had a cult following of his own ever since he struck out at Dior Homme, though that specialty in menswear—not to mention his recent penchant for fashion tweet storms—is also what made him a controversial choice for a house that Philo transformed into being not only for women, but all about women. Gaga's support for Slimane ahead of his Céline debut at Paris Fashion Week this September, then, comes at an important time and is no small endorsement; she's riding her own publicity wave thanks to all the Oscar buzz and nonstop praise surrounding her upcoming film with Bradley Cooper, A Star Is Born.
So what exactly does Céline look like under Slimane? Thus far, we've only seen one handbag, but that's quite a bit in and of itself, suggesting that Slimane will be upholding the It bag reputation Philo famously forged for the house. Indeed, according to Gaga's stylist, Tom Eerebout, the sleek black-leather tote that Gaga stepped out with on Wednesday night—a personal gift from Slimane, who also photographed Gaga for her 2009 The Fame Monster album cover—will be a part of Céline's presentation at Paris Fashion Week. Naturally, then, Gaga treated her precious cargo quite accordingly, flaunting it with full theatrics on Wednesday in Paris and even taking it to see the Mona Lisa at the Louvre.
Alas, while Gaga's matching giant black-leather Alaïa trench coat may have added to the drama, it also wasn't the perfect backdrop for taking in the bag in all of its glory. Since this is Gaga we're talking about, though, it was only a matter of hours before she served up the close-up she knew everyone was looking for, kicking off the next morning by putting on an orange tube dress and staging a mini photo shoot on a rooftop in Paris to show it off in the daylight, from enough angles to fully exhibit its gold hardware and monogrammed leather tassel stamped with the letters "L.G."
All this only adds to the narrative that lately Gaga has been getting back to her former showstopping ways; she was, after all, the first celebrity to wear a full look from Slimane's debut collection for Saint Laurent in 2012 and has spent the past few weeks treating the streets like a runway, casually stepping out in looks like a blue PVC trench coat, worn atop a reflective neon bra, bike shorts, and a pair of ultra-high platform boots. (There have been a few other reminders that she's still a weirdo at heart too—like her recent NSFW photo shoot with an octopus.)
Related: A Star Is Born Is Making Everyone Cry—Even Lady Gaga
Lady Gaga's Style Evolution, From a Meat Dress to Custom Versace
A brunette Gaga performing at Lollapalooza, in a homemade disco bra.That DIY aesthetic was only a small taste of what was to come.

Getty Images
One of the earliest incarnations of the Lady Gaga persona: snood, sunglasses, David Bowie makeup, and platinum blonde hair.

Getty Images
Lady Gaga and her "hair bow" debut on Good Day New York in 2008. Most of her costumes at this time where largely handmade.

Getty Images
Lady Gaga at a Fashion Week event in 2008, complete with towering shoulder pads and signature snood.

Getty Images
Gaga at a concert event in Germany, wearing one of her crystal stalagmite encrusted dresses.

Getty Images
Sporting rainbow colored locks, leopard briefs, and thigh-high boots at a Tokyo airport.

Getty Images
Gaga on the VMAs red carpet, wearing the first of one of many VMA looks that will go down in fashion history.

Getty Images
Meeting the Queen of England in Edwardian-themed red latex gown and crystal encrusted eye makeup.

Getty Images
At the 52nd Grammy Awards wearing custom Armani Prive and a matching, hand-held sculpture.

Getty Images
Leaving her concert at the O2 Arena in Germany at the height of "Bad Romance" fever.

Getty Images
Wearing her infamous meat dress at the MTV Video Music Awards.

Frederick M. Brown/Getty Images
At the VMAs in an Alexander McQueen look, wearing the infamous Armadillo platform heels.

Getty Images
Leaving dinner in Paris dedecked in diamonds and blush pink silk.

Getty Images
Accepting the Grammy award for best pop vocal album wearing archive Mugler at the beginning of her "Born This Way" era.

Getty Images
A chic, fully monochromatic look ("teal blonde" hair included) at Narita Airport in Tokyo.

Getty Images
At the CFDA awards sporting a teal bob. She won the Fashion Icon Award that evening.

Getty Images
A radiant brunette Lady Gaga at Harrods for the launch of her fragrance, Fame.

Getty Images
Lady Gaga wearing archive Versace with the designer in Milan.

Getty Images
Fairytale princess Gaga in an Alexander McQueen gown.

Getty Images
Channeling a rave-disco incarnation of Botticelli's Venus at the VMAs.

Getty Images
Lady "Godiva" Gaga arriving on the American Music Awards red carpet atop a mechanical horse and wearing Atelier Versace.

Getty Images
At an event in Japan in promotion of her album Artpop.

Getty Images
A street style moment in London complete with "Botticelli babe" waves and prismatic eyeglasses.

Getty Images
Sporting ultra long white-blond locks and a pink fur coat leaving her apartment in New York.

Getty Images
Wearing a lavender Atelier Versace gown at the 86th Annual Academy Awards.

Getty Images
Wearing a star-spangled, custom white Valentino gown with diamante eyebrows to match at the Kennedy Center Honors.

Getty Images
Entering the era of polished, elegant, and jazz Gaga for her collaboration album with Tony Bennett.

Getty Images
Wearing a custom, glittering Azzedine Alaia gown to the 87th Annual Academy Awards.

Getty Images
Lady Gaga at the Songwriter's Hall of Fame induction, channeling John Lennon by way of Alexander Wang.

Getty Images
Full Bowie-glam in a custom Marc Jacobs look for the 58th Grammy Awards, where Gaga performed a tribute to the late performer.

Getty Images