Heidi Klum and Christie Brinkley Address Ageism in Modeling
"Do we have an expiration date, can we not also still feel sexy?"
---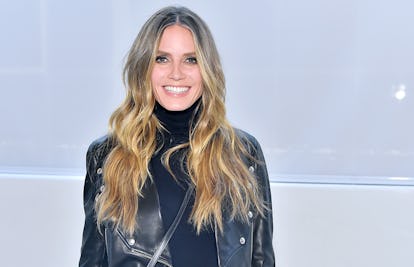 Photo by Stefanie Keenan/Getty Images for Mr Chow Enterprises
For Heidi Klum and Christie Brinkley, age is just a number. The two models are speaking out about ageism, specifically pertaining to ageism they've faced as models over the course of their careers.
Klum, the host of Project Runway, opened up about her own experience on The Ellen DeGeneres Show, telling DeGeneres, "Sometimes people say, 'You know you're 44, you're turning 45, why are you not giving the baton to someone else?' But I always think, you know there's a lot of women my age, 50, 60, 70, what, do we have an expiration date, can we not also still feel sexy?"
Klum also questioned the lack of representation in fashion for women past their 30s. "And why do we always have to see 20- or 30-year-olds… in campaigns, but why can't an older woman be in [one]?," she asked. "I'm still doing it." As for when she plans on retiring, Klum said that won't be until she "doesn't want to do it anymore."
Brinkley shared a similar sentiment, in the wake of celebrating her 64th birthday, in a recent cover story for Closer Weekly. "I'm not going to let that number make me feel old," she said "The best part of being my age is not really caring what other people think."
Klum and Brinkley's empowering comments couldn't come at a better time. Despite the fact that iconic models from decades past have managed to remain relevant, as Versace's spring 2018 show proved with Cindy Crawford, Naomi Campbell, Helena Christensen, Carla Bruni-Sarkozy, and Claudia Schiffer closing things out and shutting it down, there is still a glaring lack of age diversity in the fashion industry. In fact, a recent study conducted by The Fashion Spot, which surveyed 2,289 model appearances at NYFW for fall 2018, found that there were only 9 models over 50 years old, which was a decrease from the year before.
With more models like Klum and Brinkley speaking up, though, hopefully things will begin to change. Cindy Crawford has also talked about ageism, telling Refinery 29, "There is a lot of pressure on women to, well, not age. Being a model and having your whole career being based on how you look, I am probably even more sensitive to it—but you can't keep chasing this impossible thing… It's not about looking 20, or looking 30, 40, or 50, it's about looking like you take care of yourself. Exercising, eating right, taking care of your skin—that is looking great at every age, and that's the message that I really believe in, partly because I'm getting older. As much as I try to take care of myself I still don't look like my daughter when I wake up in the morning—and I don't want to feel bad about that."