New York Fashion Week Fall 2018 Lacked Much Progress in Diversity
There was only a 0.4 percent increase in racial diversity.
---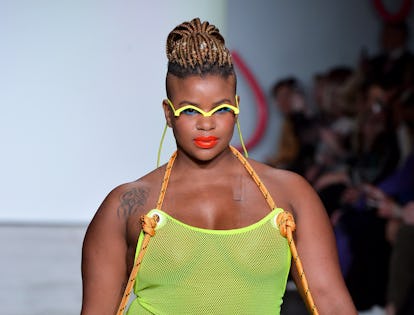 Noam Galai/Getty Images for Chromat
Last fall, the fashion industry took a major step forward towards inclusivity, both on the runway at New York Fashion Week and in print ads. This season, however, the industry's evolution stalled. Racial diversity only marginally improved 0.4 percent at NYFW for fall 2018, according to the Fashion Spot, which analyzed casting for for 82 shows and found that models of color accounted for merely 37.3 percent of models. While 0.4 percent is hardly progress, it is a leap from the first year the Fashion Spot began tracking diversity, in 2015, when it was just 20.9 non-white.
The representation of transgender models this past New York Fashion week saw a comparable increase. There were only two more transgender and non-binary models for fall 2018 than for spring 2018. A total of 33 transgender and non-binary models walked in this past season's shows. While that number is shockingly low compared to the 2,289 model appearances the Fashion Spot analyzed, the publication did note transgender representation at this past NYFW was monumental in another way: more than ever, mainstream brands casted transgender models including Derek Lam, Tory Burch, Coach 1941, Alexander Wang, Jeremy Scott, Oscar de la Renta, Carolina Herrera and Marc Jacobs, who tapped Hunter Schafer, Massima Lei, Ariel Murtagh and Dara Allen.
While racial and transgender diversity marginally improved, size and age inclusivity actually plummeted. Fall 2018 NYFW saw only 26 plus-size models in comparison to Spring 2018's 34 — and one label, Chromat, which has continually raised the bar on inclusive casting, was responsible for 9 of those hires. (They were the ones to model this season's hottest accessory — at least by palate — Flamin' Hot Cheetos. On the other hand, within the relatively small number of plus-size models at NYFW, there was substantial diversity. Out of all the curvy models, 19 were people of color and 7 were white. Meanwhile, age-wise, there were only 9 models over 50, which was down from last year's 10.
As for the most diverse shows, Chromat came in second with a 72.7 percentage of nonwhite models. Gypsy Sport had the highest percentage of nonwhite models (80), while Matthew Adams Dolan, Jeremy Scott, Brandon Maxwell, Alexader Wang, and Vivienne Tam trailed behind.
Related: 94 Percent of Women in Hollywood Say They've Been Sexually Harassed or Assaulted
Real or Faux, New York Fashion Week Street Style Is All About Fur and Leather
Street style during New York Fashion Week Fall 2018 on Thursday, February 8th in New York City. Photo by Adam Katz Sinding for W Magazine.

2017 Adam Katz Sinding
Street style during New York Fashion Week Fall 2018 on Thursday, February 8th in New York City. Photo by Adam Katz Sinding for W Magazine.

2017 Adam Katz Sinding
Street style during New York Fashion Week Fall 2018 on Thursday, February 8th in New York City. Photo by Adam Katz Sinding for W Magazine.

2017 Adam Katz Sinding
Street style during New York Fashion Week Fall 2018 on Thursday, February 8th in New York City. Photo by Adam Katz Sinding for W Magazine.

2017 Adam Katz Sinding
Street style during New York Fashion Week Fall 2018 on Thursday, February 8th in New York City. Photo by Adam Katz Sinding for W Magazine.

2017 Adam Katz Sinding
Street style during New York Fashion Week Fall 2018 on Thursday, February 8th in New York City. Photo by Adam Katz Sinding for W Magazine.

2017 Adam Katz Sinding
Street style during New York Fashion Week Fall 2018 on Thursday, February 8th in New York City. Photo by Adam Katz Sinding for W Magazine.

2017 Adam Katz Sinding
Street style during New York Fashion Week Fall 2018 on Thursday, February 8th in New York City. Photo by Adam Katz Sinding for W Magazine.

2017 Adam Katz Sinding
Street style during New York Fashion Week Fall 2018 on Thursday, February 8th in New York City. Photo by Adam Katz Sinding for W Magazine.

2017 Adam Katz Sinding
Street style during New York Fashion Week Fall 2018 on Thursday, February 8th in New York City. Photo by Adam Katz Sinding for W Magazine.

2017 Adam Katz Sinding
Street style during New York Fashion Week Fall 2018 on Thursday, February 8th in New York City. Photo by Adam Katz Sinding for W Magazine.

2017 Adam Katz Sinding
Street style during New York Fashion Week Fall 2018 on Thursday, February 8th in New York City. Photo by Adam Katz Sinding for W Magazine.

2017 Adam Katz Sinding
Street style during New York Fashion Week Fall 2018 on Thursday, February 8th in New York City. Photo by Adam Katz Sinding for W Magazine.

2017 Adam Katz Sinding
Street style during New York Fashion Week Fall 2018 on Friday, February 9th in New York City. Photo by Adam Katz Sinding for W Magazine.

2017 Adam Katz Sinding
Street style during New York Fashion Week Fall 2018 on Friday, February 9th in New York City. Photo by Adam Katz Sinding for W Magazine.

2017 Adam Katz Sinding
Street style during New York Fashion Week Fall 2018 on Friday, February 9th in New York City. Photo by Adam Katz Sinding for W Magazine.

2017 Adam Katz Sinding
Street style during New York Fashion Week Fall 2018 on Friday, February 9th in New York City. Photo by Adam Katz Sinding for W Magazine.

2017 Adam Katz Sinding
Street style during New York Fashion Week Fall 2018 on Friday, February 9th in New York City. Photo by Adam Katz Sinding for W Magazine.

2017 Adam Katz Sinding
Street style during New York Fashion Week Fall 2018 on Friday, February 9th in New York City. Photo by Adam Katz Sinding for W Magazine.

2017 Adam Katz Sinding
Street style during New York Fashion Week Fall 2018 on Friday, February 9th in New York City. Photo by Adam Katz Sinding for W Magazine.

2017 Adam Katz Sinding
Street style during New York Fashion Week Fall 2018 on Friday, February 9th in New York City. Photo by Adam Katz Sinding for W Magazine.

2017 Adam Katz Sinding
Street style during New York Fashion Week Fall 2018 on Friday, February 9th in New York City. Photo by Adam Katz Sinding for W Magazine.

2017 Adam Katz Sinding
Street style during New York Fashion Week Fall 2018 on Friday, February 9th in New York City. Photo by Adam Katz Sinding for W Magazine.

2017 Adam Katz Sinding
Street style during New York Fashion Week Fall 2018 on Friday, February 9th in New York City. Photo by Adam Katz Sinding for W Magazine.

2017 Adam Katz Sinding
Street style during New York Fashion Week Fall 2018 on Friday, February 9th in New York City. Photo by Adam Katz Sinding for W Magazine.

2017 Adam Katz Sinding
Street style during New York Fashion Week Fall 2018 on Friday, February 9th in New York City. Photo by Adam Katz Sinding for W Magazine.

2017 Adam Katz Sinding
Street style during New York Fashion Week Fall 2018 on Friday, February 9th in New York City. Photo by Adam Katz Sinding for W Magazine.

2017 Adam Katz Sinding
Street style during New York Fashion Week Fall 2018 on Friday, February 9th in New York City. Photo by Adam Katz Sinding for W Magazine.

2017 Adam Katz Sinding
Street style during New York Fashion Week Fall 2018 on Saturday, February 10th in New York City. Photo by Adam Katz Sinding for W Magazine.

2017 Adam Katz Sinding
Street style during New York Fashion Week Fall 2018 on Saturday, February 10th in New York City. Photo by Adam Katz Sinding for W Magazine.

2017 Adam Katz Sinding