Change of Course
Across the Channel from Michelin-obsessed France, Paris's leading female chef stakes a claim in London.
---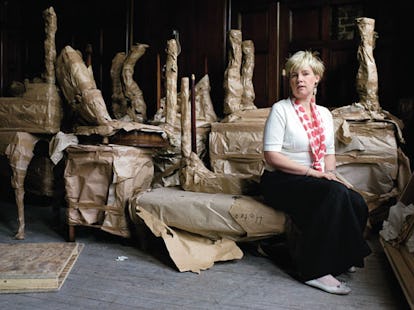 Whenever anyone used to ask Hélène Darroze, Paris's most acclaimed female chef, if she had any plans to open a restaurant outside of France, she always replied with a "non." Darroze's eponymous eatery on the Left Bank, with its two Michelin stars, is a bastion of the kind of hearty, terroir-inspired cooking that doesn't always travel well, and in any case, Darroze prides herself on being in the kitchen almost every night. Occasionally, however, after denying any intentions of expanding her empire, Darroze would trot out a common French saying: "Only imbeciles never change their minds."
Darroze, evidently, is no imbecile, for this year she agreed to take over the stove at London's Connaught hotel, where the first half of a $140 million renovation is nearing completion. The reason, she says, is that when she visited the hotel, it was "love at first sight."
The venture also might have something to do with an affront she suffered early last year, when the 2007 Michelin ratings came out in France. Though Darroze was said to be certain to win a third star, she wound up with only two, while another two-star female French chef, Anne-Sophie Pic, unexpectedly jumped to three-star status, sparking some malicious gloating among Darroze's competitors. Darroze notes that her Paris restaurant remains fully booked every night, but she admits she was devastated on the morning the ratings were announced. "I never want to live through that again—it just hurts too much," she says.
In London, where the new restaurant, Hélène Darroze at the Connaught, opens this summer, she'll likely find it easier to set her course without having étoiles on the brain; the Michelin ratings aren't as sacrosanct as they are in France, and Darroze says she doesn't even know the names of Britain's leading food critics. As in Paris, her menu will offer signature dishes like Carnaroli rice in squid ink and other refined takes on the robust cuisine of southwestern France, where her family operated a one-star restaurant. Darroze will also bring a highly instinctual approach to cooking that sets her apart from the Gordon Ramsays and Ferran Adriàs of the world. "I put my life into each dish," she says, sitting in the bar at the Connaught. "Many male chefs, they start with the technique, and the emotion comes afterward. I think with my heart, and the technique follows."
Despite her romantic and somewhat grandiose conception of her calling, Darroze, 41, is known as one of the least pretentious top chefs around. After graduating from business school, she landed a job at Monaco's Hôtel de Paris, home to Alain Ducasse's Louis XV. But a brief stint under Ducasse in the kitchen—churning butter and washing lettuce—was "a revelation," so she decided to switch sides. In 1995, when she returned home to take over the family restaurant, she found the staff and the standards lacking; four years later, against her father's wishes, she closed the place and took out loans to open her own restaurant, in Paris. "I will feel guilty about that for the rest of my life," Darroze says. "I still have nightmares about it. But it was necessary to do." (She earned her first star in 2001 and her second in 2003.)
Darroze, who plans on dividing her time between England and France, recently adopted a baby girl from Vietnam, and she says she's enjoying a new period of personal fulfillment. Of course, for a self-styled culinary artist like Darroze, who has often found inspiration while "working through her pain," a lack of suffering might be a dangerous thing.
"These days, I'm more often happy than sad," Darroze says with a laugh. "Maybe that's a problem."