Pop-Up Beaches, Parrots, and Foam Pits: Inside Hélio Oiticica's Tropical Playground at the Whitney Museum
The late Brazilian artist is finally getting his due with an exhibition that's made to be touched.
---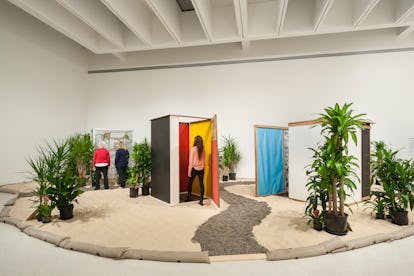 © César and Claudio Oiticica, Rio de Janeiro. Courtesy of the Whitney Museum and Carnegie Museum of Art, Pittsburgh. Photo by Bryan Conley
Usually, an institution as large as the Whitney Museum would shy from displaying copies of an artist's work, but "Hélio Oiticica: To Organize Delirium," is not your typical show. Together with his fellow late Brazilian artists Lygia Pape and Lygia Clark, Oiticica formed the Neo-Concretist movement, which stressed that viewers actually interact with art—as in actually grabbing, stepping on, and walking through the work, thereby always ensuring fun art exhibitions.
Take, for example, Tropicália, Oiticica's most famous work: It's essentially a walk-through pop-up beach in the middle of Manhattan, complete with live parrots and sand that's definitely safer for visitors to dig into than that abutting the museum on the shores of the Hudson River. Not that it's all fun and games: Back in the late '60s, when Brazil was governed by a strict military dictatorship, the work was so radical that it sparked a movement of its own, Tropicalismo. Seen as anti-authoritarian, it even got the country's most beloved singer, Caetano Veloso, arrested when he stood by Oiticica and wrote a song with the same title.
Politics, then, are part of the reason that it's taken Oiticica and his comrades decades to be recognized; "To Organize Delirium" is his first full-scale U.S. retrospective in about 20 years, on the heels of Pape's debut earlier this year at the Met Breuer. And despite that dark past, there's still plenty of fun to be had at the Whitney, too: Among the installations are a set of welcoming twin beds, foam pits, and hammocks, and more opportunities to walk around the Whitney barefoot, as well as catalogs of cocaine varieties, pleasantly Nan Goldin-esque photos, and drape-y designs you can try on yourself. No wonder it was one of the uber-cool stylist and fashion arbiter Lotta Volkova's first stops on her recent visit in New York. Get a look at her Instagrams of the show and more, here.
Related: MoMA PS1's Spectacular New Canopy Is Literally the Coolest Place to Hang This Summer, Day or Night
Meet the Chameleons of the Art World, aka the Humans of Frieze New York: