MoMA PS1's Spectacular New Canopy Is Literally the Coolest Place to Hang This Summer, Day or Night
Architect Jenny Sabin's new installation features a cooling mist during the day and rave-worthy lights at night.
---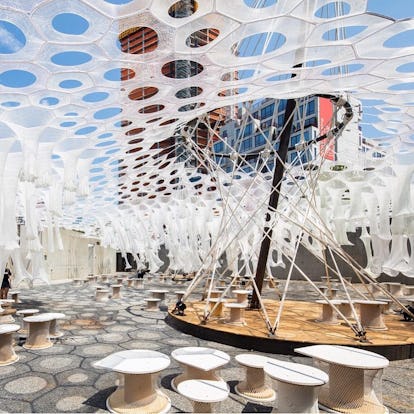 Courtesy of @MoMAPS1
On Friday, the Guardian made the rather strong claim that art galleries, not nightclubs, are the new hot spots for anyone looking to rave. (Hmm.) Hyperbole aside, they focused in part on the raucous parties that take place all summer long at MoMA PS1 as part of its Warm Up series, which has summoned buzzy acts like Virgil Abloh, Hot Chip, Skepta, and SOPHIE to take the stage in its courtyard, all the way in Long Island City.
And while the "best place to rave" is a suspect claim, there's no doubt that PS1's courtyard is currently one of the coolest places to hang this summer—literally, as of this week. On Friday, a new installation, Lumen, spread over the museum's courtyard like cobwebs, creating a gauzy canopy that provides shade and also sprays museum-goers with a cooling mist. At night, meanwhile, it casts a "rave"-friendly pink, blue, and purple glow on the museum.
Lumen, after all, isn't your ordinary canopy: It's made out of over a million yards of recycled, photo-luminescent textiles capable of collecting solar energy, as well as producing light. A smattering of stools, which have been woven by robots, have also been installed to allow for a more comfortable inspection of this beguiling tech. Some sections of the canopy droop down in like a futuristic version of Pipilotti Rist's underwear chandelier at the New Museum.
Jenny Sabin's proposal was the winner of MoMA PS1's annual Young Architects Program, which is how the canopy ended up in the courtyard just in time for fourth of July weekend. Get a head start on the partying with an up-close look on Instagram, here.
Related: Ai Weiwei Is Creeping on New York with an Army of Drones, and Instagram Is Loving It
See Kendall Jenner, Performance Artist, Channel Icons Like Marina Abramovic and Yoko Ono: