Henry Holland's recession fashion tips & more
London designer Henry Holland started out styling pop stars for British teen magazines and shot to fashion fame in 2006 with his House of Holland line of bold slogan T-shirts (aided somewhat by brand mascot...
---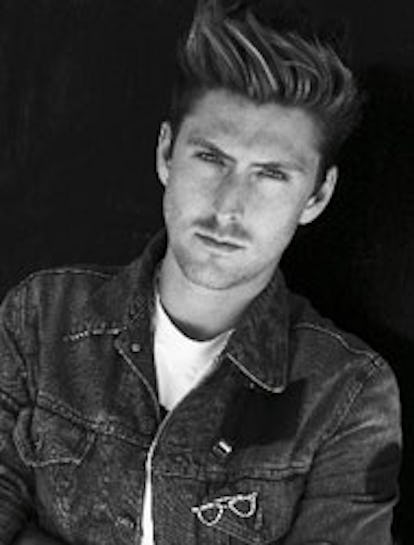 What's your favorite mode of transport? Walking. I just spent loads of money on a pair of studded Prada brogues and my justification was that my shoes are my car.
On that note, do you have any tips for credit-crunch dressing? Don't go near Prada! (laughs) Well, because it's summer, I've cut all of the sleeves and legs off of my clothes—hence my closet is full of denim legwarmers. An ill-fitting T-shirt can look very good without sleeves.
From left: Holland in London; with pals Agyness Deyn and Alexa Chung at his after show party last September.
When was the last time you cried? I had a hysterical laughing fit at Glastonbury for about ten hours. I was very hungover and sat outside and got very sunburned. My salty tears were stinging my cheeks so I ended up with a completely blotchy face. As for sad tears, I cry all the time watching films or Britain's Got Talent.
Is it swine flu hysteria in London? The news is making a big fuss and everyone's getting a bit tetchy and hypochondriac about it, but we're trying to just get on with it. My sister had it for five days and whenever I told anyone they'd take three paces back.
What are your favorite London after-dark haunts? It's not really about clubs now—it's more about going to old man pubs and friends' houses. East London is still the main hub, but it's spreading further east. For pubs, there's the Joiners Arms in Shoreditch and the Dalston Superstore, a tiny little bar in Dalston.
Any cool new London stores? SHOWstudio just opened a store in the old Margiela shop that I really want to see that's filled with a mixture of stuff like clothes and huge props from Nick Knight's photo shoots.
What do you think of Michelle Obama's style? It's fabulous. For a woman of her stature and position you can really tell she likes clothes and likes to experiment. It's fascinating that she's the new person who wears something and it sells out; she's the new Kate Moss.
Name your top summer albums. "Hands" by Little Boots, "La Roux" by La Roux and "Lungs" by Florence and the Machine.
Where are you going on vacation? I'm working on my spring show now but I've booked a cruise for the Caribbean for November. I'm very intrigued—I read that it's two nights black tie, then the next two white tie. I'm going with my best friend and can't wait to say things like, 'Meet you at starboard.'
Photos: top, Rod Edmunds and Kate Rodgers; others, Tim Jenkins.