Here's What Gwyneth Paltrow and Lena Dunham Like About Each Other
Gwyneth Paltrow and Lena Dunham took turns interviewing each other for their newsletters, and they really, really like each other.
---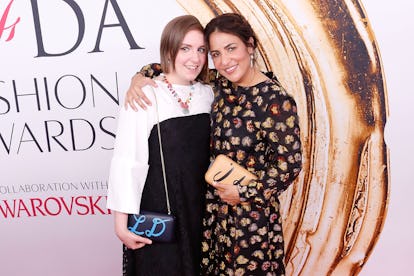 FilmMagic
It's true that certain segments of the media (and social media) likes to pit famous women against each other for very little reason at all. For example, you don't have to look much further this week than to how much Marion Cotillard and Jennifer Aniston has been dragged into the buzz emanating from the Brangelina divorce.
Naturally, some might assume that there's beef between Gwyneth Paltrow and Lena Dunham. They're both behind booming e-mail newsletter empires, after all. Paltrow runs her lifestyle-focused goop, while Dunham and her Girls co-creator Jenni Konner have started Lenny Letter, a millennial-focused e-mail that covers everything from feminism to style.
Paltrow, Dunham, and Konner, however, want you to know that not only do they have mutual respect for each other but they're actually friends. The Steve Jobs and Bill Gates of newsletters they are not.
In fact, both Goop and Lenny Letter featured conversations between the three this week. Dunham and Konner interviewed Paltrow earlier this week in their e-mail domain, and Paltrow returned the favor today in goop.
There's a lot of inside baseball talk about how to start, run and scale up an e-mail newsletter business all while balancing your other career as a world famous actress or powerful producer, which might be useful to other famous actresses looking to get in on the e-mail business (Chloë? Mary-Kate? …Jane? Anyone out there listening?).
To people not looking to start an e-mail newsletter empire, well, it's just a good, refreshing example of three powerful women complimenting each other.
Here, culled from both interviews, is a selection of everything they like about each other.
Gwyneth on Why She Loves Lenny Letter So Much:
"This is something I respect about you guys so much: Your voice is so pure—whether it's on Girls or in Lenny. And that's how you build trust—that predictability. You're pushing boundaries, and it's edgy and it's forward thinking. That permeates—that goes across both businesses. That's what a real brand is. You can start anything as long as you keep with the brand."
Jenni on Why She Loves Goop So Much:
"It's funny, I remember reading goop and the issue that I was like, Oh wait a minute, this is something totally different, was the postpartum issue… I remember reading the issue, reading your intro, and reading the Bryce Dallas Howard piece, and just being like—Okay, fck, this is not just a lifestyle magazine. This is not just a lifestyle newsletter. There's something about it that has informed us—not just you as a business person—but that has informed us as personal storytellers."*
Lena on loving what Gwyneth is saying:
"I love what you're saying, GP, about how if you stay true to your voice, anything is okay …I feel like you've actually created the space where you're like: Yeah, I'm going to talk about these emotional things, and I'm going to let you know that it's just as important to me what I put on my skin. As long as I'm sharing something that I know in my bones I can get behind, there's no real difference between those two experiences."
Gwyneth on believing that Lena really is the voice of her generation:
"You also have sort of taken on this voice-of-a-generation thing …But, it's true. I mean, not that you were saying it about yourself, Lena. But it has become true."
Jenni on who Gwyneth is:
"Gwyneth Paltrow is exactly who you think she is. In the end, none of this fucking matters, because she has never been anyone but herself. Thank God, because here's who Gwyneth is to me: a vital friend, generous with her knowledge and passions. An ass-kicking cook, but you already know that if you follow me — or anyone else — on Instagram, because her recipes are obsessively tagged. An engaged mother who sees the humor and beauty in child-rearing. And a determined businesswoman who demands that no female question her own value in the marketplace."
Gwyneth on Lena being powerful:
"You are powerful…"
Jenni on Gwyneth not sharing enough of her sense of humor:
"I would say you have an earnestness, but you actually also have a great sense of humor. That's what you were leaving out. The full scope of you."
Gwyneth on Lena's on-screen nudity:
"I remember watching you in the first sex scene in Girls that I saw, when you took your clothes off. And you blew my mind. Because you really, in a single moment, reframed how beautiful you could be while being completely nonconformist."
Lena on goop's infamous vagina steaming article:
"Honestly, my first reaction was like, 'I can't wait to steam my vagina.'"
All around, a pretty positive set of dueling interviews. Lena and Gwyneth didn't even find time to commiserate how much they both hate the Met Ball.