Inside the Alternative Universe of Hermès and Robert Wilson
Stage director Robert Wilson created an elaborate set inside Cedar Lake for Hermès' new Maison collection.
---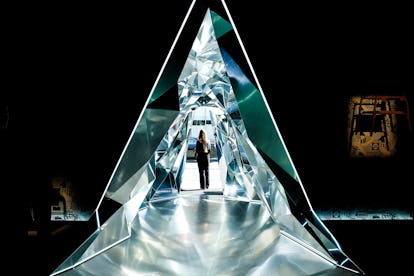 As guests made their way inside the Cedar Lake performance space in Chelsea yesterday, they quickly found themselves immersed in an alternate universe. Manhattan's honking cabs and frenetic pulse suddenly seemed light years away, as they walked through a mirrored room with the calming sounds of waves crashing in the background–an installation designed by the stage director Robert Wilson for the house of Hermès.
The pop-up project, titled Here Elsewhere, was a presentation of Hermès' new Maison collections (under the artistic direction of Alexis Fabry and Charlotte Macaux Perelman) that were introduced this year at Salone in Italy. The lot included highly functional objects like a desk blotter and a leather Sellier sofa (which ranges in price from $58,600.00 to $130,400), and more fanciful pieces like cowhide spinning tops.
The house commissioned Wilson, known for his mastery of light on stage as well as visual works like his Portraits of Lady Gaga series, to give these objects new life through his original installation work, which included video portraits and live performers. In one corner of the first room, a woman dressed in head-to-toe white made herself comfortable on the floor in front of the sofa, which was hung at an angle from the ceiling. In another corner, a man (also in full white, with a stuffed black bird on his shoulder) stood examining an Hermes watch inside a leather cabinet.
"The idea was to craft a unique relationship between man and objects to explore the oxymoron that exists at the heart of the Hermès Maison Universe," the house's artistic directors explained of the project, which was a year in the making. Wilson, they said, was a natural fit for the job (even though he rarely works in the commercial space). "He has everything we are seeking: a theater man, a rigorous stage director with uncluttered writing, as well as a collector of assorted objects, ceramics, chairs."
In the second circular room, an actress (decked out in a silver number that looked fit for the New York City Ballet stage) stood on a podium as the Hermès objects rotated around her on a 360 degree video screen to the sounds of a dramatic Phillip Glass score. She was followed by another actress in a sparkling red gown, who repeated a series of dancer-ly movements on the podium.
In the reading material, Wilson explained of the project, "By creating Here Elsewhere, I wanted to see how different objects could complement each other. Taking one object and putting another one next to it helps me to see them better, and every encounter enhances my perception of them. They become important in their differences or similarities. Directors, conductors, playwrights, and illustrators are all confronted with these choices, these decisions in time and space."
As guests exited the final room, where bubbles were floating through the air and an elfin actor escorted them out, the crowd seemed to still be digesting it all. They had gone on a journey through the elsewhere of Wilson's dreams, and then suddenly they were back in the glaring here: daylight on West 26th Street.
Watch W's most popular videos here:
Photos: Inside the Alternative Universe of Hermès and Robert Wilson