Nicole Landaw
Hidden Gems: Bold and fresh, these designers are poised to break out.
---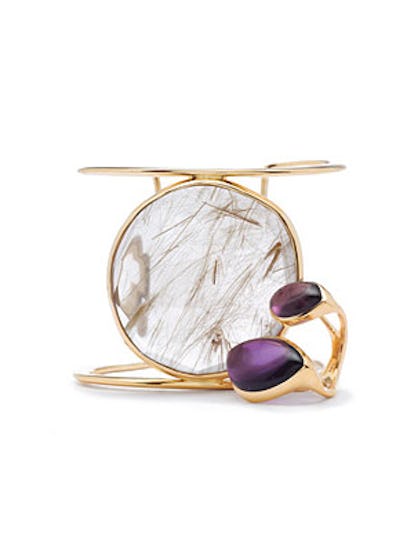 There's nothing like celebrity interest to jump-start a budding design career. Four years ago, Sarah Jessica Parker chose a pair of Nicole Landaw's earrings to wear on Sex and the City. That was just the ego boost necessary for the Brooklyn designer, then doing private-label jewelry, to launch her own collection in 2004. Since then, her yellow gold designs—often characterized by organic, geometric motifs such as clusters of circles shaped into a ring or a cuff—have won the attention of many custom jewelry aficionados. The goldsmith says her first love is working with metal, but she's recently expanded her repertoire of custom stones, which now includes tigereye and rock crystal.
Read about other designers poised to break out: Arman Margaret LFrank by Liseanne Frankfurt Michelle Fantaci M.C.L Design Sanalitro Kazanjian by Patrick M
Nicole Landaw's 14k yellow gold and quartz cuff, $5,500, and 18k yellow gold and amethyst ring, $2,500, at Arp, Los Angeles, arplosangeles.com.