Hillary Clinton Puts Fashion Bloggers to Shame
With her stylish new Instagram account.
---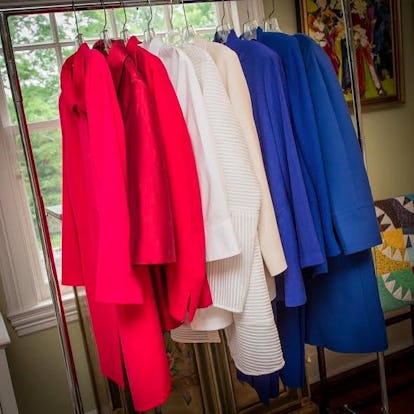 Six weeks ago, presidential candidate Hillary Clinton launched her Instagram feed with a photo of red, white and blue pieces, playfully captioned "Hard Choices." Now, like many popular fashion bloggers, @HillaryClinton posts daily images with "Get the look: Link in bio" of her #OOTD ensembles. In fact, aspiring fashion bloggers could learn a thing or two from the former senator-turned-style star. See for yourself.
It's okay to match your look to your state. Here, Clinton takes on New York in blue.
Celebrate others with great personal style.
Especially if they happen to be the President.
Remind friends that you've always been hip.
If Lady Gaga makes a T-shirt with your face on it—don't pass up the Insta-opportunity for a photo.
Celebrate the next generation of style stars.
Show off your total look—from the best possible angle.
Always coordinate with your backdrop.
And a good manicure.
When in doubt, post a #TBT.