Hillary Clinton Returns to Public Life with New Video Message to Women: "The Future Is Female"
"You are the heroes and history makers, the glass ceiling breakers of the future."
---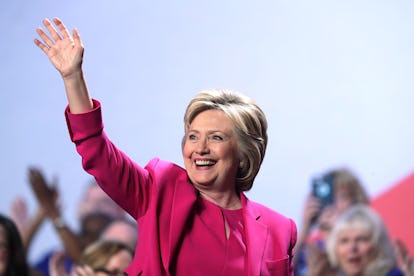 Alex Wong/Getty Images
Hillary Clinton has kept a relatively low profile since her electoral college loss in November. Now, she's stepping back into the realm of political messaging with a video note on the future, addressed to women.
Clinton recorded the inspirational address for the 2017 Makers Conference, a forum that focuses on telling stories of women and the unique challenges they face. In it, Clinton tells those women disappointed in the setback posed by Donald Trump's win, "Despite all the challenges we face, I remain convinced that yes, the future is female."
Specifically, Clinton points to the Women's March) as inspiration for the continued fight. "Just look at the amazing energy we saw last month as women organized to march that galvanized millions of people all over our country and across the world… So please, set an example for every woman and girl out there who's worried about what the future holds and wonders whether our rights, opportunities, and values will endure." She concludes with a reminder: "You are the heroes and history makers, the glass ceiling breakers of the future. As I've said before, I'll say again, never doubt that you are valuable and powerful and deserving of every chance and opportunity in the world."
The message constitutes Clinton's first real public remarks on women's issues since her concession speech. The former candidate has been quiet on the controversial doings of Trump's administration, and has not made appearances beyond a few random sightings and a public show of support for a peaceful transition of power on Inauguration Day. She did not attend the Women's March—a decision which drew some negative attention from critics—instead tweeting her support.
Last week, Clinton announced her intention to write a book of personal essays about the election. With that news, coupled with this reemergence of empowering messaging, we may be witnessing the return of Clinton to her platform, just in time for the fight ahead.
Watch W's Most Popular Videos: