Hillary Clinton Opts for Defiant White Ralph Lauren on Rival's Inauguration Day
The former presidential candidate, secretary of state, senator and first lady refused to go unacknowledged at the swearing in ceremony of Donald J. Trump.
---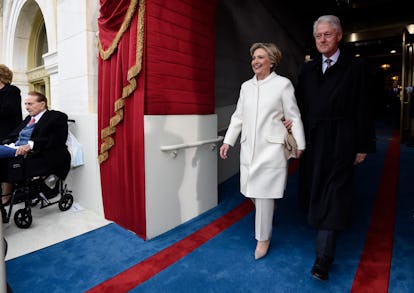 Getty Images
Well, this is awkward.
After months of speculation, the question of what designer would dress Melania Trump for the inauguration was answered this morning, as the incoming First Lady stepped out wearing a very Jackie O-esque powder blue skirt-suit by Ralph Lauren.
Cut to just a few moments later when former presidental candidate Hillary Clinton herself arrived at the the ceremony wearing one of her signature, streamlined pantsuits. The designer of this particular set? Also Ralph Lauren.
Clinton has famously worn Lauren throughout her political career, including all three presidential debates against Donald Trump. The former secretary of state also opted for the label when delivering her concession speech after losing the election, choosing a striking deep violet accented ensemble.
For today's occasion, Clinton went a bit more subdued: a two-pieced ivory set topped with a matching overcoat draped oh-so-casually across her shoulders. The complete look was kept neutral, topped off with a classic tan clutch and matching heels, as well as a pair of oversized pearl earrings.
It was a striking choice that alluded to both the color she wore the night she accepted the Democratic Party's nomination for president, a nod to the suffragette movement, but also that she was not going to slink off into that good night a sore loser. She was going to turn up, a brave face on, determined, resilient and resplendent, as always.
Clinton and Lauren also have a relationship on both a professional and personal level that extends beyond fashion. In 2014, Clinton presented Lauren with the James Smithsonian Bicentennial Medal, and more recently, made one of her first post-election public appearances (hiking trips none-withstanding) when she was spotted having an intimate dinner with the designer at his midtown hotspot The Polo Bar.
It remains unseen whether the 77-year-old fashion icon will strike up a similar personal relationship with the Trumps, but one thing is for certain: this is a man who loves his country. The Bronx-native has designed the United States Olympics uniforms since 2008, and in 1998, donated a reported $13.5 million to help restore the Betsy Ross flag. How's that for patriotism?
Whether or not Trump will also wear Ralph Lauren for tonight's inaugural ball also remains up in the air (current rumors are leaning towards something by the decidedly French Karl Lagerfeld), but for now, Lauren is the sartorial winner of election day. Let it not go un-noticed: Anderson Cooper is also in Ralph Lauren for his CNN duties. Three is a trend.
See W's most popular videos: