Hillary Clinton Answers The Question on Everyone's Mind: Are We Going To Be Okay?
From the mouths of teens…
---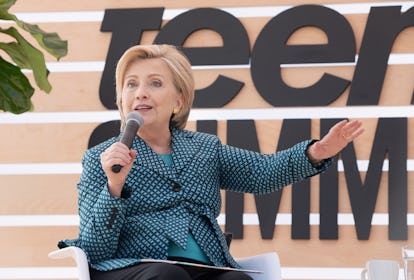 Photo by Vivien Killilea/Getty Images for Teen Vogue
At the Teen Vogue Summit, Hillary Rodham Clinton — former senator, Secretary of State and presidential candidate — delivered the keynote address and spoke with actress Yara Shahidi about the issues facing her generation of young women. (Clinton also guest-edited the upcoming print issue of Teen Vogue.) In the Q-and-A portion of Clinton and Shahidi's discussion, Marley Dias, the not-quite-teenage founder of #1000BlackGirlBooks asked the question everyone's had on their minds every day, every waking moment, since the election: Are we gonna be okay?
"The biggest request is for both of you to just say everything's going to be okay," said Dias, according to Popsugar. (The Wrap reports the quote slightly differently, writing that Dias was relaying a message from a Facebook user watching a livestream of the event and said, "Is everything going to be ok?…If you would just say that, it would make a lot of the viewers happy.") Clinton took her time before giving a conditional yes: "It's up to us … But if we act, everything is going to be OK."
She also used the event to talk about how then-candidate Trump's odd body language and invasion of her personal space during a debate now looks in light of the current conversation around sexual harassment and male entitlement. When Shahidi asked if Clinton regretted not doing something in the moment, Clinton said, "[I had] to be calm and I maintained by composure. But afterwards, I thought about that, and what would have happened if I spun around and said, 'You love to intimidate women, but back up you creep!' I think it would have been really satisfying. But I also think given the way women are covered…[the media] would have said, 'she can't take it'…or, 'we don't want an angry woman in the oval office,'" per The Hollywood Reporter.
Since November 2016, however, Clinton and the Democrats have seen some reasons to be hopeful about the future. Last month, the party secured clear wins on election night, much of it due to young people turning up to vote. It's a night Clinton wants us to learn from. "Vote. This is the most inclusive, diverse, thoughtful generation. If you vote, we're going to win," she said.
Related: Susan Sarandon Has Some Interesting Theories About Harvey Weinstein and Hillary Clinton
Miley Cyrus, Lady Gaga, and Nicki Minaj Truly As You've Never Seen Them Before
David LaChapelle, Do you want love or do you want fame (Lady Gaga), 2009.

© David LaChapelle Studio, courtesy of Taschen
David LaChapelle, Still I Rise (Tupac Shakur), 1996, California.

© David LaChapelle Studio, courtesy of Taschen
David LaChapelle, We Shine so Brightly, 2015.

© David LaChapelle Studio, courtesy of Taschen
David LaChapelle, Fallen friend on the walk of stars (Amy Winehouse), 2007.

© David LaChapelle Studio, courtesy of Taschen
David LaChapelle, Lost + Found. Part 1 cover, I Walk Out of My Prison (Miley Cyrus), 2017.

© David LaChapelle Studio, courtesy of Taschen
David LaChapelle, Superbass (Nicki Minaj), 2011.

© David LaChapelle Studio, courtesy of Taschen
David LaChapelle, We are Blessed, 2017, Hawaii.

© David LaChapelle Studio, courtesy of Taschen