Hillary Clinton's Advice to Her Teenage Self: Embrace the Flaws
"For a few years, it's going to feel as if you are single-handedly keeping the tabloid industry in business."
---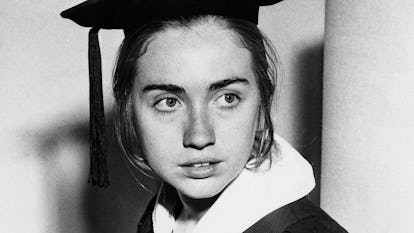 John M. Hurley/The Boston Globe/Getty Images
A year after conceding graceful defeat to Donald Trump in America's most recent hot mess of a presidential election, Hillary Clinton is ready to dole out some useful advice to her younger self.
Penning a letter in the most recent edition of Teen Vogue, Clinton expounded on the importance of embracing flaws in a world so littered with filtered perfection on social media. (Doing a wink wink, nudge nudge to her email "scandal" in the process.) "Along the way, you'll get things wrong," Elder Clinton writes to Teenage Clinton. "You'll make mistakes. Sometimes you'll have to do things you don't love (you'll spend a lot of time on your hair and makeup in the future even though you hardly give them a thought right now). But you'll muddle through. For a few years, it's going to feel as if you are single-handedly keeping the tabloid industry in business. You'll get through that, too."
She also encourages herself to take criticism seriously but not personally—something that's often difficult when dealing with a bunch of Capitol Hill cronies and their mansplaining tendencies in D.C. "There will be people who want nothing more than to see you fail, but you can't let them scare you. Live your life on your terms, not theirs. You'll be reminded over and over again that you are 'flawed,' a word you will come to loathe," she continues." When you're facing an uphill battle, be grateful for your persistence. (You'll have no idea what a gift this particular trait is until you're dealing with Congress—but let's not get ahead of ourselves.) And in the moments when you feel lost, it's your friends who will see you through. They will lift you up and keep you grounded all at once."
Of course, Clinton is doing more in Teen Vogue then just penning an advice column. She also guest edited and appears on the cover of the magazine's latest edition.
[#Instagram: https://www.instagram.com/p/BbPQ-IkHD-q/?hl=en&taken-by=teenvogue]
Related: Hillary Clinton Blasts Trump's "Cruel" Treatment of LGBT Rights
"Women's Rights Are Human Rights": 62 Fashion Insiders Speak Out in a Powerful Video for International Women's Day: