Hillary Clinton's Back! And Working on a New Book, Which Will Discuss the 2016 Election
It's time for her side of the story.
---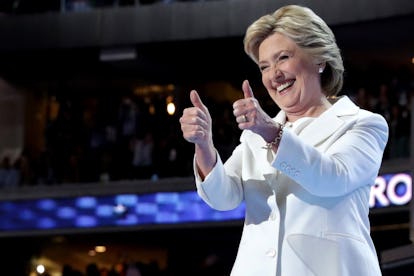 Chip Somodevilla/Getty Images
Hillary Clinton is not going anywhere. On Wednesday, the Associated Press reported that Hillary Clinton will return to the public eye with a new book of personal essays, which will touch on myriad topics including, perhaps obviously, her loss to President Donald Trump in the contentious 2016 presidential race.
The book, which is at this point untitled, is scheduled for release by publisher Simon & Schuster this fall. The essays will reportedly be inspired by Clinton's favorite quotations. Clinton's first book, bestseller It Takes a Village, will also be reissued in an illustrated edition for children.
And it looks like we'll be hearing much more from Hillary soon. According to AP, Clinton will also resume her relationship with speakers bureau Harry Walker Agency, through which she made paid speeches that were criticized by many during the election. Her first talk seems to be already scheduled; Clinton will reportedly deliver the commencement address at Wellesley College, her alma mater. It's a fitting task, as Hillary Clinton's first taste of the national spotlight came when, as a student at the school, she delivered a noted speech at her own commencement ceremony.
Clinton has been lying relatively low since her stunning loss in November (though she did win the popular vote by millions). In the last few months, she's shared a few comments on our country's future on social media and has been spotted out and about doing what normal folk do, such as going on a hike or to a show. Clinton's most recent public appearance was at Trump's inauguration earlier this month, but with the advent of her new book endeavor, though it seems we may be seeing much more of the former presidential candidate soon. Welcome back, Hillary.
Sadness and Disappointment: Reactions at Hillary Clinton's Election Night Party as Donald Trump Declared Victory
Watch Emma Stone, Natalie Portman, Amy Adams and more put their spin "I Will Survive":