His and Hers Fragrances: Carlen Has Mastered the Art of the Gender Neutral Scent
Jeff Madalena and Jason Gnewikow are the men behind Carlen, a collection of six gender-neutral fragrances that launched this fall.
---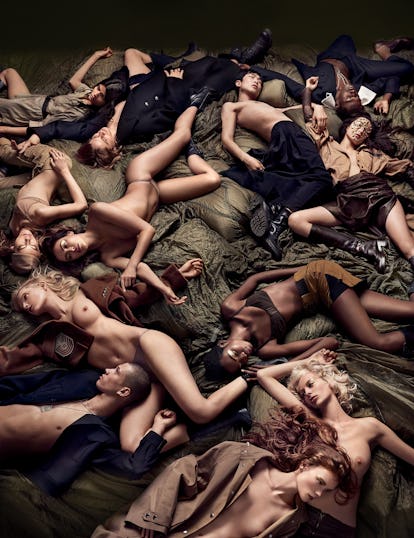 Photographs by Craig McDean, Styled by Edward Enninful
Jeff Madalena and Jason Gnewikow have created many things. Jeff is co-founder of the clothing collection Oak, while Jason is creative director of branding company Athletics. Together, the couple have restored a Brooklyn townhouse and are partners in Graham & Co, the quirky-chic hotel in the Catskills. Three years ago, the two took a fragrance lesson with a friend and the seed for Carlen was born.
Packaged in chic glass bottles encased in minimalist gray and white boxes, the juices are as impressive as the vessels they come in, from the creamy citrus Aztec Noir and the oud-based Men of Blame to—my favorite—the musk and ylang ylang Metals, the collection of six gender-neutral fragrances launched this fall and travel sizes come out in January.
Have you always been fragrance-obsessed? Jeff: I have been obsessed with fragrance since I was a teenager. One of the earliest I remember was Bowling Green by Geoffrey Beene. It was a spicy and woody cologne with a hint of citrus. I think my mother bought it for me in eighth grade. I also believe that it set my taste, as I always lean to woody and citrus fragrances. I also often dipped into my mom's perfume stash. She had one Lilly of the Valley scent that I was beyond obsessed with! I've always associated different fragrances with different periods of my life. In high school, I wore CK1, then in college Thierry Mugler Angel and Jean Paul Gaultier. Jason: I guess my obsession began in my teens as well. My older sister's boyfriend wore Drakkar Noir, and I can still distinctly remember that scent. Ralph Lauren Polo was also a big one; I can actually remember accidentally spilling a bottle of Polo on my guitar amp. After, every time I used it, it would heat up and fill the room with Polo! Much has been made of fragrance's ability to capture a moment in time, which is a very magical quality. I can still remember so clearly being on tour in Norway on a totally banal and bleak day and smelling [Issey Miyake] L'eau d'Issey Pour Homme for the first time. I probably forgot every other day, but can remember that one so distinctly. I guess the other really magical quality of fragrance is its ability to create a mood around yourself the same way that putting on a specific record and listening with your headphones on creates a really personal experience.
Not including your Carlen babies, how many fragrances do each of you own? Jeff: We can't really walk into a shop without leaving with something. We probably have about 60 to 70, and we share them all. Jeff: Our friends make fun of us; they refer to our bathroom as the fragrance counter.
How did you dip your toe into fragrance creation? Jeff: We took a class with the amazing and talented Julia Zangrilli. She has a line of her own called Nova. We didn't take it with the intention of starting a fragrance line, but after that class we were definitely hooked. It definitely planted the seed.
What was the hardest part of the process? Jeff: Probably because it is so new to us, we have so many different ideas and tastes. Sometimes it was hard to narrow down to a single scent and to stop fiddling with it! Jason: The hardest (and most fun) thing was researching, testing and learning about the thousands of different materials that can go into a fragrance. We spent a couple years where every week a new package of materials would show up, then we'd tinker around with them. It wasn't really ever our intention to start a fragrance line. It just happened organically.
Sometimes that's the best way! Do you each have your strengths in this development process? Jeff: We did it all together, but Jason is definitely stronger with naming. Jason: Jeff usually comes up with the scent's inspiration or direction, while I'm more likely to roll up my sleeves, research materials and start blending and testing and seeing what could be brought to life.
Are you into candles? Jeff: Le Labo Calone for something fresh; Diptyque Feu de Bois or Le Labo Santal 26 for the winter months. We used to buy tons of some Tobacco Leaf candle, like 10 years ago, that was amazing but can't remember the name!
What's next? Candles! But they'll be different from the six existing perfumes. And a new fragrance should come out by next spring or summer. We'll see where that takes us.