Exclusive: Watch Ho99o9's Unsettling New Music Video for "Street Power"
The video is for the single about the duo's struggles growing up in the "really tough neighborhoods" of New Jersey.
---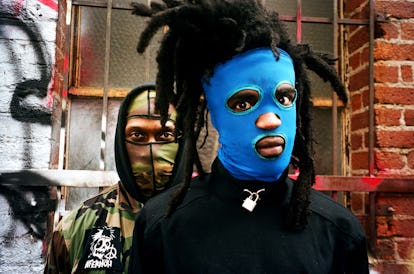 Hadas Di
Let's get a couple of things out of the way: Ho99o9 is pronounced horror, and no, the band is not demonic or satanic. "Most people are like, 'Isn't that 666?' I'm like, 'It's clearly a f—ing nine!'" said theOGM, who makes up the group with his bandmate, Eaddy. (Those are their names of choice, as are their respective ages of 96 and 69.)
Then again, you can hardly blame those who have some questions about the band: Ho99o9 is not easy to define or pin down, which is of course what makes it so appealing. Often described as a mix of hip-hop and hardcore, the duo prefers to think of their sound as simply experimental, incorporating pretty much every genre except pop and country. To put it another way: "It's like taking too much drugs at the wrong place and the wrong time, but with the right people," Eaddy said. ("Or the right drugs with the wrong people," theOGM added.)
Ho99o9 started in 2012, in the pair's native New Jersey. After releasing two EPs, they came out with their first full-length record, The United States of Horror, last year, which begins with a 13-second voiceover of a little girl pledging allegiance to the "burning flag" of her nation. Then comes the song "War Is Hell," and then "Street Power," a single whose music video premieres exclusively here on W.
Given everything you know of the band by now, it may come as a surprise that the video was directed by Philippa Price, whose past collaborations have been with mainstream acts like Pharrell and Rihanna. A friend of the band, Price asked theOGM to appear in a campaign video she shot for Stella McCartney; in return, he asked her to work on one of their videos. At that point, he and Eaddy had no idea about her considerable industry cred. "Kudos to her for still working with some hooligans like us," theOGM said.
They filmed the video in L.A., where Eaddy and theOGM have been based for nearly four years now, having left behind their jobs at a gym and a warehouse to make what they call "the Henry Rollins move" to the West Coast to pursue music full time. Still, "Street Power" is a perfect demonstration of how they've not forgotten their East Coast roots, and how they manged to launch a full-blown local scene out of sheer dedication. "When I was writing the chorus, I was thinking about where we came from, the struggle of growing up in a really tough neighborhood. Not many kids make it out of Newark or Lindon, where we're from," Eaddy said.
Though the video stays clear of the wedding dresses and straitjackets the pair are known to pull out onstage, Price did ask Eaddy, who, as theOGM put it, "is known for getting naked," to pull out one of his signature moves at 2 a.m. on a section of railroad tracks they discovered behind the space where they'd been shooting. And while, sure, the duo readily admits the end result is quite "weird," it's actually quite toned down compared to their last few videos, which have featured scenes of explosions and people on fire, plus real footage of Ku Klux Klan gatherings and police brutality. All things considered, "Street Power," as theOGM casually put it, is relatively "easy to digest."