NBC News Just Made Its "Most Popular Decision" By Announcing Hoda Kotb As Official Co-Anchor of The Today Show
Kotb's seamless transition into the co-anchor chair has led Today to the number one spot.
---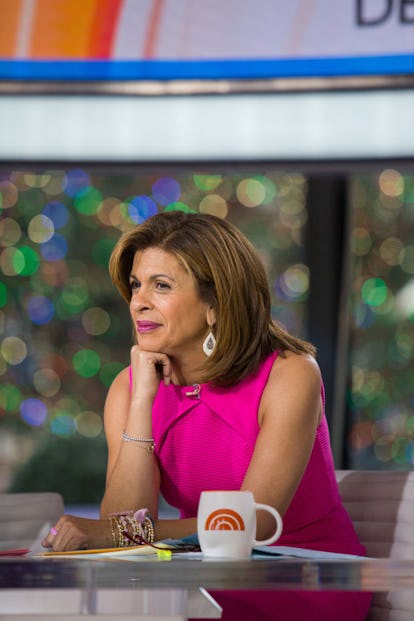 NBC/Getty Images
Morning news anchor Hoda Kotb is starting off her new year with a bang—the 20-year NBC veteran is now an official co-host of The Today Show. "This has to be the most popular decision NBC News has ever made!" Savannah Guthrie said after announcing that Hoda Kotb would officially and permanently replace Matt Lauer as co-anchor of The Today Show. Filling in temporarily for Matt Lauer after he was fired on November 29 for allegations of sexual misconduct, and for the entire month that followed, Hoda Kotb and Savannah Guthrie led a team of morning news anchors into the number one spot.
With morning show ratings placing Today in the lead ahead of Good Morning America and CBS This Morning as of the week of December 18, 2017, it looks like Guthrie was right. After Lauer's fall from grace and departure from NBC, Kotb swiftly and seamlessly transitioned into hosting the early morning hours of Today with Guthrie, a move which both co-anchors appeared to be satisfied and excited with on Tuesday morning during the announcement of Kotb's promotion. "I'm pinching myself. I think that we should send some medics to Alexandria, Virginia where my mom has likely fainted after hearing the opening of that show," said Kotb Tuesday morning on Today. So far, Kotb has received an outpouring of support from fans on social media, and from close friends as well. "Nobody does it better!!" tweeted co-host Kathie Lee Gifford in congratulations to her friend and colleague, and Al Roker gave his congratulations on-air as well. Surely the celebratory wine will be flowing during the show's fourth hour that Kotb hosts with Gifford.
Being named official co-anchor of the morning show, Kotb's leadership and decades long devotion to the network (she got her start in 1998 as a correspondent for Dateline) has officially been recognized by NBC News chairman Andy Lack, who announced her promotion early Tuesday morning. In addition to hosting the 7 a.m. and 8 a.m. hours, Kotb will keep her 10 a.m. hosting slot alongside Kathie Lee Gifford as well. It may only be the second day of the year, but hopefully announcing Kotb as permanent co-host of Today is just the beginning of a large paradigm shift at NBC news.
Related: NBC's Sudden Firing of Matt Lauer for Sexual Misconduct Probably Wasn't So Sudden After All
See W's most popular videos: