The Feminine Mystic
For millions (including Oprah), Dr. Christiane Northrup is a life-changing medical visionary. Critics say her new agey mind-body theories range from kooky to downright dangerous. The best-selling author opens up to W.
---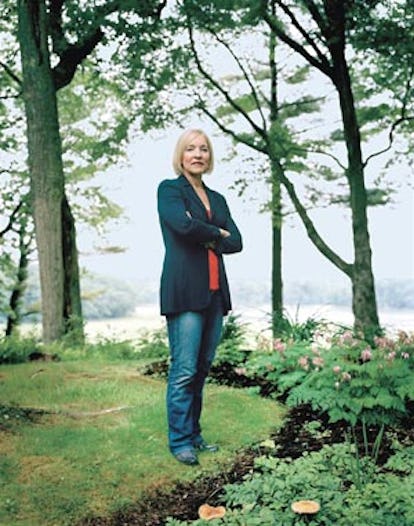 There are many activities that can make two minutes seem like an eternity—getting a tattoo, say, or anticipating an important phone call. But most of them pale in comparison to struggling to keep your eyes shut, your palms facing skyward and your laughter stifled while receiving the "healing stream" allegedly emanating from the spirit of a dead German man whose photo sits before you, as eerie classical music blasts in the background. This is what I find myself doing in the Yarmouth, Maine, home office of Christiane Northrup M.D., flanked by the doctor and her longtime assistant, Diane. Northrup is introducing me to Einstellen meditation, which is practiced by the Bruno Groening Circle of Friends, a group devoted to the German spiritualist who they claim healed thousands of people in the Fifties. "I do this twice a day," Northrup says excitedly, flashing her big white teeth. "Oh, it's really cool and so compelling to me as a physician. It has the ability to cure things that are incurable! That just knocks me out."
Northrup's newest book, out in October.
The thousands who recognize Northrup from her TV specials and appearances on Oprah, where she sounds off on such topics as the dangers of caffeine and the benefits of omega acids, might be surprised by her devotion to a guru whose followers are considered by some to be a cult. But those who receive her monthly e-newsletter or read her best-selling books know there is a lot more to the 59-year-old doctor than flaxseed advocacy. For Northrup, whose fifth book, The Secret Pleasures of Menopause (Hay House), hits shelves in October, the most crucial message is that physical health and the mind-spirit are inextricably linked.
"Our beliefs profoundly affect our bodies," Northrup tells me over Cobb salad and cappuccino at a restaurant near her home. (She often disregards her own caffeine advice because, she says, "I've decided strict is bad for my health.") And she's not just talking about the widely accepted notion that stress can do physical harm. Northrup, an ob-gyn who has dedicated most of the past 11 years to writing and lecturing, believes in chakras—energy centers in the body that, according to ancient Indian tradition, correlate to groups of organs—and spends much of her 1994 megahit, Women's Bodies, Women's Wisdom (Bantam Dell), outlining how specific emotional problems relate to illnesses in particular chakras. And she gets even more detailed than that: "Ovarian cancer," Northrup writes, "may result from the energy of unexpressed rage or resentment," while "problems in the vulva, vagina, cervix and lower urinary tract are primarily associated with a woman's feelings of violation in her one-on-one relationship with another individual or in her job."
Such theories, she says, came out of "years of connecting the dots" in her practice. "Here's an example: This young woman with polycystic ovaries is having no periods, and she's very creative. She looks at the ultrasound of her ovaries and sees all the little cysts, and she goes, 'Of course! I have a million different ideas for plays and one-woman shows, but I can't get them out because I'm afraid of the criticism of others!' And the minute she realized that—plus started a low-glycemic diet—bam! The polycystic ovarian syndrome goes away, and she starts having normal periods."
And Northrup has experienced this phenomenon herself. While writing 2005's Mother-Daughter Wisdom (she has two grown daughters), she decided to make a list of her lingering issues with her mother. After doing so, she recounts, "I had, like, schmutz under my left contact lens." Days later, the irritation hadn't subsided, and she went to the doctor. "I had the beginning of a very rare corneal infection called infectious crystalline keratopathy. But I prayed for insight, and I took massive doses of vitamin C, and that turned it around," Northrup declares triumphantly. "But I nearly went blind in my left eye, and it all came about from writing this stuff down about my mother that I was afraid of seeing.
"The medical profession would call this stuff anecdotal," Northrup acknowledges. Indeed, many mainstream doctors contacted by W refused to discuss her at all. Another physician, Armando Hernandez-Rey, an infertility specialist and reproductive endocrinologist in private practice in Miami, says, "I can observe that something I do with my patients works well, but until there is a randomized control trial, I don't make any decisions about its efficacy. Observations often confirm your own beliefs."
Even more at odds with Western medicine was Northrup's regular consultation with "medical intuitives" to help her patients see the link between, say, an alcoholic parent and PMS. "Knowing just someone's age and name, they could come up with what was wrong," she claims. "They tell you the emotions or the energy behind the illness."
To Northrup, there is no such thing as randomness. "Yes, there is DNA, but it's tremendously influenced by its environment," she says. "I don't believe in the idea of a rogue cell that can just go out of control. It's a disempowering notion."
Of course, the flip side of the capability to cure oneself is a culpability for one's illnesses. Northrup takes issue with the criticism that her theories blame the victim. "We don't cause our illnesses in a conscious way," she insists. "You need to be responsible to your illnesses, not for them." But it's a fine line. "I just saw the movie Knocked Up last night," Northrup chirped in a recent podcast she posted on her Web site. "And the woman who played the sister…was so nasty to her husband, and you could just see this second chakra thing going on. I was waiting to see… if she got any particular diseases of the pelvis."
Northrup's first experiences with nontraditional medicine came early in life. Her father, a dentist in Ellicottville, New York, was "very holistically oriented, even by today's standards." When he was admitted to the hospital with a heart problem that the doctors there failed to properly diagnose, her mother took him home, where he quickly improved. "At the hospital, he might have died," Northrup reflects. Still, she attended Dartmouth Medical School (where she met her now ex-husband, an orthopedic surgeon) and did her residency at Boston's Tufts Medical Center. It was in Boston that she met Michio Kushi, a pioneer of the macrobiotic diet. "I began to sit in with him on consultations," she says, "and I saw the results of dietary change on a person's health. Within three to six months, his patients looked like different people."
In 1981 Northrup and her husband settled in Maine, and she joined a conventional ob-gyn practice while simultaneously getting involved in the American Holistic Medical Association (of which she later became president). In 1985 she opened Women to Women, a practice combining Western and holistic care, with four other female practitioners and eventually began to believe that she was meant to bring her message to the wider world. "One day I did a sort of proclamation, like, 'Infinite spirit, show me the next best use of my gifts and talents!'" Northrup says. "And literally two hours later a literary agent called and said, 'I think you should write a book.'"
She left Women to Women in 1997, when her writing and lecturing career took off, but as her fame was growing, her marriage was imploding. "If I had stayed in that marriage," she says, "I would have gotten breast cancer. I know it. Breast cancer is often about being addicted to the back walking away from you, and the resentment behind your desperate attempts to nurture the relationship." Northrup also believes that a large uterine fibroid she developed during the final years of her marriage—which she ultimately had surgically removed after alternative therapies failed to shrink it—had much to do with the nature of her relationship with her husband.
Now, though, almost a decade after her divorce, Northrup professes to feel great, and she certainly looks it. The pictures hanging in her office reveal the striking evolution of a dowdy librarian type in shapeless clothing into a platinum-blond pixie in hip-hugging jeans. "I'm in a reverse aging process!" she says. And if success is feeding her good looks, Northrup is headed for pinup status. Her trajectory is decidedly skyward, even if some of her ideas are viewed skeptically by the medical establishment. Northrup doesn't let such things dampen her fervor; along with her devotion to the spirit-body connection, she rhapsodizes about the usefulness of feng shui and astrology. ("Our menstrual cycles are completely affected by the moon, so of course the planets would affect us as well.") She also believes in angels and reincarnation and, of course, Einstellen.
For Northrup, there's room for all of it, plus some of the Western medicine she learned at Dartmouth. When I ask her if she has ever had a patient who's confounded her, who's made her rethink her insistence that there's no such thing as random illness, she pauses for a minute before declaring that, no, nothing has ever tested her faith like that. It is, it seems, easier to have convictions when you allow a whole, messy slew of them to coexist. "If I were coming from a place of, this belief system is wrong and this is right, then I would have had that crisis, absolutely," she says plainly. "But I've always known that there was a place for everything and that you have to believe in it all. With enough belief, almost anything can work."