Hackers are Holding Hollywood Hostage: A Quick Explanation of The Mysterious DarkOverlord Collective
DarkOverload, a hacking collective, has Hollywood shaking and it threatens to leak entire seasons of your favorite TV shows.
---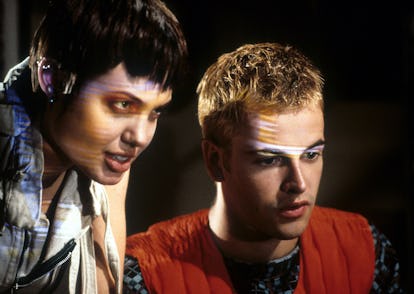 Archive Photos
For everyone who pays for their Netflix account (or just semi-illegally uses your roommate's mom's boyfriends login), they will have to wait until Friday, June 9, to watch the new season of Orange Is the New Black. However, if you're willing to wade into the murkier parts of the internet, the first 10 episodes were already posted online by the hacking collective DarkOverlord. Ever since they've had Hollywood all in a tizzy, holding their TV shows and movies for ransom. Here's all you need to know about Tinsel Town's latest security breach.
Why, exactly, are these hackers leaking shows?
It's basically an extortion plot. DarkOverlord shakes down companies like Netflix and ABC (which is owned by Disney) and says if they don't give them a whole bunch of money then they're going to post their content online where people can access it for free. If people have seen it for free, they won't pay Netflix to watch it or the ratings will plummet and then ABC won't make money from ads anymore.
Does this actually work?
So far Netflix and ABC have refused to pay, but The Hollywood Reporter reports that several other companies have quietly ponied up.
What have been their biggest moves so far?
The Orange Is the New Black leak at the beginning of May really freaked everyone out because it showed that these guys really mean business. When Netflix refused to pay up, they followed through on their threats. Earlier this week they also released episodes of ABC's upcoming show Funderdome.
What the hell is Funderdome?
It's a new ABC game show starring Steve Harvey.
I've never heard of it. Who cares?
It hasn't aired yet, so the demand for the show is not high. However, ABC's parent company Disney has had some problems with hackers lately. In mid-May, a different group of hackers other than DarkOverlord claimed they got their hands on a copy of the Disney blockbuster Pirates of the Caribbean: The Franchise That Won't Die. Disney refused to pay and determined the whole thing was a hoax. CEO Bob Iger said, "To our knowledge we were not hacked. We had a threat of a hack of a movie being stolen." DarkOverlord saw that as a challenge and posted on Twitter that ABC would be next, which is exactly what happened with Funderdome.
Wait, this hacker collective has a Twitter page?
Well, why can't the cops find them then? Just like slide into their DMs.
After all of this the FBI is trying to track down these guys.
Are there any leads?
According to one person on a deep web forum, they claim the group is made up of three individuals between the ages of 20 and 40 years old. These Hollywood hacks aren't the group's first crimes. The FBI has been tracking them for more than a year when they started their business stealing medical records and threatening to leak them.
What are their next moves?
According to DarkOverlord they have about 30 shows that they could release, including ABC's The Catch (which already aired and was subsequently cancelled), IFC's Portlandia, and Disney Channel's Bunk'd. They also claim to have other movies from some TV networks.
How did they get them in the first place?
They hacked Larson Studios, a post-production firm that was working on the shows for the different networks.
Do you think this means there will be a reboot of classic '90s movie Hackers?
No, but Angelina Jolie sure was good in that!
Related: Choupette, Karl Lagerfeld's Cat, Is "Devastated" To Be a Victim of Instagram Hacking
See What's Trending in W Video: