Three Generations of Creative Women Under a Century-Old Country Roof
Artist Hope Atherton and designer Lily Hanbury may be glamorous citizens of the world, but they are truly at home in rural Virginia, where the family matriarch still holds court.
---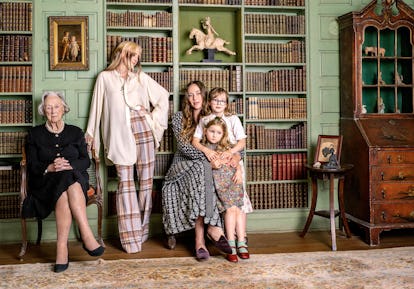 Photograph by Justine Kurland; Styled by Jasmine Hassett.
No sooner had Robert Wallach and his wife, Feroline, bought the Warrenton, Virginia, house called Chestnut Grove, in 1922, than the trees that had been its namesake were killed off by a blight. There was nothing to be done but cut them down. The lumber was put to use for post-and-rail fences lining the fields and the long driveway. For the better part of the decade that followed, the Wallachs struggled to come up with a more suitable name. In the end, they settled on Hopefield, after their daughter, Hope, the youngest of their four children, who was 10 at the time. "To the great irritation of my brothers," says Hope, now 94.
Twice widowed, she goes by Hope Porter, having taken the surname of her second husband. Though there were periods away, including years abroad, she has repeatedly returned here to live. White-haired, dressed in a beige wool A-line skirt (never pants) and a blue sweater the color of her eyes, she sits in the library, its walls the same celery green that they were painted when her parents moved in. Next to her on the sofa facing the fireplace is Sydney, a German shepherd mix, with his head in her lap. She is joined on this damp April morning, as she is several times a year, by her granddaughters: Hope Atherton, a New York ­artist—small, fine-boned, with two-toned hair—who lives in Harlem with her husband, the gallerist Gavin Brown; and Lily Hanbury, a London-based jewelry designer and fashion entrepreneur, tall and slender, wearing an antique rock-crystal cross on an oxidized silver bike chain and velvet shoes from her own collection, Le Monde Beryl, inspired by Venetian gondolier slippers. Both make the trip often and bring their children, to expose them to the world they knew growing up and a great-grandmother who has come to embody the soul of the place to such an extent that, at this point, it's hard to imagine Hopefield being called anything else.
Porter comes across as livelier and a lot more fun than most people half her age. In conversation that ranges from literature to politics, it's clear that she thinks for herself, a habit that has, at times, put her in conflict with authority, particularly when it comes to policies she ­considers deleterious or just plain inane. When she was sent to a local private school for girls, where Oona O'Neill, who would go on to marry Charlie Chaplin, became her closest friend and ally, she sized up the operation and found it egregiously lacking. Despite the fact that there was nothing French about either the faculty (her teacher was a Russian princess) or the curriculum (all the lessons were in English), the students were required to speak French to one another. "So you're listening all day to girls with the most dreadful American accents," she says. The headmistress knew Porter's parents and refused to find fault with her, even when she played hooky, which she did often—sneaking off into town and going to the movies. "I spent five years trying to get kicked out of that school, and I never did," Porter says. "That was one of the great failures of my life."
As Hopefield's presiding matriarch, Porter has carried on the house's traditions, including, for 80-plus years, Christmas dinner for 30. She tends the garden in which her mother took great pride. For afternoon visits with Atherton's daughter, Feroline, age 5, she gets out the silver tea set. The house has been the scene of countless parties for 21st birthdays and other milestones, including Hanbury's wedding, for which she donned a lace veil worn by several generations of the family.
Hanbury and Atherton grew up on a farm not far away, with ­parents deeply committed to a rural life but actively interested in the world beyond. Their father, Harry Atherton, served for many years on Fauquier County's board of supervisors and, with Porter, crusaded ­tirelessly for land-use policies that would preserve the local landscape and protect the watershed. Their mother, Anne Douglas Atherton, a photographer who studied with Ansel Adams, maintained a darkroom in a little house on their property and exhibited her work at a local gallery; both daughters recall helping her develop her photos, the images slowly appearing on paper dipped in chemical trays. The impression she left on them was that making art was a serious undertaking.
"As an artist, I'm drawn to organic, elementary materials," Atherton says. Like the gold-plated bronze birds in the form of three chimney swifts her father found, or the ghostly ceramic shape of a baboon from a series inspired by Egyptian mummy bundles of animals, much of her work seems more likely to have been discovered—fossilized in rock or buried in mud and leaves—than fabricated. "I'm in awe of an object that can speak intimately to me across 2,000 years," says ­Atherton, whose latest show opened in June at the Rome outpost of Gavin Brown's Enterprise. Her aim is to make art "as mysterious and magical as a necropolis portrait or a dog found buried in ­Pompeii." She works in her Harlem home surrounded by a kaleidoscopic assortment of flea market finds and souvenirs of her travels: a 19th-century ­Chinese wedding bed, an Indonesian marionette, a faded red velvet bolster trimmed in gold, Oriental rugs, carved mahogany armchairs draped with exotic fabrics, a sheepskin dyed bright pink and yellow. "I'm tactile," she says with a shrug. Her fondness for artifacts of other eras and civilizations is not nostalgia, she insists. Instead, it has to do with the fact that old things have undergone "more transformations. It's about a sense of the larger, more expansive arc of time and our place in it, rather than dismissing the past in favor of the new. Not to say that I'm not fascinated by what is oncoming, but my sense of the future is informed by what has already been."
Stripped of their context, most of the objects with which ­Atherton has surrounded herself have lost their stories along the way. At ­Hopefield, however, Porter knows not only the history of the house but the provenance of its contents. She knows that the man whose portrait by Gilbert Stuart hangs in the dining room was a French aristocrat from Martinique and her great-great-grandmother's freeloading brother. She knows that the book about Gertrude Jekyll's gardens on the ormolu writing table in the library was bound in leather by her mother. She knows that the hexagonal parchment lampshades patterned with medieval musical notations were bought by her uncle Cleveland Perkins from his friend Elsie de Wolfe. "It's exciting to have these things that mean something," Atherton says.
In retrospect, Hanbury now realizes, it was those lampshades and the connection to the famed interior decorator that sparked an awareness of design in her mind as a child. "Some of de Wolf's best pieces were a reinvention of something with a previous life and history," ­Hanbury says. When the time came to found Le Monde Beryl, with her friend Katya Shyfrin as her partner, the premise was "to look back in order to make something new, perfecting what was already an ideal shape and concept," she explains. "I loved that gondolier slippers were made with recycled rubber from tires and scraps of felt and velvet. There's a common theme of tradition, reinvention, and timelessness that traces through everything I do." The jewelry she has designed includes the 17th-century rock-crystal cross she is wearing (a collaboration with Julia Muggenburg, of Belmacz) and a necklace (with Marc Auclert, in Paris) fashioned from 200-year-old Chinese pendants—examples of a craft from a vanished place and time.
Like her sister, Hanbury is the beneficiary of their grandmother's own curiosity about the family history. Over the past 50 years, Porter has transcribed hundreds of letters stored at Hopefield, beginning with those of her great-grandfather Henry Perkins, from his travels in 1856 to California with Frederick Law Olmsted, a family friend who had taken him on as an assistant. "She has brought these stories and characters to life through her own letters to us, which form a sort of memoir and family narrative," Hanbury says. "There's a sense that, having survived her siblings and her friends, she's reliving these moments she had with them, keeping them in the conversation so that we can know them, too."
Perkins went on to become a mining engineer and, in letters to his wife, chronicled his trip with Lord Randolph Churchill to South Africa, to assess prospects for future gold and diamond mines. This, too, factors into Hanbury's approach to making jewelry. "Our great-great-grandfather was at the beginning of the mining industry and had little idea of the effects it would have," she says. "We're now more aware of how important it is to give back to the environment and the communities involved in, or affected by, mining." Among her priorities as a designer are "recycling and upcycling, sustainability, and the idea of a circular economy."
Hanbury moved to London in 2006, when she married Tom Hanbury, whose Dicksmith Gallery showed contemporary art. Five years later, they relocated to the Cotswolds, where she, now divorced, has opted to stay, living in what she calls "quite a scruffy farmhouse" with her son, Hanmer, 11; her daughter, Birdie, 8; and two rescue dogs. "It was how I knew to raise children," she says, drawing on her own childhood "to let them be wild in the country," where they've learned an appreciation for nature and animals. She also wants to instill in them the capacity to go anywhere and feel as if they belong. This is the great gift that Hopefield and Porter have imparted to her and her sister: a sense of home as a base in the world and a place in their minds.