Hotel Missoni
Rosita Missoni, 77-year-old fireball matriarch of the Missoni clan, injects some Italian flair into her family's new hotel in Scotland.
---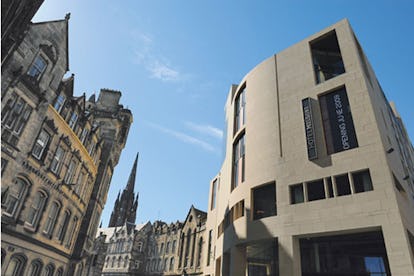 She may sit atop a multimillion-dollar family fashion business, own homes in Milan, Sardinia and Italy's Lombardy countryside, and spend her days dreaming up textile designs, but at heart Rosita Missoni is a ferocious housewife. Get her talking about the average hotel room and she sneers with disgust: The clutter! The dust! The floors!
"Carpets are the dirtiest things in hotels. The maids clean the rooms in 15 minutes—how can they clean the carpet properly?" asks the 77-year-old fireball, who, with her husband, Ottavio, founded the Italian fashion brand Missoni, famous for its colorful graphic knitwear.
A suite at the Hotel Missoni
A dedicated porcini mushroom hunter who tends to her kitchen garden and henhouse at the family home in the Alpine foothills outside Milan, Rosita has some very clear ideas about eating, too. "In Europe we still live with the seasons, and it's a privilege," she says. "I don't want salad and strawberries for Christmas!" And while Rosita's domestic talents have been largely unknown in the outside world, she is now proudly displaying them via the latest family project, Hotel Missoni, which opened in Edinburgh this summer.
By her own admission, Rosita wasn't the most easygoing of collaborators on the project with Rezidor, the Brussels-based group that operates the 136-room hotel under license (it plans to roll out 30 more units over the next decade in countries including Kuwait and Brazil). "I had some fights at the beginning to make them understand my way," says Rosita, the hotel's creative director, from the sunny sitting room of her suite, with its panoramic views of the Scottish capital. It's clear that Rosita, who's dressed today in a black and cream knit blazer and coordinating polkadot socks, has channeled the same rigor and passion she applies to ready-to-wear and home textile design (she is currently chief of the Missoni Home collection) into Hotel Missoni.
Housed in a sleek building in Edinburgh's Old Town, the hotel mirrors the Missoni brand aesthetic. Rosita and her husband, who is known as Tai, have regularly drawn their inspirations from nature, Europe's modernist painters and the Italian futurists, so it's no surprise that the hotel is a temple to color, pattern and texture. The walls pop in shades of turquoise, purple, lilac, red, orange and acid green. Missoni Home fabrics and prints from past ready-to-wear collections cover everything from windows and breakfast tables to bathrobes. The furniture mix is quirky, with curvy sofas by Antonio Citterio for B&B Italia and, in one of several nods to Scotland's rich visual heritage, towering Charles Rennie Mackintosh chairs made by Cassina. (The oak floors, of course, are mostly carpet-free.)
The hotel also reflects the famously cozy, unpretentious ways of the family. Rosita and Tai's children, Vittorio, Luca and Angela, are all involved in the business. Tai's black and white zigzag etchings hang in each room, and Luca's hand-printed photographs of the moon adorn the walls of the ground-floor bar. Angela, who designs the ready-to-wear collection, has overseen a variety of details, among them the hotel's bold logo, its color scheme and the little pots of Turinese chocolate hazelnut spread on the breakfast tables. Rosita says she wants guests "to live our way of life," in an environment that isn't overly fussy or posh.
From top: A salad of seasonal greens and vegetables; Rosita Missoni surveys the scene.
Food is just as important to Rosita as accommodations, and she chose London celebrity chef Giorgio Locatelli to oversee the kitchen. Rosita's brief was simple: Create a concise set of meals that change with the seasons. "I hate long menus!" she says, adding that she wants the restaurant to become part of the fabric of Edinburgh. "I want residents to meet here and taste a special risotto, a special meat, whatever. Good food is so rare, and it helps people to get together and feel comfortable." And while an alpha housewife is never truly satisfied with her surroundings, Rosita says she's almost there.
"I was very worried," she says, casting her eagle eye around the suite. "And now I feel very relieved."