Shani Crowe Creates Royal Headdresses Suitable For Solange
The Chicago-based artist has the Midas touch.
---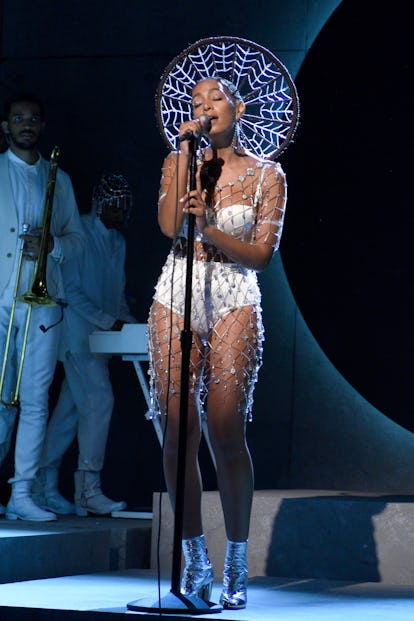 NBCU Photo Bank via Getty Images
Shani Crowe was attending her 5-year homecoming at Howard University (where she studied film and video production) when she received a message inquiring if she would be able to create some headpieces for Solange Knowles for her performance on Saturday Night Live. Shortly thereafter she was on a call with legendary hair slayer Chuck Amos (who did the looks for Solange's "Don't Touch My Hair") to get the specifics of the look. The 27-year-old—who has been braiding hair for clients for 16 years—spent approximately 50 hours working on the halo Solo wore. Here, the Chicago-based hairstylist explains the technique behind her wearable art, her inspiration behind her exhibition Braids–which she styled and shot– and why she hopes to break the mold of what beauty should look like.
Congratulations! You have a major exhibition Braids that's making its way around the country, can you tell us about it? The original Braids exhibition was shown at three locations in Chicago. Five of the ten images were reproduced on vinyl this summer for MoCADA Museum's window gallery [in Brooklyn], where they lived until last week. Select works from the original exhibition will be shown at The Black Love Experience in D.C. in February.
Are you an artist? A hairstylist? How would you classify your talents? I'm an interdisciplinary artist, and I've always done hair, but I didn't consider braiding to be a part of my artistic practice, largely due to other people undervaluing and underappreciating it. Ever since I was 12 years old, I wanted to create a photo series of avant-garde braid styles. And at 26, I was finally ready to make it happen via funding from 3Arts and support from my community.
And what did you choose to do with that opportunity? My hope was to make images that would bring black women face to face with the profound beauty they all posses inside and outside. And, I wanted the viewers to feel my intentions on a visceral level. In a society where every facet of our lives is subject to advertising and propaganda, manipulating our every move, I decided to make my own propaganda to inspire people, especially black people, to be proud of themselves and their culture. Most importantly, I had to make amends with myself for ever allowing an outside perspective to diminish my self worth and question my talents.
Was SNL the first time you worked with Solange and Chuck? How did you select the look for the headpiece? What does it consist of? This was my first time working with Solange, or any celebrity clientele for that matter. On the phone, she asked for a halo similar to the original that I created for my piece "Fingerwave Saint," to be bedazzled with Swarovski crystals. I had a week and a half until the show. Immediately, I ordered thousands of crystals in three sizes and two colors, plus a pear shaped crystal for subtle variation. In the end, I decided to make it larger than the original for dramatic effect. The piece has over 100 feet of braided hair and over 2,000 crystals. It took about 50 hours over the course of 3 days.
What kinds of braids did you do for the headpiece? And for Solange's hair? The head piece was made of small plaits that I fed additional hair into to create thin, long ropes that were wrapped around a custom armature. Solange's hair is cornrowed in a subtle wave pattern that ends in a mid level pony tail to which the halo was secured.
Your braids seem to be a mesh of artistic styling and wearability. How have you been able to accomplish both? As a creative, most of my consciousness exists in a realm of fantasy. I try my best to manifest those visions. Except for three, most of the looks from Braids are totally wearable. Where there's a will there is a way, I MacGyver the hell out of it till it works.
Watch W's most popular videos here: