How Lottie Moss Stole the Spotlight at Sister Kate's Wedding
The burgeoning model opens up about finding fame at her very famous sister's wedding during a recent trip to Greece.
---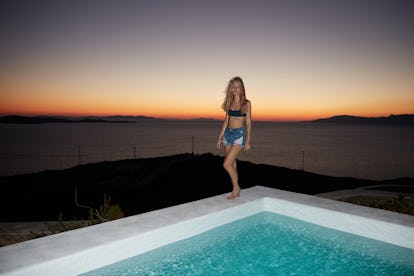 Unlike most models who tend to get scouted on the streets, Lottie Moss, Kate Moss's younger, was first discovered at Kate's own wedding when she was photographed as a bridesmaid at the age of 13.
"It was so funny," recalled the younger Moss. "My mom was like, 'Your sister is going to be so pissed. No one noticed her, everyone was like, 'Who's that?' I had a meeting with Storm [Model Management] the next week. They were like, 'Where have you been hiding?'
It was back in 2011, and while Kate's marriage to ex Jamie Hince didn't last, Moss's career has since taken off. Now 19—and 5′ 6″, an inch shorter than her older sister—she's walked for Chanel, landing an eyewear campaign with the house earlier this year, and Topshop, plus sitting front row at high profile fashion shows, like Marc Jacobs. More recently, she has focused on jet-setting around the world, including a trip to Greece courtesy of Velocity Black, a luxury app and concierge company that sets up activities for its members and that happened to be throwing a party she would attend hours later with a few models, including Chanel Iman.
When she's not traveling the world, Moss spends her time in London, where she lives—though, if you keep up with British tabloids, you are probably more than aware of this fact. In the years since her moment of discovery at Kate's wedding, Moss has been photographed in and out of various hot spots, and made headlines for her relationships, most recently with her ex Alex Mytton of British reality show Made in Chelsea. Sound familiar? With her Kate Moss mini-me looks, the attention on the Moss half-sister has been almost inevitable.
But there are some things a tabloid can't surmise about the enigmatic teenager. For example, she is very adventurous. During her short trip to Mykonos, she wanted to ride an ATV, a jet ski, and to take a submarine to visit a ship wreckage.
"When I was younger, I used to be obsessed with the Titanic," Moss gushed.
And, perhaps unsurprisingly given her famous half-sister, she has a taste for the finer things in life. During dinner at a local restaurant, the drink of choice was rosé, specifically an oversized 3 liter bottle of Mirabeau Pure, amounting to the equivalent of four standard sized bottles. "Who wants to try first?" asked the waiter. The table pointed to Moss.
When it came to ordering dinner, Moss took control. "Are we just ordering loads?" she asked, studying the menu. "Can we get feta cheese? I love feta. I'm such a foodie… I've known how to crack a lobster since I was little. I should put it on my CV."
Related: Lottie Moss, Kate Moss' Half Sister, Takes in Her Very First Marc Jacobs Show
Photographers "Always Ask" Kate Moss to Take Her Clothes Off
Remembering Playboy's Most Fashionable Cover Girls, from Marilyn Monroe to Cindy Crawford and Kate Moss
Marilyn Monroe graced an early Playboy cover in December, 1963.
Appealing to a broader audience, Playboy featured folk singer, Joan Baez, on its July, 1970 cover.
Model, Jean Bell, was October, 1971's controversial cover star—the first African American woman to appear on a Playboy cover.
In October 1977, Playboy got deep with Barbra Streisand.
Heartthrob Farah Fawcett featured on Playboy's December, 1978 cover.
Model Christie Brinkley graces the November, '84 cover.
Suzanne Sommers revealed all in December, 1984.
Goldie Hawn's quintessentially 80's cover (January, 1985).
Unlike a virgin…Madonna, September 1985.
A fresh-faced Brooke Shields was the December 1986 cover star.
Playboy's fashion affair continues with model Cindy Crawford in July, 1988.
Supermodels were no strangers to Playboy Covers. Stephanie Seymour (February, 1993).
Elle Macpherson was the cover girl for May '94's bare cover.
Claudia Schiffer, another supermodel, on the May '97 cover.
Sensing a trend? A fashionable Naomi Campbell finds her way onto the Playboy cover in December, 1999.
Kim Kardashian smolders on the December 2007 cover.
Breakout British sensation Daisy Loewe models the cover of Playboy in September, 2011.
Playboy called upon Kate Moss for it's 60th anniversary issue in January, 2014.
Sarah McDaniels took Playboy into the digital age with Playboy's relaunch cover in March, 2016.
Camille Rowe teases on the April 2016 cover.