Lottie Moss, Kate Moss' Half Sister, Takes in Her Very First Marc Jacobs Show
Ahead of the Marc Jacobs show, the model—and half sister of Kate—talked about meeting the designer at her sister's wedding, New York pizza, and why she prefers watching rather than walking fashion shows.
---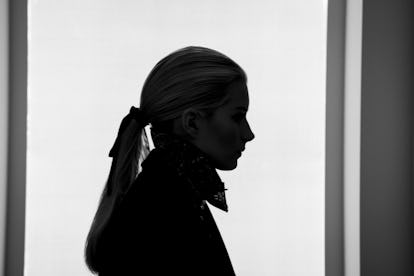 Every top model remembers the first time they met Marc Jacobs. For Lottie Moss, however, it wasn't at a casting, or even a fashion soiree, at least one by traditional standards.
"I met him briefly at my sister's wedding," said the 19-year-old. That sister would, of course, be Kate Moss, current W cover star, fashion icon, and longtime Marc Jacobs muse. "I don't really remember it because it was five years ago, and I was thirteen years old, but I remember being there and my mom going, 'That's Marc Jacobs.' At the time I didn't really know how big of a deal he was. I was just like, 'Okay, he makes clothes.'"
Oh, how the times have changed. Moss is now an on-the-rise model all her own, and on Thursday morning, she was preparing to sit front row at her very first Marc Jacobs fashion show. "I sometimes prefer sitting [to walking in the shows]; it's so easy," Moss said. "I was sitting a show recently and there were these shoes that were so beautiful, but looked so painful. One of the girls was limping a bit, and I honestly wanted to cry for her. But it was so beautiful, maybe it was worth the pain."
Moss was sporting some major shoes of her own, a pair of staggering platforms that increase her 5'6" frame by at least five inches. On anyone else, they'd be a health risk—but lest you forget, this girl shares Kate Moss' DNA. "I started wearing heels when I was younger; I would buy them from cheap shops and whatever was on sale," Moss said casually. "So I just got better in them. I have a lot of friends who just can't deal with heels, but I'm quite alright, I guess."
The walking practice has clearly been paying off. Over the past few months, Moss has been racking up major modeling credits. Currently, Moss is an official accessories ambassador for Bulgari, and the face of Chanel eyewear. She also walked in Chanel's Metiers d'Art show last December, alongside Cara Delevingne, Pharrell and fellow-Chanel newbie, Sofia Richie.
"They had dancer pretending to be dancers who were walking in the show, and Sofia said to one of the guys, 'Don't spin me, I don't want to be spun.' And then did it to her, and she actually landed it!" Moss said with a throaty laugh.
Kate Moss, Interpreted: See Photos of the Supermodel by Steven Klein, Craig McDean, Richard Prince and More
Moss has been in town for nearly ten days, where in between sitting front row at the combined Monse and Oscar de la Renta show and Zadig & Voltaire, she's been playing the dutiful tourist with her boyfriend, Made in Chelsea star Alex Mytton.
"He gets up every morning and says, 'Okay, time to do something.' I'm like, 'Can't we just go to this cafe?' And he insists on finding a 'cool one,'" Moss said.
Somehow, the pursuit of cool led the lovebirds to quite the opposite: a pizza buffet in the heart of Times Square. "I'm telling you, it was like carb central in there," Moss said. "My boyfriend really wanted to go to Times Square and I couldn't stop him. And it was Valentine's Day so it was extra busy. Then we ended up at this buffet with pasta and meatballs—and it said how many calories were in each thing. It was something stupid like 1,200 calories for pizza. And the slices are so big! I could only eat half of mine—it was the size of a half of a whole pizza."
Beyond carbo-loading, Moss has been getting in plenty of cardio, as well. "We've done a lot of shopping," she said. "I always have to go to Sephora because we don't have that in London, and I really love makeup. I've been like seven times. I've gone every single day.
When asked who her beauty icon is today, the model responded without missing a beat: "We've gone for the whole Sienna Miller vibe, haven't we?" It's true: Marc Jacobs beauty ambassador Michael Ashton—who works mainly as Adele's go-to makeup artist—has given Moss a very Sienna-esque look that involves a sleek cat-eye and nude lips. It's a glam daytime look that pairs perfectly with Moss's ensemble for the day: a purple floral baby doll dress and the aforementioned platform heels—and it's certainly a far cry from some of Moss's earlier beauty experiments. "I had really fat brows, like two big slugs on my face vibes," Moss said. "I also shaved a slit in my eyebrow."
On purpose? "I know," she admitted, full of remorse. "It was a bad move."
Indeed times have changed. No beauty missteps today; just a perfectly polished Marc Jacobs muse in the making.
Getting Ready with Lottie Moss Before Her First Marc Jacobs Runway Show
Lottie Moss getting ready before the presentation of the Marc Jacobs A/W '17 collection, during New York Fashion Week.

Alex Hodor-Lee
Lottie Moss getting ready before the presentation of the Marc Jacobs A/W '17 collection, during New York Fashion Week.

Alex Hodor-Lee
Lottie Moss getting ready before the presentation of the Marc Jacobs A/W '17 collection, during New York Fashion Week.

Alex Hodor-Lee
Lottie Moss getting ready before the presentation of the Marc Jacobs A/W '17 collection, during New York Fashion Week.

Alex Hodor-Lee
Lottie Moss getting ready before the presentation of the Marc Jacobs A/W '17 collection, during New York Fashion Week.

Alex Hodor-Lee
Lottie Moss getting ready before the presentation of the Marc Jacobs A/W '17 collection, during New York Fashion Week.

Alex Hodor-Lee
Lottie Moss getting ready before the presentation of the Marc Jacobs A/W '17 collection, during New York Fashion Week.

Alex Hodor-Lee
Lottie Moss getting ready before the presentation of the Marc Jacobs A/W '17 collection, during New York Fashion Week.

Alex Hodor-Lee
Lottie Moss getting ready before the presentation of the Marc Jacobs A/W '17 collection, during New York Fashion Week.

Alex Hodor-Lee
Lottie Moss getting ready before the presentation of the Marc Jacobs A/W '17 collection, during New York Fashion Week.

Alex Hodor-Lee
Lottie Moss getting ready before the presentation of the Marc Jacobs A/W '17 collection, during New York Fashion Week.

Alex Hodor-Lee
Lottie Moss getting ready before the presentation of the Marc Jacobs A/W '17 collection, during New York Fashion Week.

Alex Hodor-Lee
Lottie Moss getting ready before the presentation of the Marc Jacobs A/W '17 collection, during New York Fashion Week.

Alex Hodor-Lee
Lottie Moss getting ready before the presentation of the Marc Jacobs A/W '17 collection, during New York Fashion Week.

Alex Hodor-Lee
Lottie Moss getting ready before the presentation of the Marc Jacobs A/W '17 collection, during New York Fashion Week.

Alex Hodor-Lee
Lottie Moss getting ready before the presentation of the Marc Jacobs A/W '17 collection, during New York Fashion Week.

Alex Hodor-Lee
Lottie Moss getting ready before the presentation of the Marc Jacobs A/W '17 collection, during New York Fashion Week.

Alex Hodor-Lee
Lottie Moss getting ready before the presentation of the Marc Jacobs A/W '17 collection, during New York Fashion Week.

Alex Hodor-Lee
Lottie Moss getting ready before the presentation of the Marc Jacobs A/W '17 collection, during New York Fashion Week.

Alex Hodor-Lee
Lottie Moss getting ready before the presentation of the Marc Jacobs A/W '17 collection, during New York Fashion Week.

Alex Hodor-Lee
Lottie Moss getting ready before the presentation of the Marc Jacobs A/W '17 collection, during New York Fashion Week.

Alex Hodor-Lee
Lottie Moss getting ready before the presentation of the Marc Jacobs A/W '17 collection, during New York Fashion Week.

Alex Hodor-Lee
Photographers "Always Ask" Kate Moss to Take Her Clothes Off