How Patrik Schumacher Will Keep Zaha Hadid's Name On Top
The right hand of the late starchitect, who has an iconoclastic streak all his own, now faces the daunting task of leading the firm she built.
---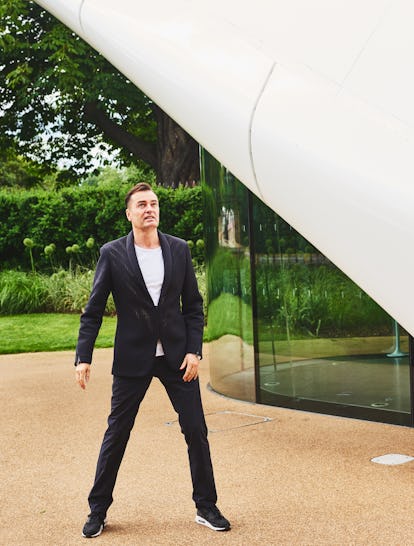 Photograph by Adrian Gaut
It is past midnight, and along the Grand Canal in Venice the architecture world's elite are partying — many of them on a pair of pirate ships that have been chartered by the Danish wunderkind Bjarke Ingels. But in the ornate dining room of the nearby Palazzo Widmann, another star, Patrik Schumacher, is holding court, challenging the "vacuous, quasi-socialist consensus" that, he says, informs the 2016 Venice Architecture Biennale — and the profession overall. This year's biennale contains one national display after another dedicated to liberal ideas: The German pavilion has been literally torn open as a symbolic welcome to immigrants. "You can see politics every night on the BBC," Schumacher declares. "Where do we see architecture? There are people who do this kind of thinking — philosophy, jurisprudence. We need to respect the division of labor." Architects, in other words, should stick to architecture.
Schumacher has, perhaps, the most demanding job of any architect working today. In March, he found himself at the helm of the 400-person firm founded by Zaha Hadid, after she died unexpectedly, at the age of 65. At that time, Zaha Hadid Architects had 36 active projects in 21 countries. Now it has even more. The current lineup includes a World Cup stadium in Qatar, a condo building overlooking the High Line in Manhattan, and an airport on the outskirts of ­Beijing. That is an astonishing number of projects for any firm, and an almost unbelievable number for one that consistently pushes the envelope, creating forms that explore, in Hadid's words, "fragmentation, flotation, and liberation from gravity."
While moving those projects forward, Schumacher must also keep the business alive by landing new ones. That won't be easy; firms headed by starchitects rarely outlive their founders. But given the number of designers trained by Hadid over the years, "her passing won't lead to a breakdown of creativity," observes Malcolm Reading, an organizer of design competitions. The Dutch architect Rem Koolhaas, Hadid's friend and teacher, has likened the situation to that of brands like Chanel or Alexander McQueen. "Fashion houses survive by working on the DNA of their founders," Koolhaas said in an interview for the website BDonline. "It is a model that is becoming more and more current, and it could work in architecture too."
Nevertheless, buildings are infinitely more complicated than even the most elaborate dresses, which is why the challenges facing the boyish 55-year-old Schumacher — imagine Clark Kent with a German accent — are so daunting. But Schumacher is the right man for the job. He came to work for Hadid 28 years ago, before she had a single building to her name, and helped transform a small studio into an international powerhouse, inspiring devotion among his employees along the way; Hadid was known to refer to the team as "Patrik's people," with just a tinge of envy.
Schumacher grew up in a suburb of Bonn, one of six children, with lawyers on both sides of the family and, before that, "peasantry." As an architecture student at the University of Stuttgart, he found Hadid's practice so compelling, he says, he couldn't imagine working for anyone else. He arrived in London in 1988 and was hired by one of Hadid's associates. Hadid famously said she sacked him more than once, explaining to the TV producer Alan Yentob in his 2013 BBC documentary Zaha Hadid: Who Dares Wins, "I didn't like him, and I didn't want to talk to him. He got on my nerves." Eventually she came around and began giving him pet names like Fluffy, Potato, and ­Cappuccino. Schumacher recalls that he was in awe of Hadid but never deferential. "I didn't care that she was older and famous," he says. "I didn't just bow to authority, and she respected that." Some say their relationship, in fact, began as a romance; Schumacher insists they were just "close friends." Hadid never married; Schumacher recently married the Korean architect Eunsil Yang, but he is so private that most of his colleagues, when asked about his personal life, assumed he was single.
Schumacher was with Hadid in Miami just hours before she died of a heart attack during a hospitalization for bronchitis. "There was a will; there was a succession plan," he says. Two years earlier, the firm had hired its first chief executive, the architect Mouzhan Majidi (a veteran of Foster + Partners), who will maintain that role. And there is a board of directors to help make management decisions. But Schumacher is the firm's senior designer and, currently, its only partner. All buildings will now be credited to him, with the names of the project architects listed below his.
To her friends, Hadid was a larger-than-life figure, invariably warm, loyal, and funny. Creatively, she was a force of nature. But in Schumacher's view, she was an "intuitive genius" who wasn't entirely aware of the power of her own vision. "Somebody had to argue that this was viable and life-enhancing, a highly functional set of innovations," he says. "I saw that to be my role." He even gave her approach to architecture a name: parametricism. Hadid's staggeringly complex forms were generated with the aid of sophisticated computer programs; they almost always involved curves. "If you tried to do the same thing with straight lines, you'd have 2,000 corners," Schumacher says. He has elaborated on the theory in books like The Autopoiesis of Architecture and articles like "Advancing Social Functionality via Agent-Based Parametric Semiology." But it's not clear whether Hadid appreciated his efforts to ground her work in academic jargon. Complaining that Schumacher's writing and lecturing took him out of the office, Hadid dismissed his theories as "Patrik-metricism."
Indeed, Schumacher was not only Hadid's most trusted aide, he was also her favorite whipping boy. In 2011, during a public forum at ­London's Architectural Association School of Architecture, where Schumacher was promoting a book, she called him "a complete pain in the ass" and repeatedly interrupted him, proclaiming, "I'm doing what you do to me every day." Given these and other public outbursts, one can only imagine what she must have said to him in private. On the other hand, Schumacher concedes, "Zaha tolerated my antics." ­Schumacher still, on occasion, talks about Hadid in the present tense, and he becomes emotional when discussing her detractors, including the "tabloid journalists" who, he says, ambushed her at her London Aquatics ­Centre in 2014 after she declared that the plight of construction workers in Qatar wasn't her problem. "I have nothing to do with the workers," she said. The reaction was intense. "They were looking for a headline, to discredit a public figure, Dame Zaha Hadid," Schumacher says. "Also, maybe as a Middle Eastern woman she felt that the Middle East had been criticized enough." Things escalated further when an American journalist accused Hadid of indifference to the deaths of workers building her stadium in Qatar. (In fact, construction on the stadium had not even begun.) She took legal action, eventually winning an apology and a settlement. "I advised her not to sue," Schumacher says ruefully. "But it did go well for her."
A few weeks after the biennale, Schumacher is back at his desk in London's Clerkenwell neighborhood, if you can call the square white table, in a glass-walled room above a gallery displaying Hadid's furniture and tabletop objects, a desk. Dressed informally in a Y-3 golf shirt, he moves through the studio chatting with various groups of young architects, who spend their days hunched over Lenovo computer screens. One group is working on a building that looks like a series of warped disks — they're actually the shape of ­Pringles, Schumacher notes, explaining that the potato chips' curves give them surprising strength. Another group is working on a Middle Eastern ­government building. He describes that one as "super-high-tech, but with strong cultural associations."
Walking through the office, Schumacher comes across less as a starchitect than an in-house architecture critic, going from desk to desk, teaching and learning, and then carrying what he learns from one part of the office to another. Among the projects in which he's personally invested is a collection of furniture made of walnut that will debut this fall at the David Gill Gallery, in London (where Hadid had been showing her designs since 2007). Schumacher, who plans to put his own name on the pieces, says the furniture line is a way to give young people in the office the chance to see their work bear fruit. Buildings, he says, take years; with furniture, "there's something to touch in weeks or months."
The next few months will be crucial. Three of the firm's buildings will open this fall: the headquarters for the port authority in ­Antwerp, Belgium; the King Abdullah Petroleum Studies and Research Center in Riyadh, Saudi Arabia; and the mathematics gallery at the Science Museum, London. Though they were all largely completed while Hadid was still alive, each will be judged as a test of the firm's continuing viability. Meanwhile, a retrospective of Hadid's career — which is also a retrospective of Schumacher's — will remain on view in Venice until the end of November. Another Zaha exhibition will open in December, at London's Serpentine Sackler Gallery, followed by an even larger one next spring at the MAXXI Museum, in Rome. Perhaps not coincidentally, both the Sackler and MAXXI were designed by Zaha Hadid Architects.
"It's my life's work — to let that slip would be tragic," Schumacher says, making clear his dedication to the firm. But as for his campaign against "the PC takeover of architecture," isn't there a chance his iconoclasm will alienate potential clients, when the firm can least afford to do so? Schumacher is invariably polite and soft-spoken, even when being provocative. "My positions might be controversial, but they are the result of a careful, informed deliberation," he demurs. "I think people who are frank are trusted."
Watch W's most popular videos here: