How to Take in James Turrell's New Skyspace Like a Breakout, Balenciaga-Wearing Model
See W's fashion shoot for Snapchat at MoMA PS1's newly renovated skyspace by James Turrell.
---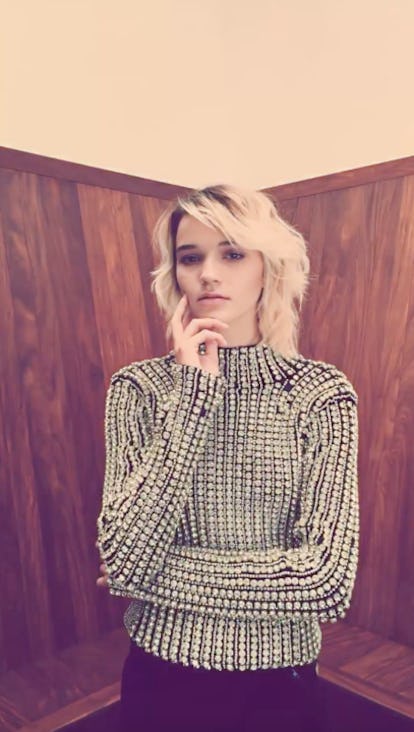 Photographed by Danilo Lauria, styled by Sam Walker in Balenciaga.
Forty years ago, the American artist James Turrell picked up a jackhammer and headed to the roof of MoMA PS1 in New York City. The resulting DIY skylight, "Meeting," soon became not only a site-specific light installation, but a model for the skyspaces that would quickly make Turrell famous as a pioneer of the Light and Space art movement. "Meeting" became so beloved and well-attended that, after a few decades, it was starting to show a little wear and tear.
So, with the help of Turrell, the museum started off on a three-year renovation process, which was just completed last month. Now, the dreamy, colorful lighting of "Meeting" has been synchronized with the sunset, so every night the room automatically becomes awash in pastel tones of blues and pinks, adding a hint of "Hotline Bling" to Queens. Never one to shy from Drake, W headed over to break in the space for its Art Issue-themed Snapchat channel, bringing along Balenciaga's notorious red puffer and a face just as loveable as Aubrey's: Impy, a 16-year-old model signed to Next who debuted this season at Alexander Wang.
While Impy is more often found at poetry slams than museums, the up-and-comer from Massachusetts was eager to get her first sighting of a Turrell, even if her high school duties kept her from seeing the space at night. As for what's next for the model, who's long preferred her childhood Finnish nickname to her "boring" birth name of Samantha? "I feel like I booked the majority of my dream shows," she said, recounting her walks for Chanel, Fendi, and Versace, along with a dozen other hot-ticket shows. There is one, though, that's escaped her: "Gucci has a rule that you have to be 18 years old," she said. "So I'm really hoping that when I turn 18, I'm in that lineup."