How William Eggleston's Daughter Turned His Art Into Fashion
With the help of his daughter, Andra, and longtime friend and supporter, Agnès B., the photographer's lesser-known but equally colorful sketches are stepping into the limelight.
---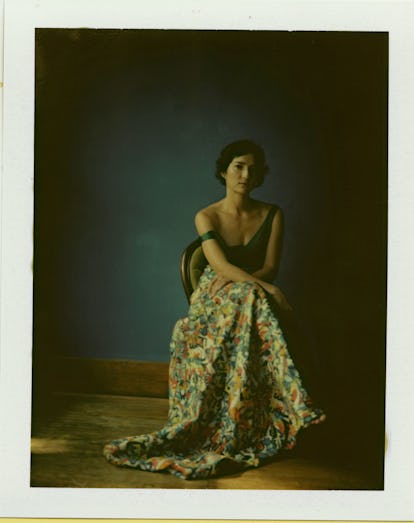 Buddy Jackson
"Electra is my alter ego," said Andra Eggleston of the name that her father, the pioneering photographer William Eggleston, originally wanted to call her. Some 40 years later, she's turned her father's dream into a reality, with his help: Electra Eggleston is now the name of their joint design company, which puts the photographer's lesser-known but equally color-infused drawings in watercolor, Sharpie, and oil pastels on everything from pillows to wallpaper to cinched cotton dresses for agnès b.
The fashion line is a new development, one that's been 10 years in the making: As soon as Andra graduated from textile design school in Los Angeles, her father invited her to Paris, where he was installing a photography show at the Fondation Cartier, so she could show off her new, massive portfolio to one of his longtime friends and supporters, the photography-obsessed designer agnès b. The three perused Andra's textile designs over champagne at Agnès's studio, "and then," Andra recalled, "I'll never forget this: She was like, 'Good luck,' and closed the book. I was secretly crushed."
It was a disappointment, but not a deterrent. Andra eventually switched from fashion to interior design, drawing up abstracted prints that were always somewhat inspired by her father. When she moved to Memphis a few years ago, she packed up all her paints and paintbrushes and took a trip to his place in Nashville. In between sushi and David Lynch movies, the two started drawing together, and Andra rediscovered the piles of sketches he'd done throughout his career that had always caught her eye even more than his photography. She had the idea to turn them into bowties — her father's signature accessory — and did so last year, branching out to a fabric by the yard operation that brought her back to Paris for a design fair.
"I thought of Agnès and innocently thought she would really appreciate the fabrics, so I sent them to her and then kind of forgot about it," Andra recalled. That is, until she had a dream that Agnès called up wanting to know the story of her work with her father, only to actually wake up to an email from Agnès's assistant saying the designer wanted to use seven of her prints. "I called my dad right away and was like, 'You're not going to believe this,'" Andra said.
So far, that's led to a four-piece capsule collection using an undated print of Eggleston's that she calls "Berlin." It's now being sold in a pop-up store in Williamsburg's Wythe Hotel, alongside Agnès' collaborations with artists like Gus Van Sant and Malick Sidibé, and a few DVDs of documentaries the designer has produced with her production company (including one on Eggleston's photography work).
As for Eggleston's photography, Andra has chosen to "sort of leave that alone," she said with a laugh, though its DNA is still showing up in Electra. "The real impetus for this for me always was to have my dad's artwork be wearable and functional," she said. "And to have that same feeling that you have when you look at his photographs that you can't explain, but you just want what it has. I really aspired to achieve that."