Hubert de Givenchy Remembered By His Great Niece—and Audrey Hepburn
As the late designer is being honored by the Givenchy house at Paris Couture week, a previously unpublished tribute by his favorite muse.
---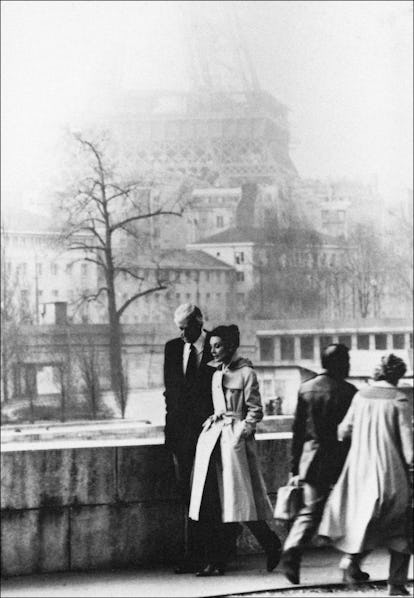 Getty Images.
Almost 15 years ago, I was walking in Paris along rue de Grenelle with my mother, father, oncle Hubert and his partner, Philippe. I was probably nine years old, and oncle Hubert must've been in his late seventies. I was walking a bit ahead and I heard, from behind me, oncle's voice. He was talking to my father about my mother's style, the way she walked, her silhouette. I can't recall the words, exactly—it was more about the way he was taking note of what he saw, and the way he saw women. It was so innate in him. I think there was nothing that went by unnoticed for him with regard to a woman: her carriage, her manner of dress, and, maybe most importantly, if what she wore made her feel confident.
Hubert de Givenchy, who died this March at 91, had a quiet presence that still managed to feel effortlessly grand. He exuded refinement, and was never flashy or showy. Even relaxing at home, he would walk around the house with the most stylish slippers. He was immaculate. He was very soft spoken. He was warm, and when he smiled at me it conveyed quite a lot of affection quietly.
These days, I can recall this feeling whenever I look at one of his illustrations. Without going into too much detail, he was able to capture not only the outfit itself but also how a woman would feel while wearing it. His models were always expressionless but their body language felt like everything! Everything that needed saying you could read in their hips—a talent which all women have but very few are aware of.
I feel incredibly proud that Clare Waight Keller, who was named the first female designer of the house last year, has chosen to remember Hubert in her first Givenchy Couture collection, which showed on Sunday in Paris. If there was ever a moment to celebrate women, as Hubert did, it is now. One of my favorite dresses he ever designed is one that I keep for myself at home: a simple blush slip that defines the waist and falls right below the knee. It feels as if he designed it with me in mind.
I know I'll always remember the beauty that he shared with the world. And who better to summarize the real essence of Hubert than his dear friend and constant muse Audrey Hepburn, who wrote this poem, in French, for him on the occasion his 40th year in the Givenchy house. It is a poem I hold very dear—I still remember when my father first read it to me—and I'm happy to share it now.
Translated from the French, it reads:
Forty years of Hubert
Forty years of genius
Forty years of friendship
Forty years of freshness, youth, color and vitality
Of warmth and courage
Of sweetness and delicacy
Of humor at rescue
Of goodness and kindness
Of fancy and franchise
Of vicissitudes and victories
Of confidence and caring
Forty years of infinite integrity
Hubert is like a tree
Tall, straight at handsome
Creating and recreating beauty
Summer like winter.
The roots of his friendship
Always deep and powerful
The branches solid with his affection
Sheltering those he loves.
Hubert may not have..
Everything he likes but he loves everything he has.
He always showed me his talent
And nourished with his tenderness
I have the privilege to salute
Hubert de Givenchy, artist and friend.
Audrey Hepburn and Hubert de Givenchy's Iconic Fashion Moments In Film: A Look Back
Audrey Hepburn in Love In the Afternoon (1957). Photo courtesy of Everett Collection.

Courtesy Everett Collection
Audrey Hepburn in Love In the Afternoon (1957). Photo courtesy of Everett Collection.

Courtesy Everett Collection
George Peppard and Audrey Hepburn in Breakfast at Tiffany's (1961). Photo courtesy of Everett Collection.

Courtesy Everett Collection
Audrey Hepburn in Breakfast at Tiffany's (1961)

Courtesy Everett Collection
Audrey Hepburn in Funny Face (1957). Photo courtesy of Everett Collection.

Courtesy Everett Collection
Audrey Hepburn and Fred Astaire in Funny Face (1957). Photo courtesy of Everett Collection.

Courtesy Everett Collection
Audrey Hepburn in Sabrina (1954). Photo courtesy of Everett Collection.

Courtesy Everett Collection
Peter O'Toole and Audrey Hepburn in How to Steal a Million (1966). Photo courtesy of Everett Collection.

©20thCentFox/Courtesy Everett Collection
Audrey Hepburn in How To Steal A Million (1966). Photo courtesy Everett Collection.

©20thCentFox/Courtesy Everett Collection
Audrey Hepburn on the set of Love in the Afternoon (1957). Photo courtesy of Everett Collection.

Courtesy Everett Collection
Audrey Hepburn in Paris When it Sizzles (1964). Photo courtesy Everett Collection.

Courtesy Everett Collection