It's a Whole New World for Huda Kattan
The Instagram star loves contouring, bold eyelashes, and Princess Jasmine. Any surprises?
---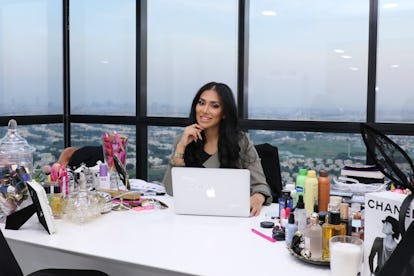 With over 11 million Instagram followers, Dubai-based Huda Kattan is a makeup expert for the world. And with good reason–just watch her video on tape contouring and you'll be hooked. Here, Kattan explains the latest Middle Eastern makeup trends, how she got into the beauty business, and the Disney character that became her first beauty icon.
Have you always been into beauty? By age 4 I had developed an admiration for the way my mom was into beauty and by age 9, I was practicing beauty and playing with makeup! My parents are from Iraq, but I grew in the South and I was the only Arab–and the only one who was even slightly tan. So I used to look at Princess Jasmine [from "Aladdin"] for inspiration and relate to her. I loved her super long hair and followed her makeup style, the Arab style–the big liner and lashes.
What was your first beauty memory? My sister, Alya, taught me how to remove dark spots on my knees. I was shocked at how easy it was. We just went to the kitchen cabinet, grabbed lemons and baking soda and we could remove dark spots on our knees, elbows – wherever. It was a beauty DIY!
You just launched a false lashes line at Sephora. How did you get into the business? I was passionate about beauty blogging, but when it came to launching products, it was unexpected. I handmade and wore my own lashes, and people following my blog would always ask me to create lashes for them. When I started searching, it was difficult to find a manufacturer I liked because I'm very picky. So I asked my sister to be the investor. I said, "If we don't end up making money, I'll use all the lashes and I'll pay you for them afterwards."
How are Middle Eastern and Western beauty habits different? I think Middle Eastern women like a more exaggerated look. But with the introduction of Instagram, Facebook and social media–things have become more uniform across the globe. Women in the Middle East are starting to look more and more like women in the West and vice versa. In my opinion, Middle Eastern beauty trends have definitely had an effect on women on the Western side of the globe as well! We love more dramatic makeup and you see that in some celebrities (Kim Kardashian, Jennifer Lopez), so that becomes something that Arab women can relate to. And in return, Western women are interested in trying these dramatic looks. I think they've become more daring.
How do women approach their brows? Is it customary to see a professional to have them groomed? Who's the Cara Delevingne of the Middle East? Maya Diab is the Cara Delavigne – she has definitely influenced eyebrows in the region. I know a lot of women who go to the salon to do their eyebrows, but I don't think there is anything wrong with doing them yourself. I've actually never had my eyebrows done! I suppose I would go to a salon if I didn't know what to do, but I'd be very careful who I'd go to!
Are the Kardashians still as hot in the Middle East? Or has someone new replaced them? I think the Kardashians were iconic back in the day and I still like them. People used to be really obsessed with what they were doing; now it's transformed more into an admiration and a respect. They have gone from reality stars to A-list celebrities, which is really hard to do. I think they've earned their respect even if people don't agree with every aspect of their life.
If you could do the makeup of anyone, who would it be? Oh wow! I want to say Beyoncé, but the only problem is I don't know if I could survive that moment. I may hyperventilate, faint and die if I met Beyoncé.
What about all the makeup application trends–is contouring making any waves? Strobing? Or do Middle Eastern women think these are crazy?! Middle Eastern women love contouring! It's had such an effect on the Middle East. In general, nothing in makeup has really died out. Things are becoming bigger and bigger. Women are realizing that contouring is essential no matter who you are, where you are, what you are doing – you have to contour. I contour before I go to the gym! Putting your contour on, is like putting your face on! I don't think strobing will take over. I think there was an influx of contour products that were developed so brands were like, "I get it, let's move onto the next!" But contouring is here to stay!
Are women in the Middle East into the Internet-led beauty trends? Absolutely! It's interesting because we are talking about women who have been stuck in their trends and haven't shifted, but now because of social media, people have started to take in new trends and adapt them. I'm not going to say they are exactly the same as you see them in the West, but they've adapted them. To me, this openness seems to be moving towards a uniform makeup trend across the globe. I would like to see more of the Far East and Asia's beauty routines come into popularity as well.
What about vloggers? We do vlog! We do a lot of different things in our vlog. We try to keep it as intimate as possible. I think the most important thing to remember when vlogging, or whatever you do, is to be honest. The reason that bloggers/vloggers are unique is that they don't take advertising dollars, or they shouldn't take advertising dollars. Any blogger that can do that becomes really special and has a unique voice and a unique audience that becomes extremely loyal to them. It's about staying true to yourself and being honest with anything you put out there. Sometimes when I'm vlogging there is a mess in the background or my family is coming in, and I think people like those raw moments!
What were the biggest products of 2015 in the Middle East? What do you predict will be big in 2016? Our Huda Beauty lashes were one of the top sold products in Sephora Middle East! I also think contouring is going to stay a big trend. We'll also see more items that we didn't know we needed before. I think artist brushes are going to be a huge trend. Beauty will start to get more complicated with more steps. That seems to be what happens when consumers become more savvy.
In which area of beauty do you see the most experimentation? Nails and hair! If I had to pick one I would say, hair. Hair recently is going crazy – glitter roots, rainbow roots, rainbow under the hair, different cuts!
What's your can't-live-without beauty product? A really good face serum and I love the Chanel Le Lift Creme.
Do you have a favorite makeup line? And why? I really like Make Up For Ever because they have everything you need. If I could only use one line, I would feel comfortable with them.
What's in your purse right now? RevitaLash Eyelash serum, my wallet, my iPhone – that's all that fits. Oh and a La Mer lip balm. I don't leave my house without it.
What are you currently obsessed with? All I know is beauty! Otherwise, I'd say social media and Snapchat!