Brett Ratner Is Directing a Hugh Hefner Biopic Starring Jared Leto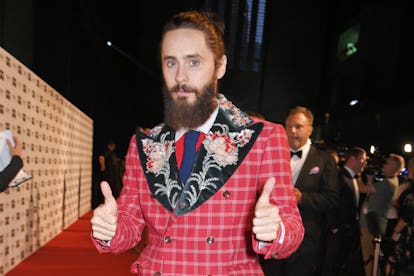 David M. Benett/Getty Images
Less than a week after the death of nonagenarian Playboy founder Hugh Hefner, Hollywood has already announced plans for a biopic of the controversial figure, starring none other than the bad boy America loves to tolerate, Jared Leto, and directed by Brett Ratner. Alright then.
According to The Hollywood Reporter, Ratner has had the rights to Hef's life for 10 years, and the project once had Robert Downey, Jr. attached, which makes a lot of sense. Now it looks like it's going forward with the Oscar-winning 30 Seconds To Mars frontman, who is apparently very excited about the project. "Jared is an old friend," Ratner told THR. "When he heard I got the rights to Hef's story, he told me, 'I want to play him. I want to understand him.' And I really believe Jared can do it. He's one of the great actors of today."
Whether or not that's true, it makes sense that producers are chomping at the bit to get a Hef biopic made first. Whatever you think of him, there's not doubt the pajama-clad Hugh was an American icon who lived larger than life. In fact, Amazon already has the jump on traditional Hollywood sort of. Earlier this year, the streaming service debuted American Playboy: The Hugh Hefner Story, a mix of interviews, archival footage, and dramatic reenactments (Hefner is played by Narcos star Matt Whelan).
Hefner has also been portrayed by others on screen before, perhaps most notably by none other than James Franco in 2013's Lovelace. Though, fictionalized Hefs have also popped up on Masters of Sex, Frost/Nixon and NBC's ill-fated 2011 series The Playboy Club.
No word yet on a possible release date for the Ratner-Leto version, but in the meantime, but both have other projects in the works. The former My So-Called Life heartthrob can be seen in the upcoming Blade Runner 2049 playing a part apparently intended for David Bowie. Leto also has worked lined up playing another American icon, Andy Warhol. Ratner's next directorial effort, according to IMDb, is The Libertine, the story of a French diplomat under house arrest while he awaits trial for sexual assault. It stars Johnny Depp, obviously.
The THR article also included an ominous warning: "Ratner also plans to reboot the Hefner-hosted, late-1960s talk show Playboy After Dark."
Related: Andy Warhol Will Finally Get a Biopic Thanks to Jared Leto
Remembering Playboy's Most Fashionable Cover Girls, from Marilyn Monroe to Cindy Crawford and Kate Moss
Marilyn Monroe graced an early Playboy cover in December, 1963.
Appealing to a broader audience, Playboy featured folk singer, Joan Baez, on its July, 1970 cover.
Model, Jean Bell, was October, 1971's controversial cover star—the first African American woman to appear on a Playboy cover.
In October 1977, Playboy got deep with Barbra Streisand.
Heartthrob Farah Fawcett featured on Playboy's December, 1978 cover.
Model Christie Brinkley graces the November, '84 cover.
Suzanne Sommers revealed all in December, 1984.
Goldie Hawn's quintessentially 80's cover (January, 1985).
Unlike a virgin…Madonna, September 1985.
A fresh-faced Brooke Shields was the December 1986 cover star.
Playboy's fashion affair continues with model Cindy Crawford in July, 1988.
Supermodels were no strangers to Playboy Covers. Stephanie Seymour (February, 1993).
Elle Macpherson was the cover girl for May '94's bare cover.
Claudia Schiffer, another supermodel, on the May '97 cover.
Sensing a trend? A fashionable Naomi Campbell finds her way onto the Playboy cover in December, 1999.
Kim Kardashian smolders on the December 2007 cover.
Breakout British sensation Daisy Loewe models the cover of Playboy in September, 2011.
Playboy called upon Kate Moss for it's 60th anniversary issue in January, 2014.
Sarah McDaniels took Playboy into the digital age with Playboy's relaunch cover in March, 2016.
Camille Rowe teases on the April 2016 cover.
Jared Leto's Robert De Niro Impression Is Flawless: