How Pamela Anderson, Cindy Crawford, and More Are Remembering Playboy Founder Hugh Hefner on Instagram
With the Playboy founder's death Wednesday, friends and collaborators like supermodels Kate Moss and Cindy Crawford, Pamela Anderson, and Paris Hilton are posting remembrances on Instagram.
---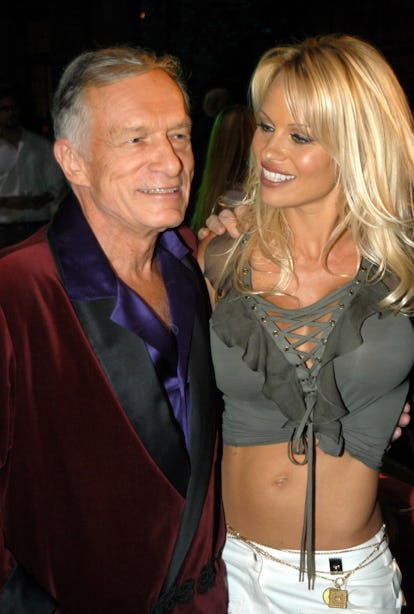 Jeff Kravitz/Getty Images
On Wednesday, Playboy magazine founder and editor-in-chief Hugh Hefner died at his home, the Playboy Mansion, just outside Beverly Hills, California. At 91, Hefner had spent two-thirds of his life—the first issue was published in 1953—as the unofficial mascot for Playboy. (The official mascot, of course, being the Playboy bunny.) He "handed over creative control" to Cooper Hefner, his 26-year-old son, last year, according to the New York Times, though Hefner remained editor of the magazine until his death.
A magnet for controversy from the beginning—its first issue featured nude photographs of Marilyn Monroe that had been taken years prior to their publication in Playboy, before she was the celebrity she'd eventually become, that Hefner had acquired for a cool $500—Hefner's Playboy also found fans in the supermodels, actors, and performers who graced its cover. Hefner was instrumental in launching the career of then-Baywatch star Pamela Anderson as a '90s sex symbol; the magazine also featured the likes of Kate Moss and Cindy Crawford on its cover.
Remembering Playboy's Most Fashionable Cover Girls, from Marilyn Monroe to Cindy Crawford and Kate Moss
Marilyn Monroe graced an early Playboy cover in December, 1963.
Appealing to a broader audience, Playboy featured folk singer, Joan Baez, on its July, 1970 cover.
Model, Jean Bell, was October, 1971's controversial cover star—the first African American woman to appear on a Playboy cover.
In October 1977, Playboy got deep with Barbra Streisand.
Heartthrob Farah Fawcett featured on Playboy's December, 1978 cover.
Model Christie Brinkley graces the November, '84 cover.
Suzanne Sommers revealed all in December, 1984.
Goldie Hawn's quintessentially 80's cover (January, 1985).
Unlike a virgin…Madonna, September 1985.
A fresh-faced Brooke Shields was the December 1986 cover star.
Playboy's fashion affair continues with model Cindy Crawford in July, 1988.
Supermodels were no strangers to Playboy Covers. Stephanie Seymour (February, 1993).
Elle Macpherson was the cover girl for May '94's bare cover.
Claudia Schiffer, another supermodel, on the May '97 cover.
Sensing a trend? A fashionable Naomi Campbell finds her way onto the Playboy cover in December, 1999.
Kim Kardashian smolders on the December 2007 cover.
Breakout British sensation Daisy Loewe models the cover of Playboy in September, 2011.
Playboy called upon Kate Moss for it's 60th anniversary issue in January, 2014.
Sarah McDaniels took Playboy into the digital age with Playboy's relaunch cover in March, 2016.
Camille Rowe teases on the April 2016 cover.
The magazine also became an unlikely beacon of, as the Columbia Journalism Review wrote Thursday, "free speech": Hefner "printed more serious journalism and fiction than just about any other magazine publisher," CJR wrote. Playboy, intermittently, even positioned itself as an advocate for women's empowerment, for all its very premise also objectified women. For example, the musician Sky Ferreira guest-edited the October 2016 issue she also covered, in which she was interviewed by Bruce Dern; the issue also featured actors Maggie Gyllenhaal and Rachel Bloom, comedian Ali Wong, and the porn star Stoya.
As the news of Hefner's death broke Wednesday, remembrances began circulating on social media, especially among his (admittedly expansive) inner circle of cover stars. Kim Kardashian and Paris Hilton are, apparently, texting about their favorite parties at the Playboy mansion. Pamela Anderson posted a tearful video on her Instagram. Azealia Banks, Hilton, Crawford, Moss, and comedian Sandra Bernhard each posted their respective Playboy covers in homage to the late magazine editor. See a few of the most poignant celebrations of Hefner, from the celebrities who knew him best, here.
Watch: Photographers "Always Ask" Kate Moss to Take Her Clothes Off