Pamela Anderson, Uncensored, on Activism, Feminism, Family and Love
In an exclusive photo shoot and interview, the one and only Pamela Anderson opens up.
---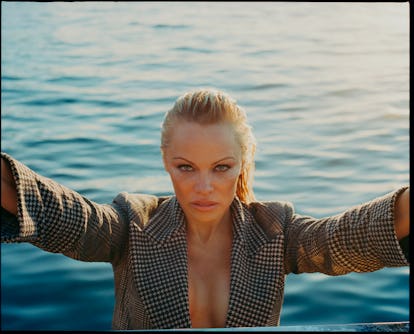 Photo by Luke Gilford, Styled by Dogukan Nesanir.
There are quite a few attributes that Pamela Anderson has in spades. Yes, there's the superficial bits—the tousled blonde waves and curves that famously landed her on countless covers of Playboy—but a quality that Anderson has on lock, it would seem, is longevity. Consider the fact that Anderson entered the cultural zeitgeist back in 1989 with her first Playboy cover, which she quickly segued into an acting career with roles on popular TV shows like Home Improvement and, of course, Baywatch.
Today, Anderson is a bit of everything—an animal rights activist, a feminist, a soon-to-be author, a mother to two popular male models, a front row regular at fashion shows, and, yes, a bombshell. Relocated to Saint Tropez for the summer, Anderson teamed up with her old friend, the photographer Luke Gilford, for an impromptu photo shoot, and chatted with W about her sons, the advice Julian Assange gave her about social media, and more.
Where in the world are you right now?
I'm in Saint Tropez for the rest of the summer. I have been for about three months so far. I'm renting out my house in Malibu, so I'm semi-homeless which is kind of nice when you get to go to the South of France. I can't complain.
Do you go out every summer?
I don't. I've been out here plenty of times for shoots, but my evil plan was always to semi-retire here. My kids [Dylan Jagger and Brandon Thomas Lee] are grown and they want me to be happy and they want to visit France, so it works out. I'm not micro-managing their life in L.A., and we're spending quite a bit of time out here going to museums and experiencing culture and different languages, so it's the best of all worlds. And it was always my plan and something I really aspired to. I knew before I turned 50 that I would be living on the French Riviera. And here I am.
Do you remember the first time you went there?
The first time I came was with Playboy about 20 years ago. I'm not really good with times and dates, but that was the first time. It's a beautiful light. Everybody looks good in Saint Tropez. It is either full of beautiful people, or it's the light. I can't tell.
Tell me about how this shoot you did with Luke Gilford.
We always come up with some kind of narrative and cinematic way of shooting together; we both put a lot of work into it, but it also came together collaboratively and naturally… We wanted to play with a bunch of different characters and I'm so much into fantasy and playing characters. With each outfit, we created a different character. It was just really fun. Luke gets it. There is not time wasted. He giggles a lot behind the camera, but I'm used to it now.
How did you two meet?
He wanted me to do a short film [the 2015 short Connected], and he met me a low point in my life; I hadn't decided to go through my last divorce yet and I was in a terrible place. I was miserable, I had cut my hair, just everything was really difficult. It was a difficult relationship, and it wasn't healthy. Luke came over with the script and he wanted me to read it with him, and I just couldn't even see the words. But it was such a great time for me to do it, even though it probably took us about a year to get it together. When we shot it, I was still in the same broken place, which really worked well for the script, and we've been shooting together ever since. Every time we get together, it happens so naturally. It's one of those collaborative things that you can't even explain. It's magical. And they're not always beautiful pictures; I don't think they're pretty or beautiful. They're just really significant. He's a real director, and sees things with a different eye. Everything he shoots, you know it is him. He has a real way of storytelling, which is why it is so fun to shoot with him.
And you are wearing all Stella McCartney in this shoot.
Of course. She's a trailblazer. She's created a very beautiful, super high-end fashion line without hurting animals. It's incredible, and so difficult. I've tried my little hand at things that are vegan, and it's just difficult. People are ready for it, but it's difficult—even the fabrics are more expensive because they are more forward-thinking and takes a little bit more effort. But it's worth the extra bit of money. Vivienne Westwood said, "Buy a couple beautiful, important items, don't just buy and consume crap."
Speaking of fashion, you've recently re-emerged as a front row staple at a lot of fashion shows, and your sons are both models.
I've been doing this a long time; I walked in a few Vivienne shows years ago. And the boys are just doing this for fun; Brandon's an actor and Dylan's a musician. Brandon gets to be an actor on the runway, and just eats it up and loves it. My other son has this plan for his life and is very ambitious and all about the music, so it doesn't really want to do any of this stuff; he turns down stuff all the time. He's very calculated, while Brandon is very on his sleeve.
I just support my friends. Vivienne, of course, and Andreas are doing really fabulous, crazy, wild stuff. I did their last campaign with Juergen Teller. I love working with them, they're like family. And Stella is like family. I guess that's my little world. Dolce & Gabbana are really cool, but I don't like that they have fur. But they're funny and really sweet, and very generous and really good to my boys. I have nothing bad to say about them.
What is it like to see your sons model and walk the runway?
I didn't want them to be in this business, and neither did Tommy [Lee, Anderson's ex-husband]. They're both very smart boys and both got into incredible universities. They're both big achievers. We just wanted to make sure they knew that they could do things other than what we were doing… They're both doing really good, and are at the age where they can make these choices. Of course, Tommy and I are like, 'Oh no.' But they're handling it really well because they've been surrounded by all of this their whole lives, so they're very open-minded and can thank uncle David LaChapelle for that.
Did you give them any advice when they did make the decision to pursue this industry?
Just to be themselves and not try to fake this formula and not to be so worried about this freaking social media stuff. Just be themselves, work on their craft, be passionate, and that there are no rules. You do what you want to do. They are both very strong-minded, anyways, so it's not like they are looking for advice from me. I'm always rambling on.
I see on your website that you have been journaling and have an entire section dedicated to your writing.
I've been doing this for years! I don't know where everybody has been. They're like, "Oh, you're finally doing something with your life," and I'm like, "Motherf–ker, I've been doing this since I f–king came to L.A." I hate when people say, "Now you've finally grown up." I'm an activist, and I'm not doing it for myself. I'm doing it for animals and people who are vulnerable and can't speak for themselves. It was never my intention to get any credit for any of it, and people are just noticing. But it's nothing different, and my priorities have not changed. I'm just being myself, and I have been an animal activist since I was a kid. It was natural to share the attention when I was on Baywatch and had 150 different countries watching. I thought, "Let me see what I can do and speak to governments and Parliament." And I did, and have been doing that for a very long time. But it's funny when people say, "You're finally doing this."
How do you now use social media to highlight these causes that are important to you?
I shut down my computer and cell phone for six months one time. I thought the social media thing was crap, because one time I was offered a movie, but in the contract they said, "You have so many followers," this and that, and I said, "I'm not getting involved with this. This is really bad, and I don't want anything to do with it." So I threw it all away. But then I started to realize, you can use it for good and I started to kind of slowly get back into it. It's not for personal reasons, but all the things I believe in. That's the difference. I worry about young people whose self-worth is based on how many followers they have or how many likes they have. That's why I'm writing a book right now called "The Sensual Revolution" which is about desensitization. It's just amazing, the statistics and what people are going through right now, and how young people are experiencing fame in this bizarre way. But, that's part of life, and you can't always complain about new technology, and true information is good. Julian [Assange] always says, "As much information as possible is good, and you have to weed through it because some is wrong and some is right. But the truth is the truth." Before I wanted to not look at all, but he said, "You have to look at everything and break it down."
It's definitely a much different landscape for people starting out now compared to when you first entered Hollywood.
Thank God it was different then. There has to be some mystery. People don't want to look at you when they can look at you all day on these things. I look at Instagram stories and think, "I really don't know all of this about you. I don't want to know what you are eating, or what you are doing, or where you are going." I don't care. I just don't. So, I try to be enough involved where I can use it to my advantage when it comes to causes that I believe in, but try not get too personal. I love poetry and read constantly, so if there is something interesting on mind, it's something I can play with, so it is personal, but not blatantly personal. I'm not taking pictures of myself in the mirror in different outfits. I do not get those.
What are you reading these days?
Right now, I'm reading Frida Khalo; I'm always reading Frida. I'm reading "Napoleon and Josephine" because I'm learning French, and so I've been listening to a lot of French music and watching French movies, because that is how I can learn. I'm Canadian so I have a good base, and I've been speaking a lot since I've been here. It's the language of love.
Even though you are Canadian, having come to France from the States, do you find that people want to discuss President Trump with you?
I don't think people really think that's something they should talk to me about. Not that I'm not involved with politics—I'm very political and I do have a lot of political opinions and friends who are very political—but it's just an endless subject and I don't have much to say that is positive, so might as well not talk about it.
What else have you been doing during your time in Saint Tropez?
I don't think I'm moving back to Los Angeles anytime soon, but I'm trying to decide if I'll go to Provence or Northern France, so I'm looking around. I have a lot of friends who are here and have met interesting people, and it's easy for me to get around. I'm writing a lot, and getting more involved in not just women's issues but I'm looking at the history of women's issues and thinking about feminism in general. I don't want to be told how to to a woman by a man or a woman.
It's part of what I'm writing my book about, so it has been what's on my brain lately. I've been working on it for over a year. There are four chapters in each part and six parts, so I'm getting there. I'm getting close to the end and really love how it's turning out. I'm going to promoting that, and I have Coco de Mer, which I'm doing a joint venture with; my lingerie line comes out in December. It's really sexy, playful lingerie—more on the playful side than the bondage side. I've got a lot of little things like this going on, but mostly just living my life and being in love and happy and seeing my kids when I can. And I love that my kids are in love and have girlfriends; they are not shy and really, really open to sharing their experiences with people. They are just really cool. They are 21 and 19, and kids that age don't want girlfriends; they want this whole Tinder madness. But my kids don't. They really are lovers, and romantics, and that's what I'm most proud of. Love is the most important thing in the world. Everything else is meaningless, really.
Exclusive: Pamela Anderson Vamps It Up In Saint Tropez
Related: After the Bombshell: Pamela Anderson's Next Act
Watch a Video Interview with Pamela Anderson's Son Dylan Jagger Lee
A Celebration Of Pamela Anderson's Bombshell Style
In a more classic Hollywood look than often seen on Anderson, she attends a watch party for the 65th annual Academy Awards in Beverly Hills, California, March 1993. Photo by Ron Galella, Ltd./WireImage.
In 1999, Anderson attended the annual Vanity Fair Oscar Party in a simple white gown — more daring than the previous two looks, yet still markedly toned down from much of her late-'90s wardrobe. Photo by Ke.Mazur/WireImage.
At the British Fashion Awards in 2003, Anderson, wearing a wide-lapeled white pantsuit, rubbed shoulders with British designer Stella McCartney in London, England, September 2003. Photo by Getty Images.
Photographer David LaChapelle photographed Anderson for numerous magazines throughout her career, including Interview, Flaunt, and GQ Germany. Here, they appear together at the Vegas Supernova launch party at Selfridges in London, England, April 2005. Photo by J. Quinton/WireImage.
At the Valentino V fragrance launch in 2005, Anderson — in an espresso-colored dress with black patent belt — appeared with photographer Sante D'Orazio in New York, New York, May 2005. Photo by Rabbani and Solimene Photography/WireImage.
Anderson, who two years prior had been a Viva Glam posterchild, appeared at the New York Fashion Week Fall 2006 MAC Chinese New Year party, February 2006. Photo by Getty Images.
Later that same week, Anderson hosted the PETA Fashion Week party, preempting the current menswear-inspired jacket-as-dress trend by about a decade. Photo by Getty Images.
Anderson hosted the MAC Viva Glam IV Fashion Cares party, flanked by DSquared2 designers Dan and Dean Caten and wearing their design, in New York, New York, June 2006. Photo by George Pimentel/WireImage.
Pamela Anderson, in a gold lurex dress, met designer Vivienne Westwood backstage at her London Fashion Week Spring 2009 show in September, 2008. They presumably hit it off, as Anderson soon became the new face of Vivienne Westwood's eponymous label, appearing in several of her shows and frequently accompanying the designer to industry events. Photo by Mike Marsland/WireImage.
Pamela Anderson walks Vivienne Westwood Fall 2009 at Paris Fashion Week, March 2009. Photo by Alain Benainous/Gamma-Rapho via Getty Images.
Pamela Anderson walks Vivienne Westwood Fall 2009 at Paris Fashion Week, March 2009. Photo by Frederic Souloy/Gamma-Rapho via Getty Images.
Pamela Anderson sat front row at Vivienne Westwood's Spring 2014 show in Paris, France, September 2013. Photo by Getty Images.
Pamela Anderson, in Vivienne Westwood, with the designer at the launch of the Pamela Anderson Foundation in Cannes, France, May 2014. Photo by Getty Images.
In a navy dress with black leather detailing, Pamela Anderson attends the Daily Front Row "Fashion Los Angeles Awards" in Los Angeles, California, March 2016. Photo by Getty Images.
Pamela Anderson supports Vivienne Westwood both by wearing the designer and attending her book discussion in London, October 2016. Photo by Getty Images.

David M. Benett/Getty Images
Pamela Anderson opts for a strapless printed Vivienne Westwood dress at the Best Award Gala 40th Edition in Paris, January 2017. Photo by Getty Images.

Marc Piasecki/Getty Images
Pamela Anderson throws her coat over her shoulder to benevolently deliver vegan cheeseburgers to Julian Assange at the Ecuadorian Embassy in London, February 2017. Photo by Getty Images.

Neil Mockford/Getty Images
Pamela Anderson makes her Paris Fashion Week circuit again in Westwood, March 2017. Photo by Getty Images.

David M. Benett/Getty Images
Pamela Anderson heads to Monaco after turning up at the Cannes Film Festival, May 2017. Photo by Getty Images.

Marc Piasecki/Getty Images
Pamela Anderson before she jumped into the ocean in a lace and rhinestone adorned gown in Marbella, Spain, May 2017. Photo by Getty Images.

Fotopress/Getty Images
Pamela Anderson steals the show from Kelly Rohrbach in a sequined gown at the world premiere of Baywatch in South Beach, May 2017. Photo by Getty Images.

Alexander Tamargo/Getty Images