Dylan Jagger Lee, Son of Pamela Anderson and Tommy Lee, Never Uses Any Hair Products Besides the Ocean
The son of Pamela Anderson and Tommy Lee shares his beauty tips.
---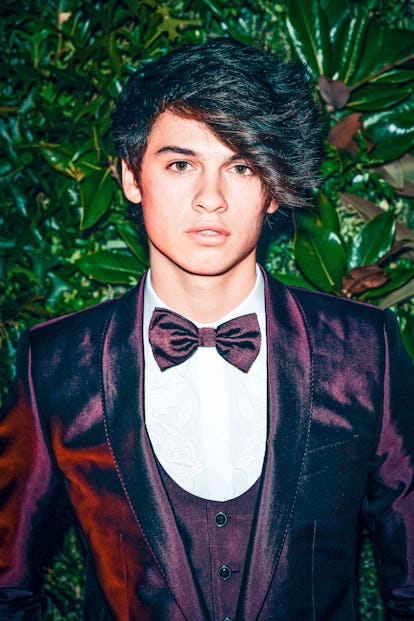 Venturelli
Dylan Jagger Lee first came onto the scene when he attended the Saint Laurent menswear show in Los Angeles with his brother, Brandon Thomas Lee. Since then, the 19-year-old son of Pamela Anderson and Tommy Lee has become a regular at fashion week, and a W favorite. In fact, Lee is the latest star of W's video series "In Bed With," a playful video in which the he talks about his celebrity crush, what his hair looks like in the morning, and his go-to karaoke song.
Here, the surfer, musician, and model reveals his grooming secrets, from his diet and exercise routine to why he likes girls without makeup.
Your look in three words: Simple but unique.
Travel kit snapshot: Anytime I fly I always bring my Kiehls Face Moisturizer, some chapstick and my Versace cologne. Other than that I always bring my Macbook computer and my midi controller "piano keyboard" so I can work on music on the plane or in my hotel.
A good hair day starts with: I actually don't use any hair product! I usually just go for a surf in the morning and leave it up to the ocean to work its magic.
Sheet mask or mud mask: I'm going to go with the mud mask! I love anything Kiehls.
Electric or clean shave? Clean shave!
Beauty from the inside out: I think nutrition is really important to take into consideration. I look at it like this: if you eat something "good" for you….how could it be "bad" for you. I usually just eat Acai bowls all day!
Exercise obsession: I'm never really at the gym! My work out obsession is surfing and going on beach runs with my dog. Make exercise fun!
Pamela Anderson's Teenage Boys, the New Kids on the Block
Brandon Thomas Lee, Pamela Anderson and Dylan Jagger Lee attend the Saint Laurent show at The Hollywood Palladium on February 10, 2016 in Los Angeles, California.
Photo by Getty Images.
Dylan is 18 and Brandon is 19-years-old.
Photo by Getty Images.
Being only one year apart, they're almost never that. br>Photo by @dylanjaggerlee.
Both like to surf in Malibu, their mother's stomping ground.
Photo by @dylanjaggerlee.
Brandon is eager to be his mother's date at events like Sean Penn's gala for Haiti, where he wore a blue suit and bow tie.
Photo by Getty Images.
And might be a young #menswear model in the making.
Photo by Getty Images.
He wasn't always a fan of photographers, though! Here he is shying away back in 2005. Photo by Getty Images.
Dylan is a more laid back California boy.
Photo by Getty Images.
Who seems content with his guitar and golden retriever dogs.
Photo by @dylanjaggerlee.
With parents like these though, these two bros are bound to take California by storm.
Photo by Getty Images.
Nighttime skincare rituals: I take a steam before I go to bed and wash my face with my Kiehls Face Scrub. After, I'll use some moisturizer then it's time for bed!
In tub must have: If I'm in the tub I must have bubbles. Tons and tons of bubbles. Also a bath bomb from Lush and I guess my rubber ducky should be hanging out with me, too.
What makes you feel sexiest? When I'm shirtless in bed and playing my guitar.
Favorite beauty look on a girl? No make up. I say this because if a girl has no make up on she's confident. And confidence is beautiful thing!
After shave or moisturizer? Moisturizer, for sure, because I love the feeling.
A man should smell like: I use a Versace cologne and it smells so good.
You're staying in for the night, you are: If I'm in for the night, I'm writing music. I'm either playing the piano, playing the guitar or producing on my computer. I find that really relaxing. That's usually my night everyday. Music, music, music!
Would you say your ambition is to be a musician? Yes! As of right now I am working really hard to become a music producer/DJ. That is my dream and I want it to become a reality. I work everyday on my music and I hope that soon I can make it happen! My favorite group/artists would be The Chainsmokers, Jack ü (Skrillex and Diplo), Dillon Francis, and Zedd. Those are the people who inspire me. My genre of music that I love to produce is "pop EDM" or "future bass". Its really "festival" music that you can dance to!
2016 Proved the Only Thing You Need to Be a Model Is a Famous Parent (Or Two)
by David Urbanke. Produced by Biel Parklee.
Selah Marley in the Calvin Klein Fall 2016 campaign.

Tyrone Lebon
VENICE, ITALY – SEPTEMBER 04: Sistine Rose Stallone attends the premiere of 'Hacksaw Ridge' during the 73rd Venice Film Festival at Sala Grande on September 4, 2016 in Venice, Italy. (Photo by Venturelli/WireImage)

WireImage