Hugo Boss Pulls Out of Fashion Week, But Is Still Sticking with Jason Wu
Hugo Boss won't be on the calendar for the next NYFW and making a few other changes at the same time.
---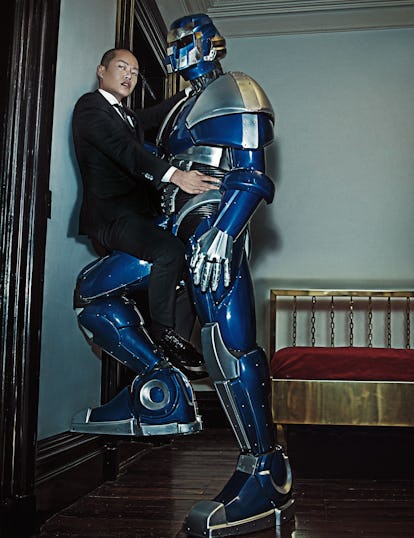 Photography by Steven Klein, styled by Edward Enninful.
February's Fashion Week in New York will be without a Boss. German label Hugo Boss has announced that they will skip showing it's women's wear collection this season. The brand is also cutting some of its offshoot lines, recalibrating pricing, and returning its focus more keenly towards menswear.
Don't worry–these changes won't impact Boss's artistic director Jason Wu . Despite some rumors and the fact that he's responsible for women's wear, the brand is still sticking with him.
The round of Boss rumors and subsequent shake-ups began in October when CEO Mark Langer announced that the brand was looking to "abandon the luxury market and go back to its roots of selling premium men's clothing." Though, at the time, he didn't offer details, and no one knew exactly what that meant.
Now we have a picture. Langer has dropped denim line BOSS Orange and sportswear and golf line BOSS Green. The brand will focus on it's main lines, BOSS and HUGO. The former will continue to focus on "premium" (though, not luxury) offerings. The later will be priced about 30 percent cheaper, have a higher focus on casual wear, and aim itself squarely at the millennial consumer.
"We have placed a too-strong focus on a push into luxury price points," Langer told investors, according to Fortune. "We have to make sure we are perceived as a lifestyle brand beyond our suiting capabilities."
Throughout most of its history, Hugo Boss only offered men's wear. It has only been within the past two decades that it's offerings included selections for Mrs. Boss as well, but according to Bloomberg only about 11 percent of the brand's revenues come from the ladies. So it makes sense that Langer is now returning the focus to its roots.
It's no wonder then that people are so intrigued about designer Jason Wu's future with the company. Wu was brought onboard back in February 2013 to much fanfare and charged with designing women's wear, and despite all the changes Langer says that's not changing anytime soon.
"Our women's wear is, and will remain, a key component of our medium-term growth strategy, and the creative input offered by Jason Wu remains extremely important to us," Cheif Brand Officer Ingo Wilts told British Vogue. "We value his work very highly. However, it is essential that we achieve a better balance between our men's wear, which has traditionally been so pivotal for us, and our women's wear."
The brand will, however, continue to present its men's wear line in New York as normal. Wu, of course, will still have a home on the New York fashion calendar with his own line as always.