Huma Abedin Wore an All-Black Outfit to Donald Trump's Inauguration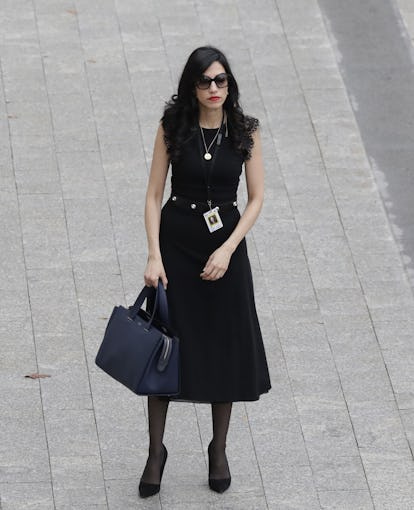 John Angelillo-Pool/Getty Images
If politics in the post-social-media era have taught us anything, it's that the best way to send a coded message is through your attire. Huma Abedin, the former vice-chair of Hillary Clinton's presidential campaign who has never been afraid to express herself through her wardrobe did just that at Donald Trump's inauguration on Friday, by wearing a somber, all-black outfit.
While many around her wore brighter ensembles—Michelle Obama diplomatically wore red; her successor Melania Trump wore baby blue, perhaps in a nod to Jaqueline Kennedy; and Clinton wore white, the color many Nasty Women wore to vote and one that the Suffragettes made their own—Abedin didn't even try to mask her feelings. She came to the inauguration dressed for a funeral and ready to mourn what could have been.
Abedin accessorized her black lace-sleeve dress with a single chain, black stilettos, and a navy bag. She also wore no-nonsense sunglasses and a strong red lip. The only item missing was a coat, which would have certainly come in handy in the 44-degree Washington, D.C. weather—but, what is a winter chill when you're already hurting?
Watch the best actors of the year get really, really into "I Will Survive"