63 Percent of Americans Support Idris Elba as the Next James Bond
Though, they're less supportive of an Asian, Hispanic or gay Bond.
---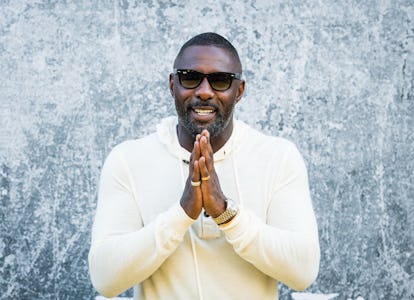 Samir Hussein/WireImage
The James Bond franchise has yet to return in a post-woke landscape, but it's hard to imagine that when it does, it won't contain at least some updates. For one, it's been 56 years since the first film, Dr. No, debuted, but there has yet to be a James Bond who isn't a straight, white male. According to the American people, though, it's time for a change. A new poll, which surveyed 2,201 adults this November 8–11, led by The Hollywood Reporter, has found that the majority are supportive of the idea of a black James Bond.
Specifically, 52 percent of people support the casting of a black James Bond. When the people surveyed were asked about Idris Elba taking over for Daniel Craig (The Wire actor has long been a rumored frontrunner), 63 percent of people supported the idea (yes, that does mean more people are supportive of the idea of Elba taking on the role than the idea of a black James Bond in general, so go figure). As Craig's final James Bond film, the 25th installment, approaches, Elba has been increasingly mentioned as a contender. But after he tweeted "My name's Elba, Idris Elba," prompting many to think this was confirmation that he had been cast, he denied that he was playing Bond. When asked this past August if he was suiting up as Bond, he said, "No."
Elba deflected the question in January, too, when he told Variety, "Are we interested in having a Bond character other than being a male? Could be a woman, could be a black woman, could be a white woman, but I think that character, everybody would like to see it have—do something different with it, why not?"
That same month, he also shot down the idea to The New York Times, saying, "It's interesting that the James Bond thing continues to go. I think it's more about, we just want to have a black guy play James Bond rather than Idris Elba the actor play James Bond. That's the part that I'm like, 'Ugh, come on.'"
Still, nothing is official until, well, it's official. In either case, America overwhelmingly supports a black James Bond. As for other kinds of potential diversification, the results were less emphatic. Only 39 percent of people polled support a hispanic Bond, only 37 percent want to see an Asian Bond, and, worst of all, only 28 percent were in favor of a gay James Bond (they obviously have yet to see BBC's London Spy). One thing, on the other hand, that's a lot less divisive: Pierce Brosnan was indeed a better Bond than Daniel Craig; he got a 51 percent vote to the current Bond's 41 percent vote.
Related: Idris Elba Is Available to DJ Your Wedding, If You're Prince Harry and Meghan Markle