Idris Elba Is Available to DJ Your Wedding, If You're Prince Harry and Meghan Markle
You just have to be a "friend" "from round the way" to earn this honor.
---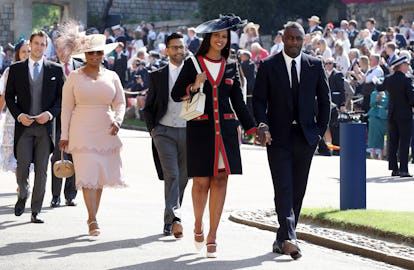 WPA Pool/Getty
In his downtime, Idris Elba, rumored future James Bond, previously Stringer Bell, is a globe-traveling DJ. He has appeared on the stage at Glastonbury, produced with Jay-Z, and written original compositions for his screen projects like Luther and Mandela. And later this month, he'll play a string of shows in summer club destination Ibiza, Spain.
But amid his musical credits, perhaps most notable is an intimate set he played for a few friends earlier this summer. The occasion? The wedding of one Prince Harry (last name unknown) and Meghan Markle. In a new profile in The Guardian, Elba opens up about the royal wedding, which he attended with fiancée Sabrina Dhowre at the invitation of Harry—or, as he's known to Elba, "a friend of mine from round the way."
Elba and Dhowre spent part of the night hanging out with George and Amal Clooney; when the wedding party ventured over to Frogmore House for the reception, Elba stepped into the DJ booth, where he queued up Luther Vandross's "Never Too Much," per an audience request. The actor-DJ described the wedding as "a beautiful experience" and "one of the highlights of my life."
Though Elba describes himself as in the midst of a midlife crisis at the age of 45, he's also, according to The Guardian's Tim Lewis, still available to "spin tunes at weddings if you ask nicely." So it seems the royal wedding may not be his last foray into setting the mood at a wedding reception. Earlier this year, he became engaged to Dhowre, though he had previously said he would not marry again after his split from makeup artist Kim Norgaard and subsequent divorce from his second wife, Naiyana Garth.
He won't say whether Harry and Meghan will be invited. If he does get married again, though, you can be pretty sure it'll be to his own playlist.